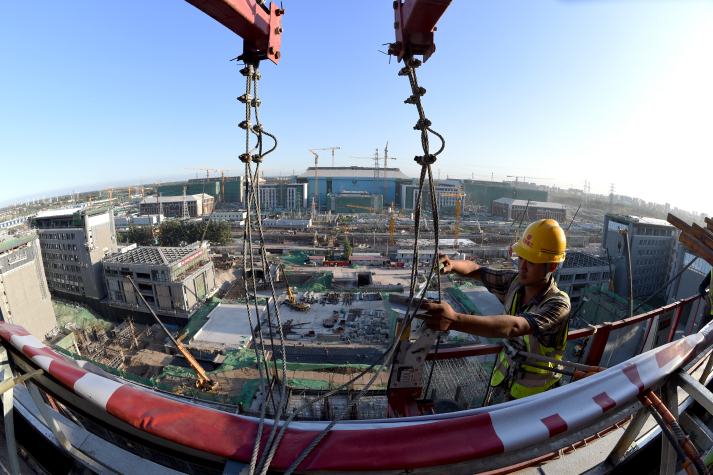 A worker at the construction site in Tongzhou, the sub-center of Beijing, on September 11, 2017 (XINHUA)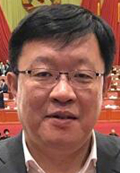 China's Gross Domestic Product (GDP) totaled 82.71 trillion yuan ($12.84 trillion) in 2017, the first time it surpassed 80 trillion yuan, growing 6.9 percent year on year, the National Bureau of Statistics (NBS) said on January 18.
"Major macroeconomic indicators in 2017 all beat market expectations, pointing to economic stabilization," said Ning Jizhe, head of the NBS.
As socialism with Chinese characteristics enters a new era, China's economy also reaches a new stage. The focus of the nation's economic development has shifted from fast speed to high quality. How will China's macro economy progress in the coming years?
Endogenous power
Chinese President Xi Jinping, also General Secretary of the Communist Party of China (CPC) Central Committee, stressed that China's economy has been "transitioning from a phase of rapid growth to a stage of high-quality development" in the report he delivered to the 19th CPC National Congress in October 2017. In the past five years, the government had strived to cut overcapacity and deleverage the economy. A series of policies have been introduced in an effort to strengthen supervision on local government debt, Internet finance, the asset management sector and the banking industry.
That is to say, in 2018, China will make steady progress in deleveraging, supervision and slowing down the growth of public investment and real estate investment. The move also shows that the government is willing to pursue quality of economic growth at the expense of speed, so it is estimated that this year, the growth may slightly slow down.
Besides, the overall economy will remain relatively stable without having to experience drastic fluctuation. The reason for such optimism is a widely anticipated stable growth of domestic consumption, innovation and manufacturing. The rise of the consumer market and the increase of productivity brought by technological advance in emerging sectors of strategic importance will make great contributions to economic development.
Consumption will play a key role in driving growth. A consumption-driven economy will be further consolidated. With a fast urbanized population, China's consumer market will be fully tapped into, supported by government incentives. In December 2017, the General Administration of Customs announced to lower the import tariff of 187 categories of consumer goods, with the average tax rate down from 17.3 percent to 7.7 percent. China will lower the tariff on information technology products for the third time on July 1 this year.
Emerging industries will serve as a new engine for economic growth, and the nation's technological research and development (R&D) capability will improve. In order to accelerate economic restructuring, China has formulated a number of policies to support emerging sectors of strategic importance. The R&D ability has been boosted through tax incentives, financial assistance and industrial policies. In the first half of 2017, the number of patents owned per 10,000 Chinese people reached 8.9, compared with 2.6 at the end of the 12th Five-Year Plan (2011-15) period.
Moreover, against the backdrop of cutting overcapacity, private enterprises have been exploring new business opportunities, placing more importance on upgrading equipment and making innovations. Their competitiveness has been enhanced.
Keeping the pace
In order to reach the goals for economic and social development in 2018, the government should take the lead in making right and coordinated policy choices so as to prevent foreseeable risks.
The government will make use of multiple monetary tools, carry forward "prudent and neutral" monetary policy, effectively manage liquidity, and maintain reasonable social financing and monetary aggregate.
A financial stability and development committee was established in January, which aims at strengthening policy coordination among regulatory bodies so as to reduce volatility in the financial markets.
Regulatory bodies will seek opinions from business professionals during the process of making new regulations, so that there can be sufficient time for the regulations to mature.
The Central Economic Work Conference held in December 2017 emphasized that China will work to achieve a virtuous interaction between finance and the real economy, between finance and real estate, and within the financial system. This means that as the regulatory system improves, regulatory bodies will make increasing efforts to avoid negative outcomes such as market panic caused by simultaneous issuance of several supervisory policies.
Promising housing market
Since 2017, the government has escalated efforts in regulating the real estate market. By January 10 this year, 129 house purchase quota policies and 169 loan restriction policies had been introduced in 54 cities, and 48 cities had come up with sales caps. As a result of strict regulation, the housing market has become more stable. In November 2017, 11 out of 15 cities with exorbitant housing prices witnessed a price drop year on year.
The Central Economic Work Conference put the real estate market as one of the eight priorities of work in 2018. The conference pointed out that the country will continue its strict regulative policies in the short run, which can help ease panic in the market and crack down on speculative purchases, making sure that housing is for living in, not for speculation. Real estate bubbles and risks will be effectively curbed.
For a long time, the development of the house renting market, especially long-term renting, has been inadequate. For individuals, long-term renting is more stable, which can make both renter and leaser rest assured. For the whole market, renting is the key to improving the current housing system. Serving as an alternative to owning an apartment, renting can help reduce demand for home mortgage finance and further stabilize the market.
Long-term renting will be a major direction for the future development of the real estate market. As a result, Real Estate Investment Trusts (REITs) will embrace huge opportunities in 2018. As a crucial way for real estate securitization, REITs can speed up the realization of rental housing, facilitate asset turnover and market liquidity, and raise individuals' welfare and market efficiency. It is expected that more policies will be put forward to support long-term renting.
Since December last year, the Central Government and local governments have already introduced policies to support companies engaged in the rental housing business and help them get more direct financing. They also encouraged various non-banking financial agencies to provide new and innovative products.
The banking sector has also become actively involved in the field. Rental house financing has become a long-term strategy. Because new policies of asset management were launched, the former model, in which commercial banks depended on real estate development loans and personal housing mortgages, cannot be sustained any more. In 2018, those banks are going to shift focus to the rental housing market.
For instance, China Construction Bank (CCB) in January introduced a house saving business. Customers can deposit their idle properties which are suitable for rent with CCB, and the bank will make a one-off payment to the customer or the landlord in exchange for leasing rights. Then the bank will authorize credible property agencies to manage the properties.
The author is a finance professor at the Central University of Finance and Economics
This is an edited excerpt of an article originally published on China Report
Copyedited by Chris Surtees
Comments to yushujun@bjreview.com