Xiamen is a prime tourist destination because of its lush greenery and an investment hub due to preferential policies (BEIJING REVIEW)
Allen Chen starts his normal work day in his office at Standard Foods Co., located in the Xiamen Area of the Fujian Pilot Free Trade Zone (FTZ). Standard Foods, headquartered in Taiwan, signed an investment contract with the FTZ authorities in November 2015 and Chen was put in charge of the project. In the past two years, the time he has spent more time in Xiamen than in Taiwan. "I feel comfortable investing, working and living here," he said.
This is Xiamen's strength. The coastal city in southeast China's Fujian Province sees millions of tourists every year, drawn by its lush greenery, mountains and pristine beaches. In addition, investors also flock to the city, which pioneered the FTZ trend in China, persuaded by its efficient, convenient and transparent investment climate.
New name cards
In the past, Xiamen was known as Egret Island since it is home to the great white egret. Their profusion gave rise to the legend that the birds were the guardians of the island, protecting it like warriors. Today, however, Xiamen has a new identity. It is one of the best cities in China to do business, with favorable policies, hi-tech and a skilled workforce becoming its new name cards.
When Xiamen hosted the Ninth BRICS Summit in September 2017, Chinese President Xi Jinping drew attention to the impact of reform and opening up on the city, which was a gateway of China's external cooperation. "Xiamen has become well known for its innovation and entrepreneurship, with burgeoning new economic forms and new industries, robust trade and investment, and easy access to the world with air, land and sea links," Xi said in his keynote speech at the summit.
When the FTZ was established in April 2015, the Xiamen site was still a wasteland. People thought it would be difficult to get the FTZ going but Chen had full faith in its viability. "The FTZ administration and relevant government departments fully supported us," he said. "Whenever we encountered difficulties, regarding the use of electricity or water, or anything else, we would call them up and soon, there would be someone to help."
In May 2017, Standard Foods began to produce sunflower seed oil. The output value exceeded 500 million yuan ($72.2 million) last year. Chen said if they had chosen another city, the new project wouldn't have progressed so fast. "We would still be building the plant or commissioning the equipment," he said.
Before investing in Xiamen, Standard Foods had explored other cities. But what clinched the deal for Xiamen was the FTZ's negative list system, as well as the sound business environment and efficient and considerate services of relevant departments.
Yunchuang Zhigu is a privately-owned industrial park in the FTZ. It creates entrepreneurial and incubation platforms for small and medium-sized enterprises in the scientific and technological industries. Li Qiang, President of Hongxin Entrepreneur Incubator Investment Group and an investor in the smart industrial park, explained what made him invest in the city, "The cost of starting a business is low here, the entrepreneurial environment is good and there is a complete industry chain here."
Two years after Yunchuang Zhigu was established, more than 500 enterprises have settled in and over 20 makerspaces have been built. The Smart Connectivity and Flexible Electronics Maker Space specializes in the industrialization of flexible electronics—assembling electronic circuits—by recruiting talents from universities and research institutions and attracting social investment funds. To date, it has developed a series of hi-tech products such as flexible electronic touchscreens, flexible batteries and flexible wearable components that can be bent, folded or rolled up like paper.
Xu Jianmin, Director of the Investment Promotion Agency of the Administration of the Xiamen Area of China (Fujian) Pilot FTZ, described how the efficient, convenient and transparent business environment was created. The administration studied the business environment evaluation indicators of the World Bank, the World Trade Organization's Trade Facilitation Agreement, and other major bilateral and multilateral trade and investment agreements. It also implemented a pre-establishment national treatment plus negative list plus record management model.
In addition, the FTZ has taken several innovative initiatives in the past three years to cut the red tape for administrative approval. For instance, in the past investors had to shuttle from one department to another, located in different areas, to obtain the necessary approval from each. It cost a considerable amount of time and money. But now, an offline one-stop service center has been opened to receive the paperwork. From there, the documents are sent to different departments online and the applicants no longer need to chase approvals from different departments. Many of these efficient measures have been promoted nationwide by the State Council, China's cabinet.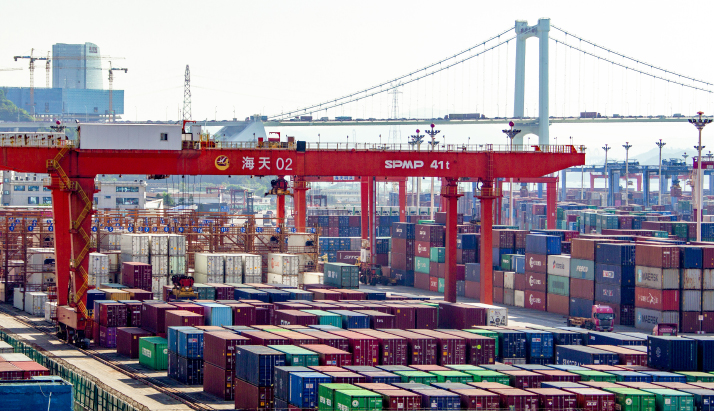 The container terminal of Xiamen Port (WANG XIANG)
The turnaround
Before reform and opening up, Xiamen was a sleepy city with fishery as the main industry. The urban architecture consisted mostly of one-story houses and three to four-story buildings.
"Forty years ago, I never thought Xiamen would become what it is today," said Lu Huizhu, whose family is among the first batch of self-employed entrepreneurs in Xiamen. "It was just a small town for border defense then."
When the reform and opening up started, Xiamen became one of the first four special economic zones in the country. It had a distinct geographical advantage: its proximity to Taiwan, which made businesses from Taiwan prefer to invest in Xiamen and boosted the city's economic development. Subsequently, multinationals such as Coca-Cola and Dell began to arrive in Xiamen. According to local government statistics, in 1978, there were only 370 industrial enterprises in Xiamen and all of them were either state-owned or collectively owned. Last year, the number of foreign-funded enterprises with yearly revenues over 20 million yuan ($2.88 million) alone reached 687, with their output value accounting for over 60 percent of such enterprises in the city.
Lu Huizhu's family began their small seafood business after the government allowed self-employed entrepreneurs. At that time, it was rare to find foreigners on the streets. But today, with more and more foreigners pouring in, they have become a familiar sight. Many of them have chosen to settle down in Xiamen.
"I witnessed how Xiamen grew during the past decades," said Lu, whose family moved twice, with their new houses becoming bigger and grander. The place where they lived four decades ago by the sea is a commercial center today, with clusters of skyscrapers. Their neighborhood, once an underprivileged village, has become an upscale area. "After the launch of reform and opening up, Xiamen made big progress every year," Lu said.
Over the 40 years, like Beijing, Shanghai and other big cities, Xiamen's size and population have increased in direct proportion to the growth of its social wealth. Xiamen transformed from an underdeveloped town with an urban built-up area of around 30 square km to an international coastal city sprawling over 360 square km and winning many laurels. It ranks among China's "Top 10 Innovation Cities" and "Top 10 Low-Carbon Cities" and has received the UN Habitat Scroll of Honor Award in recognition of its contribution to the development of housing.
It has also become an international conference and event destination. Xiamen's development was greatly affirmed when it was chosen to host the Ninth BRICS Summit. Annual events like the China International Fair for Investment and Trade, the Xiamen International Marathon and the IRONMAN Triathlon have become Xiamen's international name cards.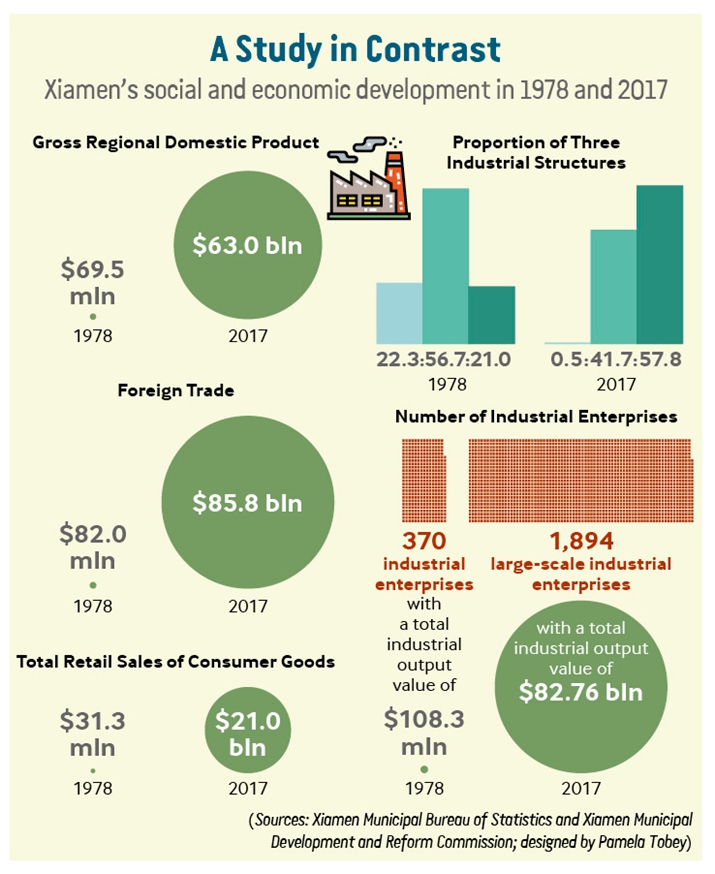 Belt and Road bounty
The Chinese believe that where there is water, there is prosperity. The Port of Xiamen has played an integral role in Xiamen's economic and social development as well as its internationalization.
Since the launch of reform and opening up, traders to Xiamen have multiplied and diversified. In the past, they were mainly from Southeast Asian countries and regions such as Taiwan, Hong Kong and Macao, whereas today, investors are coming from more than 70 countries and regions. The convenience of the port is one of the reasons for international investors choosing Xiamen and the boom in the city's economy. Since 1978, Xiamen's average annual GDP growth rate has been 15.6 percent.
In recent years, Xiamen has focused on the national strategy to integrate with the Belt and Road Initiative. The first Maritime Silk Road investment fund was created by the local government to seek new investment opportunities.
In the storage area of Standard Foods, where the oil tanks are kept, there is a 1-meter-thick pipeline going all the way to the Port of Xiamen, several kilometers away. Through the pipeline, the sunflower seed oil can be directly loaded onto the oil tanks, saving Standard Foods the trouble of cargo transfer, the expenses it entails and time.
Chen Zhaohui, General Manager of Xiamen International Port Co., a freight delivery company, outlined other facilitation measures at the port, such as the electronic cargo handling and customs declaration system. No matter where the trader is, the goods can be declared online. In addition, the Port of Xiamen is very well connected: It has over 80 routes to the Americas, Europe, Africa, the Middle East, Oceania, Southeast Asia and Northeast Asia. It is a major maritime link for China and other countries and regions along the Belt and Road for trade and economic exchanges.
The port has also developed Belt and Road cruise products combined with maritime culture, strengthening the connection between China and other countries along the Maritime Silk Road, Chen said.
In 2015, Xiamen started the Europe-bound China (Xiamen) Railway Express, forming a multimodal transport link. Mongolia, Kazakhstan and other landlocked countries in Central Asia can use this channel to facilitate container transportation to the rest of the world. The China (Xiamen) Railway Express has opened four international routes touching 13 cities in nine countries.
Data from the Xiamen Statistics Bureau shows that in 2017, Xiamen's trade with other countries along the Maritime Silk Road reached 208.3 billion yuan ($30.1 billion), with its investment totaling $2.2 billion.
Historically, Xiamen was the starting point of the Maritime Silk Road and a major trading port on the route. Its geographical advantages endowed it with an expanding trade network. So with the progression of the Belt and Road Initiative, which comprises the Silk Road Economic Belt and the 21st-Century Maritime Silk Road, will Xiamen become a pivotal international hub in the new global network? It's a development anticipated by many.
(Reporting from Xiamen, Fujian Province)
Copyedited by Sudeshna Sarkar
Comments to lanxinzhen@bjreview.com