Han Changfu, Minister of Agriculture and Rural Affairs, interpreted the No.1 Central Document of 2019, the first policy statement of the year jointly released by the Central Committee of the Communist Party of China and the State Council, and summarized its key points at a news conference held by the State Council Information Office on February 20. Edited excerpts of his remarks follow: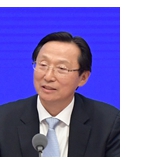 According to the No.1 Central Document of 2019, this year and 2020 are a decisive period for China's development, with many critical tasks that must be accomplished in the field of agriculture, rural areas and rural people. These tasks mainly focus on five aspects:
First, we will win the battle against poverty. In this year's document, it occupies a prominent position. We will focus on solving existing gaps in providing adequate food and clothing for poverty-stricken people and ensuring their access to compulsory education, basic medical services and housing. Also, we need to step up efforts to lift people out of poverty in areas suffering from deep-rooted impoverishment, which is a very tough nut to crack. In addition, we are determined to prevent people from falling back into poverty, and will connect our poverty alleviation work with the vitalization of rural areas.
Second, we will further promote grain production. This is always a top priority and the primary task regarding agriculture and rural affairs. Sufficient food supplies may serve as the ballast stone to cope with mounting downward economic pressure and increasing uncertainties and risks. This year's No.1 Central Document emphasizes strengthening agriculture and promoting food production. The detailed requirements include continuing the policies and measures that support grain production, ensuring a sown area of 110 million hectares for grain and maintaining its stable output. We must guarantee China's arable land area remains above the red line of 120 million hectares. We need to comprehensively implement the policies providing special protection for the designated permanent basic cropland, and continuously increase grain production capacity. Moreover, the document stresses the goal of developing 53.33 million hectares of high-standard farmland.
Third, we will increase the income of farmers. By 2020, the annual per-capita income of rural residents must be double that of 2010. That is one of the indices signaling the completion of the work for building a moderately prosperous society in all respects. In recent years, the income of rural residents has been growing rapidly and has actually grown at a faster rate than that of urban residents for nine consecutive years. We must keep the trend going over the coming two years. The document lays out detailed arrangements to foster the development of rural industries and diversify channels to increase farmers'income.
Fourth, we will improve the rural living environment. This is one of the key tasks during the implementation of the rural vitalization strategy. We will do a good job in carrying out the Three-Year Action Plan for Improving the Rural Living Environment so that it can be markedly improved by the end of 2020. This focuses on waste and sewage treatment, a toilet revolution and village facelifts. Across China, since villages differ in many ways, our efforts will proceed from reality and adapt to local conditions; thus our guidance should be differentiated. We also need to carry out the job gradually and refrain from going beyond our abilities. We will ensure our efforts not only match the level of local economic development, but also are in line with local culture and customs.
Fifth, it is necessary to shore up the weakness in rural infrastructure and public services. These areas constitute the most visible signs of the urban-rural gap and are some of the livelihood issues that rural people complain about most strongly. Therefore, in order to improve people's lives in the countryside, we should address this weakness as soon as possible. To this end, the document includes a village infrastructure development project expected to improve areas such as drinking water, roads, power supply, housing, logistics and the modern information network. We will provide better public services such as education, medical care, sanitation, social security, culture and sports. We will strengthen pollution treatment and ecological conservation and promote green agricultural and rural development with a view to making China's villages highly livable, with picturesque scenery, blue skies and green spaces.
There are many tasks concerning agriculture, rural areas and rural people, but these are the critical ones. In light of China's goal to complete the building of a moderately prosperous society in all respects by 2020, poverty alleviation is the most important element. It must be fully accomplished on time and with the desired results. Food security is our primary task, and we will guard the bottom line of keeping grain production from falling. The rural vitalization strategy is the overarching program that we will continue pushing forward in an all-around way with unremitting efforts.
Copyedited by Rebeca Toledo
Comments to yanwei@bjreview.com