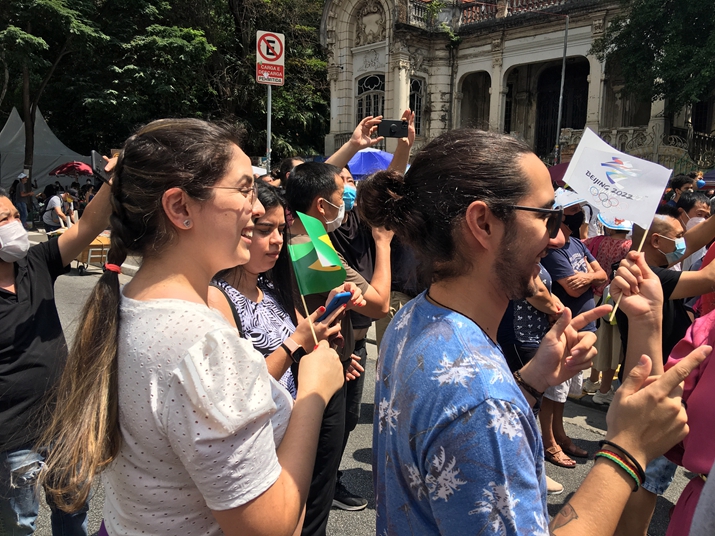 Celebrations in São Paulo, Brazil, on November 28, 2021, welcome the Olympic Winter Games Beijing 2022 (CNS)
'It feels great to be back here and be part of the history," Jaqueline Mourão, a flagbearer for Team Brazil at the Beijing 2022 Winter Olympics opening ceremony, said. Fourteen years ago, she attended the opening ceremony of the Olympic Summer Games Beijing 2008 as a mountain biker. This year, the 46-year-old has come back to represent her country in cross-country skiing. "I have fond memories of Beijing. It's wonderful to be here again," she said.
Mourão is the first Brazilian woman in history to compete in both the Winter and Summer Olympics, previously participating in the 2004, 2008 and 2020 Summer Games, as well as the 2006, 2010, 2014 and 2018 Winter Games. On February 8, she finished 84th in the sprint free competition. "I have tried my best," she said.
Altogether 11 Brazilian athletes are participating in the Beijing 2022 Games: five in bobsledding, three in cross-country skiing, one in alpine skiing, one in freestyle skiing and one in skeleton.
"Many of our athletes are showing up at the Olympic Winter Games for the first time, and Brazil has not participated in some of these events before," Anders Pettersson, head of the Brazilian delegation, said, adding this shows the development of winter sports in Brazil. "Our athletes have been working hard to succeed in the qualifier events, and we aim to achieve better results than in Pyeongchang 2018."
Into full swing
The 28-year-old Nicole Silveira made her Olympic debut in Beijing. Born in Brazil, Silveira moved to Canada with her parents when she was 7. She started training in skeleton in 2018. As she is the first to represent Brazil in the event, her efforts were deemed to be of historic significance by the Brazilian Winter Sports Federation.
Silveira has been dedicated to training to improve her skills over the past years. "Especially in the last season, I've come a long way from where I was. I've grown a lot as an athlete and have learned a lot, developed a lot," she told Global Times.
In order to realize her dream of participating in the Winter Olympics, she had to work four jobs, including nursing heart patients at a hospital. Silveira said she believes just being able to compete in the Beijing 2022 Games is already a huge accomplishment.
As a country with a tropical climate, winter sports are still less known to many Brazilian citizens. "I think social media, interviews and TV shows I've been on have really helped grow the knowledge of what skeleton is in Brazil, and that hopefully will spark some more interest; then I can help it grow," Silveira said, adding that there are new facilities being created in Brazil with ice rinks and curling arenas, as the country is trying to promote these sports.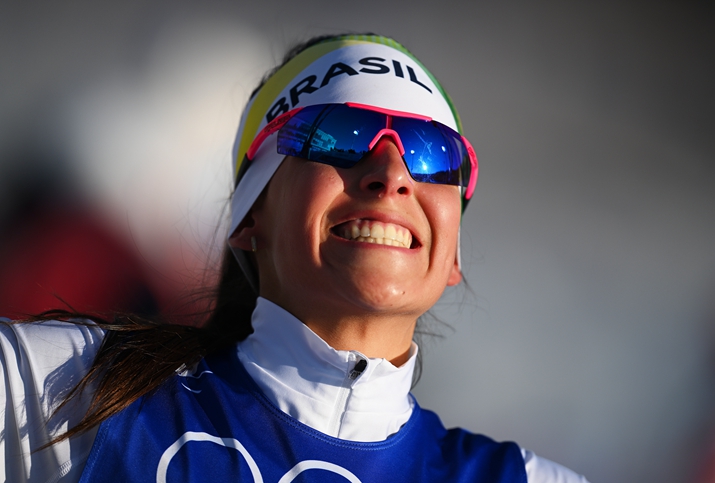 Eduarda Ribera of Team Brazil reacts to her qualification for the finals of the women's cross-country sprint free during the Olympic Winter Games Beijing 2022 on February 8 (VCG)
Athletic focus
"We hope to take the Beijing Winter Olympics as an opportunity to continue to deepen our cooperation with China," Matheus Figueiredo, President of the Brazilian Ice Sports Federation, said at the 10-day countdown to the Beijing 2022 Games in São Paulo.
During the ceremony, the Winter Olympics Home was jointly launched by the Chinese Consulate General in São Paulo and the federation. Locals can visit the center to experience ice sports such as curling and skating and get a closer look at the Games.
Figueiredo told Xinhua News Agency that the world should put its focus on sports rather than politicizing the Games. "We hope Brazilian athletes can be role models for the younger generations and show them that sports can change lives," he added.
Prior to the Beijing 2022 opening ceremony, many Brazilian individuals also expressed their objection to the politicization of sports. "The Olympic Games is a time for people to come together for healthy and active sports competition. The Olympic Games represent a beautiful world full of peace and cooperation," former President Luiz Inácio Lula da Silva said in a congratulatory letter to the Games, published on his personal website.
"As Brazil is located in the tropics and subtropics, it has limited conditions in terms of training venues and equipment. But Brazilian athletes overcame the difficulties and made great efforts to prepare for the Beijing Winter Olympics," Aildo Ferreira, Secretary of Sports of São Paulo, said.
Ice and snow athletes from tropical countries usually have to face more challenges in their careers than their peers from other regions, such as spending more time training abroad. Nevertheless, Brazilian figure skater Ana Clara said it is every Brazilian winter athlete's dream to participate in the Winter Olympics. "All our hard training is to have the opportunity to stand on the Olympic stage."
The number of Latin American and Caribbean (LAC) countries participating in the Winter Games reached a record high this year. Ten countries dispatched delegations, including Argentina, Bolivia, Brazil, Chile, Colombia, Ecuador, Mexico, Peru, Jamaica and Haiti, consisting of a total of 39 athletes. Team Brazil is the largest of all LAC countries.
Haiti made its first appearance at the Winter Olympics, and 19-year-old alpine skier Richardson Viano became the country's first athlete to participate in a Winter Olympic competition. "It is a dream for me to be here and represent Haiti at a Winter Games for the first time. I hope this will show our country is about more than earthquakes and other disasters," Viano told PA news agency.
(Print Edition Title: Strength on Snow)
Copyedited by G.P. Wilson