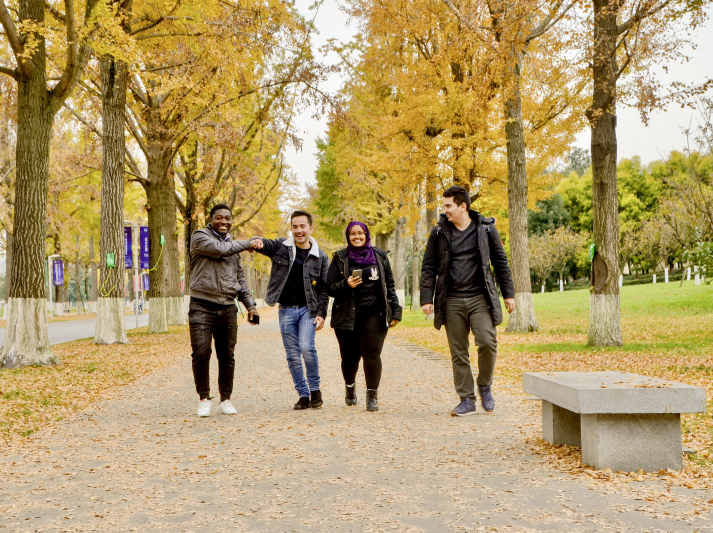 Evans Opoku-Mensah (left) with his friends at Gingko Boulevard on the University of Electronic Science and Technology of China campus in Chengdu, Sichuan Province (COURTESY PHOTO)
I have been a doctoral student at the University of Electronic Science and Technology of China since 2017. My studies in China give me the opportunity to explore a China different from the one I've seen on TV and read about in books. What happens in the university and the larger society has always been interesting to me. As I learned that this year marked the centenary of the founding of the Communist Party of China, it reminded me that I had been here for several years, and inspired me to share my own experiences.
How should I describe the invaluable experiences China has brought me? This question got me thinking. As Confucius once said, wherever you go, you've got to go with all your heart, and the more a man meditates upon good thoughts, the better will his world and the world at large be. My curiosity about this great nation and love for technology fueled my passion to discover more. I was lucky to have the opportunity to get my doctorate in China. I am very happy with my decision to come and study here.
However, in the beginning, things didn't go as well as I had hoped. The first hurdle to jump was the linguistic one. When I arrived in China, I felt lonely and was not able to speak or understand the language. Although the language barrier was a big worry, I felt relieved when a Chinese lady offered to help me when I was in need. This impression of the values of Chinese people was reaffirmed by a Confucius saying I later learned, which goes: At home, a young man should be a good son, when outside, he should treat others like his brothers, his behavior should be trustworthy, and he should love the public at large and keep himself close to people of benevolence and morality.
Later on, I spotted a rich display of culture and ingenuity during the Spring Festival celebrations. The decorative dragons, which symbolize power, uniqueness and authority, and the brand new look of old and traditional buildings were all heartwarming. Never have I encountered a nation so united in beliefs and culture.
Some numbers such as "six" and colors like red are believed to be lucky. While uttering "six six six" is considered a bad thing in my culture, the chanting of the number "six" three times by a Chinese person is seen as an admiration of dexterity and excellence, and a wish for good luck.
In day-to-day life, I was impressed by China's innovation in transportation, worth to be emulated by other countries—shared bicycles and electric motor bikes in particular. This not only eases traffic flow but even helps students commute between far-off classrooms on campus. Also, China is one of the countries with the largest number of smartphone users. Internet is commonly available and used everywhere, unlike in Africa, where it is expensive and a luxury. It is sometimes jokingly said that the phone embodies the sixth sense of every Chinese person. This is because most have their world gathered on their mobile phones and are literally glued to them.
While remembering all the benefits and great experiences I've gained in China, I think China has also benefited from opening up to the world. Chinese people get to learn about different races, understand diverse cultures and gain a huge economic boost from business relationships with other countries.
I can only pray for a long stay in this country and hope for more opportunities to learn each day till I say goodbye to my personal fantasy land—China.
The author is a doctoral student at the University of Electronic Science and Technology of China (UESTC), and an assistant researcher with the Center for Western Africa Studies of the UESTC
(Print Edition Title: A Fantasy Land)
Comments to dingying@bjreview.com