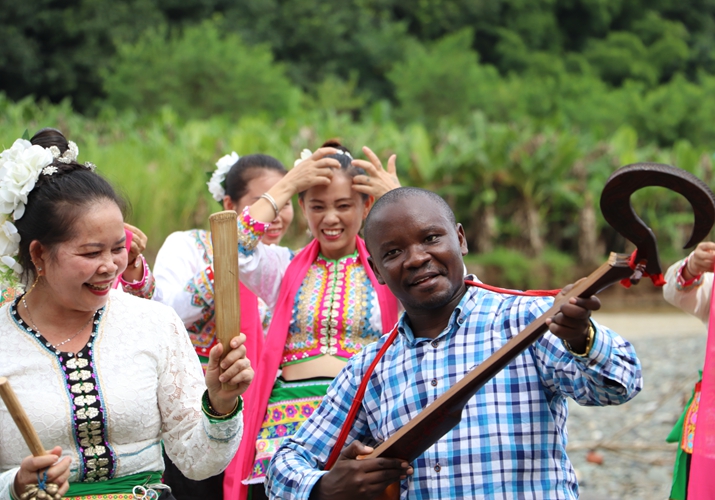 Vincent Mbonihankuye experiences the culture of the Dai ethnic group in Jinping County, Yunnan Province in southwest China, on September 10, 2020(HU FAN)
As the world's biggest developing country and also the second-largest economy, China is working hard to eradicate poverty. In September 2020, I had the chance to visit Yunnan Province in southwest China with fellow Africans at the invitation of Beijing Review. During this trip, I was able to witness to what extent this province, and in particular the counties of Malipo and Jinping, can be an example for other countries to follow in the fight against poverty.
By the end of 2019, all the villages in Malipo County were able to rise out of poverty, thanks to the targeted measures used to fight poverty. The Chinese Ministry of Foreign Affairs was assigned to partner with the county and plays an important role in leading local people to step out of the poverty. The ministry provided financial support of 212 million yuan ($31.5 million) to more than 670 projects there. In Jinping, the ministry was able to raise 240 million yuan ($35.6 million). This aid fund enabled the implementation of 903 projects covering seven categories, including food and clothing, education, health, overall village improvement, industry and training. These projects have benefited a total of 371,700 people and helped 93,000 people emerge from poverty.
During our visits to different sites in Malipo and Jinping, I discovered that other actions also play a significant role in sustainable poverty eradication initiatives, such as the creation of learning resource centers and community involvement in production cooperatives. These initiatives use locally available resources to generate income. Thanks to government grants for sustainable projects aimed at poverty reduction, cash crops, subsistence agriculture and cultural activities have also become important sources of revenue.
On the first day of the trip, we went to a village named Xiaopingzhai. I was amazed to discover that a small tea factory there can generate an annual turnover of 6 million yuan ($890,000) with only 20 employees!
Another important factor promoting the development of the country is the relocation of impoverished people. The next stop of our trip was the village of Kangmian, where several families now lived after leaving uninhabitable areas of Jinping. The newly built village consists of 450 housing units. On the spot, I was able to see that the village administration provides assistance to these resettled people, who do not have enough income to support themselves, by helping them find jobs. Of the 1,331 villagers that were relocated in 2019, 609 are currently employed.
In Shuiduichong, a very remote traditional Yao ethnic group village, we visited workshops for making silver ornaments and jewelry. We discovered craftsmanship dating back more than 200 years. Besides the traditional use of silver ornaments in Yao culture, it is important to mention that these objects have a high monetary value. This detail is not negligible on an economic level.
When proposing marriage, young Yao men must provide a set of silver ornaments. Depending on the highly variable price of silver on the market, a set of silver ornaments can be sold for between 10,000 and 20,000 yuan ($1,490 to $2,980).
The making of silver ornaments is a rewarding activity as it creates employment in the village. Shuiduichong currently has more than 20 family workshops, representing 95 percent of the silver processing market in Jinping. The net profit for each ornamental ensemble can reach between 3,000 and 4,000 yuan ($450 to $600). A family workshop can therefore generate a monthly net turnover of more than 10,000 yuan ($1,490).
This trip made me realize that through will and perseverance, the eradication of poverty has become a reality in Yunnan. These impressive results should serve as a source of inspiration for other developing countries.
The author is a PhD candidate from Burundi studying at the Communication University of China
Copyedited by Garth Wilson
Comments to dingying@bjreview.com