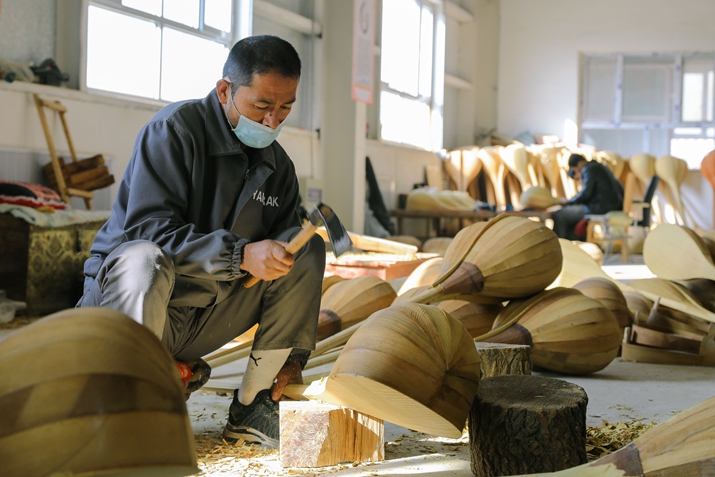 Villagers make musical instruments in Jiayi Village, Xinhe County in Aksu, on November 12, 2020 (XINHUA)
Dramatic scenery consisting of rolling golden plains, towering mountains and enchanting valleys plays a part in creating the mythical world of Middle-earth as seen in the Hollywood blockbuster The Lord of the Rings, which captured the imagination of millions of moviegoers worldwide.
In Xinjiang Uygur Autonomous Region, these magnificent views sprawl out at the actual touch of a fingertip. There is one village in particular, the ideal place for shutterbugs to take amazing photos of the natural scenery brimming with epic landscapes and unspoiled beauty. "It feels like I'm wandering around Middle-earth and the scenes of J. R. R. Tolkien's stories," Gao Xinyu, a photographer from Beijing, told Beijing Review.
Located on the southern slopes of the Tianshan Mountains, Tagelake in Wensu County, Aksu Prefecture, was, for many people, a little known place. But almost overnight, it found nationwide fame after its return-to-pastoral themed scenic area became an online sensation. "It's a pity that the place was little known before. It deserves greater popularity than it enjoys," Gao said.
Star gazing
Xinjiang has clean air, pure skies and a dry atmosphere, all crucial elements for taking crystal clear pictures of the stars. Picturesque by day and dazzling by night, Tagelake makes for the perfect stargazing spot.
In the village, each house is a garden villa carrying the inscription of its own star sign. "I'm trying to find the house of my constellation. I'm a Gemini!" Gao said. "This kind of design is so romantic."
These houses are nicknamed bubble houses because they have transparent bubbles on their roofs allowing travelers to admire the stunning nightscape.
Lying on a hammock in their houses, travelers feel they're soaking up the stars as they explore the wonders of the night skies. Immersing themselves in the stars, planets and galaxies on display, they can also enjoy the fascinating mythology and legends attributed to celestial objects by different cultures around the world bringing the constellations to life with a blend of science and storytelling.
Wensu began the design and construction of the return-to-pastoral themed scenic area in 2019. It took one whole year to turn their creative ideas into a reality. Thus far, the operator, the Aksu Tourism and Development Group, and its partners have invested 130 million yuan ($20.36 million) in the project. Train-themed parks, ski resorts and recreational activities such as helicopter and hot air balloon rides are on offer for tourists. The county has also improved its rural living environment.
"We need to meet the new demands of travelers who are eager to experience unique encounters. The virtues of creativity can light up the development of tourism. The combination of meaningful storytelling and natural resources bestows onto tourism a high added value and attraction," Wang Di, an official with the Bureau of Culture and Tourism of Wensu, told Beijing Review.
Since May 2019, the scenic area has attracted 400,000 tourists, and its total revenue has reached more than 30 million yuan ($4.68 million). The record stands at 15,000 tourists a day.
More than 60 percent of the villagers benefit directly from the development of tourism. More than 200 local farmers and herdsmen are working at the scenic area, and their monthly income averages around 3,000 yuan ($468). In 2020, the per-capita income in Tagelake reached 11,860 yuan ($1,852).
"Aksu is home to Ice Age glaciers, rugged mountains, deep lakes, meandering rivers and native forests," Sun Haojie, a professor at Xinjiang Normal University, told Beijing Review. "It is a paradise for explorers."
In addition, a new curiosity about Xinjiang travel is swelling. Long road trips between tourist attractions in the vast region put many people off in the past, but it has been attracting a record number of young visitors who expect to have a more adventurous driving journey in recent years.
One of the most popular routes is a section of the G217 Highway in Kuqa County in Aksu. Many crown it the most beautiful road in China because people can travel through the snow-capped Tianshan Mountains, verdant valley grasslands and the red-tinged Kuqa Grand Canyon.
"People can experience all four seasons along this stretch as the scenery changes with altitude," Li Lei, a 31-year-old tourist who drove to Xinjiang from Beijing, told Beijing Review. "Such impressive scenery gives tourists an awe-inspiring experience."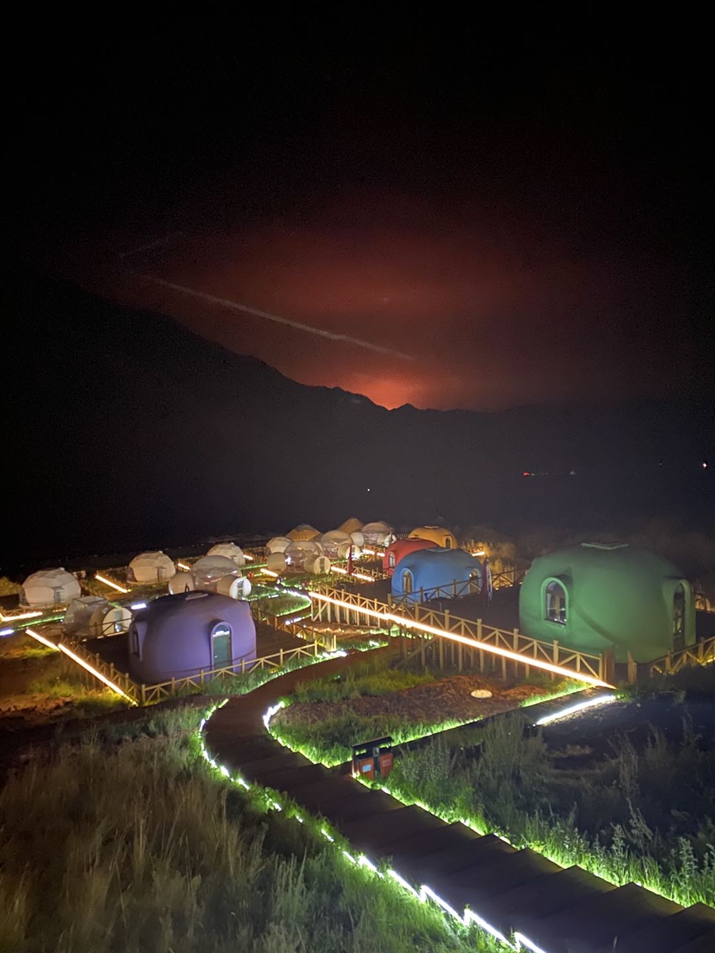 Bubble houses for visiting stargazers in Tagelake Village, Wensu County in Aksu Prefecture, Xinjiang Uygur Autonomous Region (COURTESY PHOTO)
Cultural experience
Xinjiang is attracting tourists from all over the country with its unique natural landscape and improved services. Xinjiang-related keywords have made their way into the top 10 searches across tourism platforms. For example, searches for "Xinjiang travel guide" soared 74 percent in March, according to Chinese tourism platform Mafengwo.cn. Furthermore, hashtags discussing "travel searches in Xinjiang have nearly tripled" became trending on Weibo, China's Twitter-like social media platform.
However, tourists nowadays no longer necessarily want to attend traditional sightseeing tours, they need to feel involved in the destination's daily life and to co-create signature experiences with the locals.
Every time Heyit Imin plays his handmade dutar, a two-stringed instrument crafted from mulberry wood, with his granddaughter dancing to the rhythm, tourists can submerge themselves in the performance and experience the same happiness singing and dancing.
Heyit, 67, was officially acknowledged as an inheritor of intangible cultural heritage for making musical instruments of ethnic minority groups in Xinjiang in 2008, and has trained more than 80 apprentices in Xinhe County, Aksu.
Two rooms of his house have been converted into workshops, one for the production of musical instruments and one for the exhibition of those completed.
"Making musical instruments is a craft that needs to be carried forward into the next generation," Shi Zhiliang, an official from the Culture and Tourism Bureau of Xinhe, told Beijing Review. "Tourists can not only watch the performance, but also try to learn how to make the instruments so that the intangible cultural heritage can be presented in different ways. This is what we call 'a new way to promote cultural heritage'," Shi said.
(Print Edition Title: A Journey to Middle-Earth)
Copyedited by Elsbeth van Paridon
Comments to taozihui@bjreview.com