Late September signifies the beginning of harvest season in Xinjiang Uygur Autonomous Region, China's main cotton production area, with bundles of picked cotton decorating the fields aligning the highway.
Cotton picking began a little earlier up north than it did in the southern areas of the region this year. In the county of Manas, one of the main production areas in north Xinjiang, two round bale cotton pickers operating simultaneously cover 20 square km of cotton fields in 40 days.
Sixty km to the east of Manas, a cotton industrial park is developing a textile processing business based on the nearby production zone. Weimei Textile is one of the companies positioned in the park.
Following the pandemic outbreak in early 2020, the company has been exempt from rent and received several subsidies, including electricity grants, offered by the park. Though the U.S. implemented a ban on Xinjiang cotton earlier this year, most local textile companies haven't really felt its impact.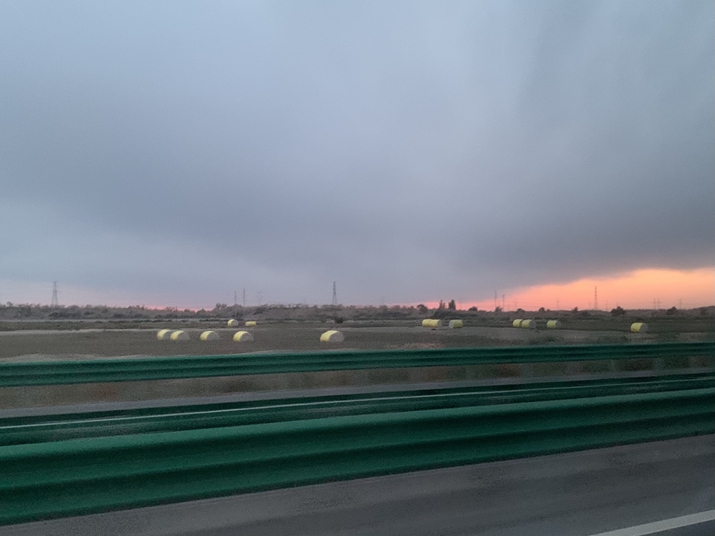 Bundles of mechanically picked cotton decorate the fields along the highway in Manas County, Xinjiang Uygur Autonomous Region (LI FANGFANG)
"Over 800 million Chinese people use cotton products, therefore the domestic market is big enough for us," said Zhou Jianhua, general manager of Weimei Textile. More than 80 percent of the country's cotton production is located in Xinjiang.
The ban on Xinjiang cotton triggered the boost of the region's cotton product sales on the Chinese market, both online and offline. In April alone, Weimei Textile's cotton quilt sales increased by 300 percent, from 20,000 to 60,000 pieces, thanks to online sales.
Zhou's company not only collects cotton from the neighboring farmers, but also sources this highly profitable non-food crop from the south of the region, which holds a whopping 60 percent of cotton production in Xinjiang. The overall region will enter peak harvest season in early October.
Although Xinjiang is the main cotton production area of China, its manufacturing chain could use a boost.
"We can manage some basic cotton processing right now, but next up, we will have to improve the industrial chain, involving printing and dyeing treatments, as well as foster local skilled workers to build up our own brand," Zhou told Beijing Review.
(Reporting from Xinjiang)
Copyedited by Elsbeth van Paridon
Comments to ffli@bjreview.com