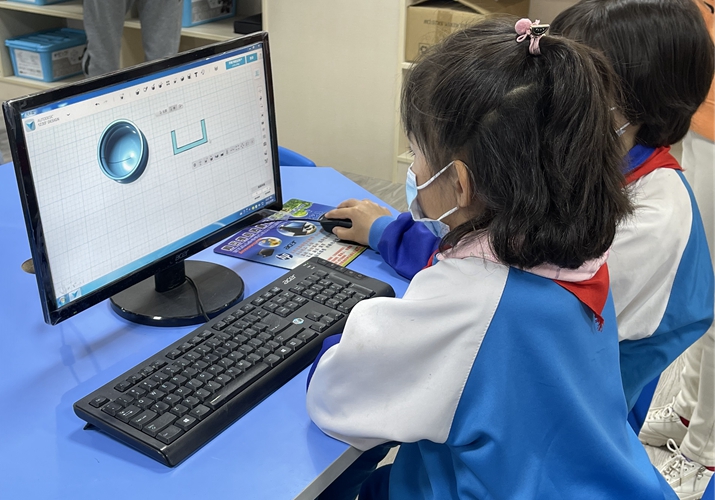 Students learn 3D printing techniques at the Lu Xun Primary School in Awat County, Aksu Prefecture in Xinjiang Uygur Autonomous Region, on April 20 (MA MIAOMIAO)
In a classroom of the Lu Xun Primary School in Awat County, Aksu Prefecture in south Xinjiang Uygur Autonomous Region, a variety of 3D-printed works take shape as students are crafting their models on computers on April 20.
"We are learning how to design a tripod, an ancient cooking vessel with two loop handles and three or four legs. This is much more complicated than the cups that I made before," Umut Mahmut told Beijing Review. Students in this class are all fourth and fifth graders who have acquired basic computer skills. Umut, a fifth grader, said he is quite interested in 3D printing. "It's amazing that I can try and turn my imagination into reality," he added.
The school is built with the assistance of Shaoxing, a city in Zhejiang Province. Since its establishment in February 2016, 16 teachers from Zhejiang have worked there. Che Feng, one of them, said interest-oriented classes such as the 3D printing one are already a common sight at primary schools in Zhejiang, but to students in Awat, they still come with a sense of novelty and exciting allure.
China started the pairing assistance program in Xinjiang back in 1997, when cadres and professionals from developed regions were dispatched to work and hold tenures there. The latest round of the program, launched in 2010, has involved ministries, plus 19 economically advanced provinces and municipalities, to help all of Xinjiang's 14 prefectures and cities. Education is paramount within the program.
Pooling support
Students at Zhejiang-funded Huzhou Primary School in Kalpin County located in the Tarim Basin, the westernmost area of Aksu, can also experience the fun of 3D printing.
"Penholders, cups and pagoda models, we designed and printed all of these by ourselves with the help of teachers," Liu Jiaxin, a fifth grader, said. Many students in her school wanted to join the study, she added.
Chen Bin, a teacher from Huzhou in Zhejiang, brought the course of 3D printing to the school in September 2018. He told Xinhua News Agency that he wanted to help students in this remote county access such new technologies and cultivate their scientific literacy in practice.
In addition to the offline courses, the students can also log in to a community and exchange their experiences and creative ideas with 3D printing enthusiasts from all over the country.
Zhejiang has been dispatching large numbers of teachers to various counties and cities in Aksu. They have introduced more learning platforms for local students and helped improve local education levels.
Beijing is another city involved in the pairing assistance program. It plans to invest around 1 billion yuan ($153 million) to upgrade school facilities and train teachers in Hotan Prefecture this year, according to the municipal government.
During the 13th Five-Year Plan (2016-20) period, Beijing invested more than 2 billion yuan ($306 million) to implement over 200 education assistance projects in Xinjiang. With the projects in place, the region built and/or renovated 193 schools and kindergartens with a combined floor space of 2.6 million square meters. More than 640 Beijing teachers also took up teaching roles in schools in Xinjiang over the past five years, according to Xinhua News Agency.
Access to basic education has greatly improved in Xinjiang in recent years, according to Gulpari Abdula, Vice President of Xinjiang Normal University and a member of the National Committee of the Chinese People's Political Consultative Conference. The regional government has also sent out volunteers from different professions, including civil servants and teachers, to work as teachers in the remote areas in south Xinjiang, she said on March 10 during the annual full session of the national political advisory body.
Xinjiang has realized the full coverage of nine-year compulsory education around the region and the four prefectures in its southern part provide a 15-year-long free education to all children from kindergarten all the way up to senior middle school, Liu Yuguang, a spokesperson for the Information Office of the Xinjiang regional government, said at a press conference on June 23, 2020.
Bridging distance
The Internet has served as a channel for Xinjiang students to get to know other parts of China.
On April 20, the Lu Xun Primary School hosted an online activity, where its students met their peers from Qunying Primary School in Shaoxing. The participants shared with each other their attainments in learning traditional Chinese culture. Students from Shaoxing also showed their campus on camera.
Students of the Lu Xun Primary School also made virtual visits to some of the tourist attractions in Shaoxing, such as the former residences of famous writer Lu Xun (1881-1936) and Wang Xizhi, the greatest calligrapher in Chinese history who lived 1,700 years ago.
"Such activities have enhanced mutual understanding of students from both places and enabled them to appreciate the charm of the fine traditional Chinese culture more vividly," Han Ping, a teacher at the Lu Xun Primary School, told Beijing Review. "They have also sowed the seeds of dreams in the hearts of our students and encouraged them to embrace the outside world in the future."
Moreover, through a pen pal program, students in Awat and Kalpin are sharing their daily ongoings by corresponding with their friends in Zhejiang. For example, the number of pairs between the Lu Xun Primary School and primary schools in Shaoxing now reaches well over 1,600.
In 2019, teachers dispatched from Zhejiang also helped raise money and books to build up a library for the Lu Xun Primary School. Since then, students at the school and their peers from Shaoxing can read the same books and share their reviews via letters.
Making a difference
Teachers from other parts of China are not only posted in Xinjiang to teach, but also to promote novel approaches and ideas about education and related school operations.
Last October, Zhang Lianyi, a math teacher with Beijing Pinggu Middle School, volunteered to work in a middle school in Hotan's Lop County. One of his students, Murat Abdullah, studies hard but always fails to get good grades on his exams. After class, Zhang would sit together with Murat and review the material taught in class that day, helping him find a more effective way of learning.
Xu Ning, 33, is vice principal of a middle school in Lop. He used to work with the High School Affiliated to Beijing Normal University. He has initiated a program that encourages teachers from large cities to offer one-on-one consultancy to young local teachers at his current school. More than 110 teaching and research activities have been conducted to encourage these exchanges.
He said through the program, teachers from Beijing and other cities have the opportunity to better integrate with the school's faculty and help change local ideas about teaching and managing schools. "That will have a sustainable impact on the development of local education," he said.
"I have worked in education for 40 years, so I witnessed the great changes in Xinjiang in this sector," Gulpari said. She also mentioned that an improved pre-schooling system contributes significantly to the overall development of basic education.
"Love can change everything. It is the teachers' love for their students makes education in Xinjiang better," she said.
(Print Edition Title: Redesigning the Future)
Copyedited by Elsbeth van Paridon
Comments to mamm@bjreview.com