In 2018, Ma returned to Xinjiang Uygur Autonomous Region. In addition to two suitcases stuffed with luxury clothing she'd brought from New York for her shooting project, she also brought with her a broader vision to trace her childhood memories.
She hopes to equip people with new perspectives on what Xinjiang really is, aiming for those both in and outside the know. "Xinjiang is developing. It's not just an online search result when you're looking for 'Uygur people' or 'beautiful scenery'," Ma told ThePaper.cn. Her internationally driven aesthetic view also empowers her with the ability to spot those fresh angles overlooked by locals.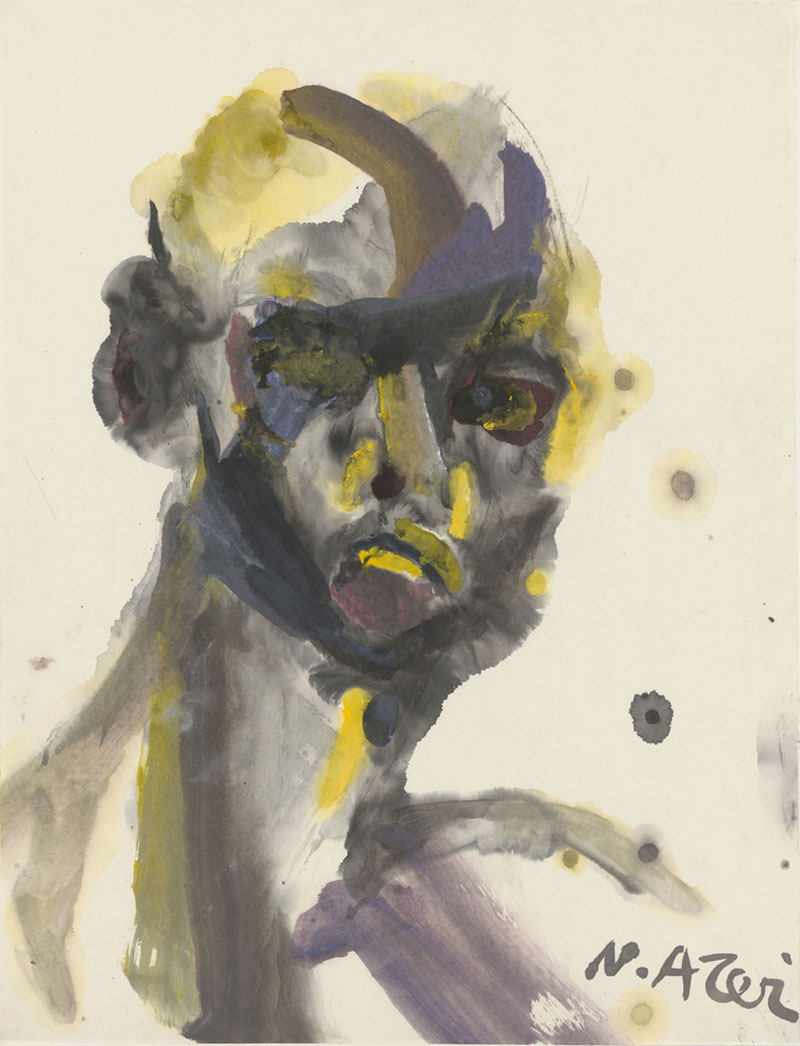 Self-portrait of painter Najimidin Azezi, 2011 (COURTESY OF GAOTAI GALLERY)
I'm where I come from
South Xinjiang, which features the most pronounced Uygur characteristics, became Ma's top pick to shoot location-wise. "I grew up with Uygur neighbors when I was young and was always fascinated by their culture and coloforful clothes," she said.
"Older ladies would often put money in their stockings. I could always tell whether female neighbors had gone out or not by smelling their fragrance left in the building," Ma recalled. She grew up in Urumqi, the region's capital city, and left for New York at the age of 18 to start her eight-year study there.
Her first Xinjiang series, entitled Hometown, garnered much attention in terms of her sophisticated blend of the trivialities of Xinjiang local life and the at times travesties of modern fashion. The series made its public debut at the opening of Xinjiang's Gaotai Gallery, the first contemporary gallery in the region, in November 2019.
"Artists from Xinjiang tend to have a strong sense of color, rarely seen in artworks rooted from other parts of China," Musa Ma, Curator of the Gaotai Gallery, told Beijing Review. Their rich and often flamboyant palettes possibly result from a combination of the region's long hours of sunshine and other natural resources, according to him.
Musa Ma was born in Tacheng, a small town in the northern part of Xinjiang. He and Hailun Ma have both studied and worked overseas so they shared the artistic vision of "Urumklyn" to depict the parallels between Urumqi and Brooklyn, Xinjiang and New York.
"People from different ethnic groups live together with mutual respect in both places. The various cultures there encounter, collide and grow together, creating an all-inclusive environment for people to break down conventions," Hailun Ma said.
She sent out a non-profit photography invitation to people in Urumqi in May, looking for anyone with a love for the city to come to the Gaotai Gallery, where she'd set up four backdrops depicting her thoughts on Xinjiang family life.
In the four days running from May 7 to 11, she photographed more than 150 Urumqi residents. Among them were government employees, barbers, students, craftsmen, and so the list continues, ranging from 28 days to 88 years old.
"I met a lot of young people with inspiring ideas. This campaign means a lot to me," Hailun Ma wrote on Weibo, China's equivalent of Twitter.
"From the over 150 participants, the most frequently heard Urumqi-related keywords were: memory, diversity, development and tolerance," wrote Musa Ma, Hailun Ma's collaborator in the project. "One of the participants shared that Urumqi possesses diversity in its very DNA."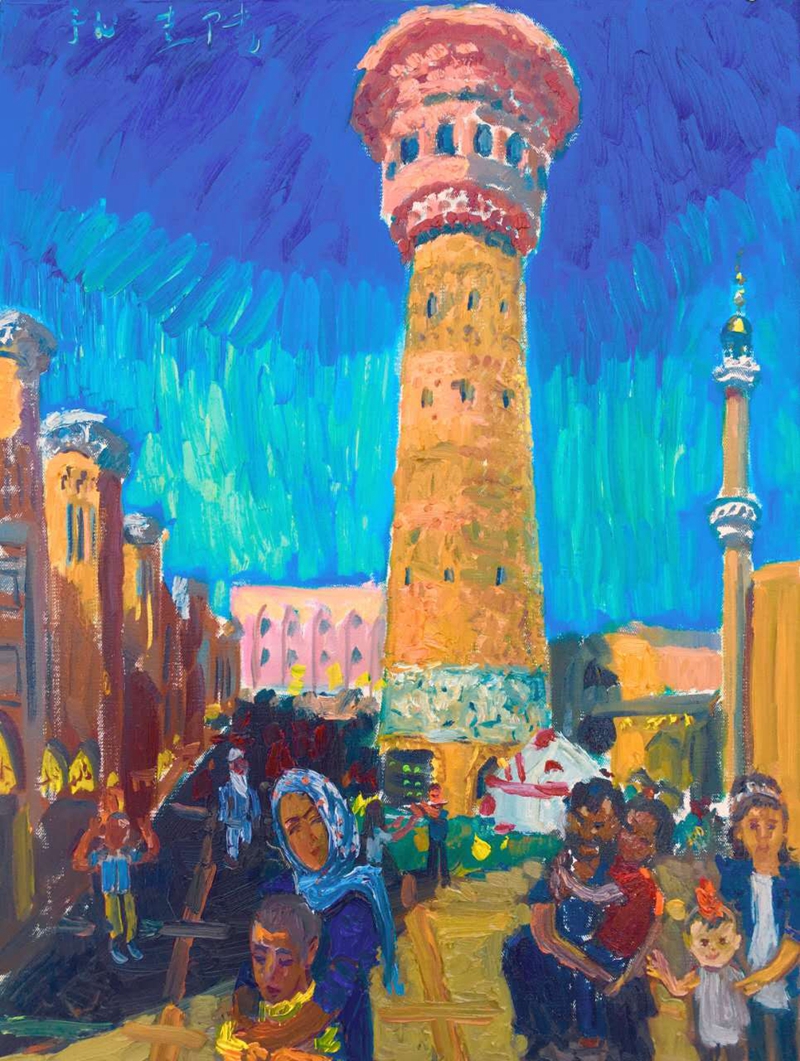 Unforgettable Memory at a Bazaar, oil painting by Zhang Yongxu, 2016 (COURTESY OF GAOTAI GALLERY)
The artful connection
Hailun Ma and Musa Ma play the role of cultural ambassador as many other Xinjiang individuals aspire to further share the true Xinjiang with the outside world. This eagerness stems from a lack of communication, the overall vastness of the region and several possible misunderstandings sprouting from the former two.
"To understand today's Xinjiang, I think people should not just read the news. Instead, you have to [really] see the dynamics, the potential of Xinjiang," Musa Ma said.
Even Musa Ma himself, who is half Kazak, half Hui, feels overwhelmed by the geographic and cultural differences he uncovers between the northern and southern parts of Xinjiang. In the south, Uygur is the chief ethnicity. Whereas up north, various ethnic groups, including Kazak, Han, Uygur, Tatar, Kirgiz, all live together and share each other's traditions and practices.
"My first time to Kashgar in the south really restructured my perception of Xinjiang," Musa Ma said. The name of his contemporary gallery "Gaotai" actually finds its inspiration in the Gaotai Residence, a tangible cultural heritage site in Kashgar. For him, the mixing and matching of traditional and modern characteristics is not a matter of contradiction due to the richness entrenched in his own DNA.
His hometown of Tacheng embraces an open-minded lifestyle. Families are often mixed, covering a variety of ethnic groups. Therefore, they celebrate a lot of traditional festivals, from Eid to the Spring Festival.
"Today, what I'm doing is also an attempt to bring together people from different backgrounds. Art definitely can introduce Xinjiang to the public from a different perspective," Musa Ma elaborated.
In this day and age, inter-ethnic relationships are common in Xinjiang, yet some remain conservative about the modern trend, according to Hailun Ma. "Nevertheless, no matter which ethnic group you hail from, we all grow up in the same land, so why not respect and celebrate our diversity?" she said.
Regarding the element of fashion in her work, she concluded that just like a stir-fry needs a little salt. "I need to sprinkle a little 'magic' onto the photo, and evoke that memory of the colorful, thriving, and infinite possibilities of Xinjiang," she said.
(Print Edition Title: Diversity, the Xinjiang DNA)