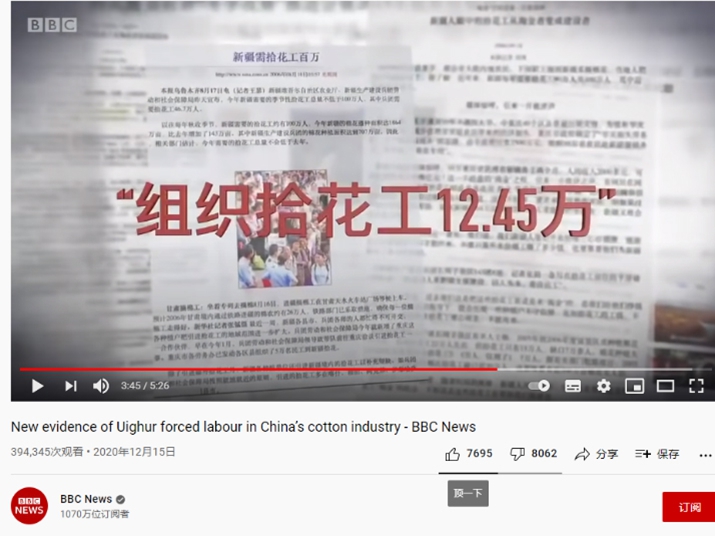 One of the "newly uncovered documents" in the BBC video dates back to 2006
Imagine a journalist is followed by strangers and gets denied entrance by security guards as he is trying to gain access--and answers. Imagine this is the only information you can gather from the journalist's video; what message would that convey? Usual answer: There must be a secret hiding behind those closed doors. As for what this secret might be, it doesn't really matter. And any reporter whose profession is to explore the truth would be forgiven by the public for not being able to provide them with solid proof.
Unfortunately, this is the way many Western media outlets have produced Xinjiang-related videos, catering to a viewership very unlikely to ever visit the region in person and dividing the people by enlarging the information gap.
The British Broadcasting Corporation (BBC) has proven a leader of the trend. Its former China correspondent John Sudworth contributed numerous stories centered on Xinjiang Uygur Autonomous Region. Yet throughout the process of his reporting, he rarely seemed to show any genuine respect for the locals -- or the truth, for that matter. Make no mistake: I have long been a loyal follower of Sudworth's, but as a Xinjiang native who today lives and works in Beijing, one example of this rather twisted take on Xinjiang stood out to me.
BBC News published a video titled New Evidence of Uygur Forced Labor in China's Cotton Industry on December 15, 2020. The video's opening sequence had Sudworth hinting that "the evidence wasn't easy to find."
Sudworth gets rejected by one man who explicitly asked not to be filmed; this man could have been any random passerby. In the next shot, Sudworth claims he's being "followed" by a car with its license plate blurred out, shrouding the scene in a sense of mystery.
The place he wanted to conduct interviews was a textile factory where he was later asked to delete what he had recorded--without giving viewers any more specifics as to why he was asked to do so. He also can be overheard telling the guard, "We are entitled to film in public anywhere in China." This, however, is not exactly accurate.
According to the media guide published by China's State Council, a foreign journalist who intends to interview organizations or individuals in China needs to obtain their prior consent. Sudworth presumably had not filed any application of the sort.
Even in the UK, journalists do not possess the right to film in random public settings. "We should treat our contributors with honesty and respect. Our commitment to fairness is normally achieved by ensuring that people provide their 'informed consent' before they participate," the BBC's editorial guidelines read.
However, the security guard of the factory in point didn't feel they were being respected. "They [the BBC reporters] were arrogant and looked down on us," one security guard said in another video courtesy of a Chinese vlogger who goes by the name of Uncle Damo. The latter successfully entered the factory although he, too, was met with an initial refusal.
Later, Sudworth posted some supporting materials taken from local Xinjiang news to substantiate his forced labor assumptions. Taken aback by his out-of-context interpretation, I found myself hesitant to become too skeptical and casually assume it was indeed his intention to create an affronting Xinjiang narrative. It could just be the language barrier. So I decided to scratch the surface.
The video saw Sudworth present a host of Chinese news snippets, from which I selected two to explore a little more. One piece spoke about local farmers who wanted to seize some working opportunities on the side. Many farmers in the region definitely do so in order to increase their income. The other extract mentioned Xinjiang was in need of cotton-pickers during harvesting season and people from the neighboring Gansu Province would come in to help and up their revenue.
Last, but not least, though the visual effects added to the screenshots made it hard to verify their meaning word by word, as I zoomed in, I could clearly see the second piece of quoted news dated back to 2006. Nevertheless, Sudworth alleged they were "newly uncovered documents."
This claim alone made him lose credit. Not to mention the fact he was only able to grasp some fragmented "key words."
Truth be told, the cotton field in the video is "no stranger" to my generation. We used to help our relatives pick cotton and were encouraged to gain some immersive farming experience when attending middle school in the 2000s. Although feeling tired after a whole day of working in the field, we spent the better part of our school days out there because it meant we would be free from classroom restrictions. Any kid would concur.
Based on the "uncovered documents" quoted in the video, I came to two realizations I wanted to briefly highlight. First, the land in some parts of Xinjiang did not suffice to feed local people. This is easily confirmed when you pull up a map of China, which will show you that a large area in southern Xinjiang is covered by desert. As for why locals needed the government's help, I'd argue the underlying reason was the existing gap between China's rural and urban development that restricted their journey to self-expansion--simply put. This was not a matter of ethnicity.
Second, the local cotton industry in the region has developed over a period of decades and people from other provinces with high population density would travel far and wide to increase their income. As mechanized cotton-picking started becoming more commonplace some 10 years ago, fewer laborers are seen in the fields.
From interviewing to editing, I didn't see the BBC crew, Sudworth included, stand with the locals and talk to--let alone "with"--them in their own language, the one arguable way to get one step closer to the truth. And at the very least that would be more in line with the BBC's editorial standards of "treating our contributors with honesty and respect."
Copyedited by Elsbeth van Paridon
Comments to ffli@bjreview.com