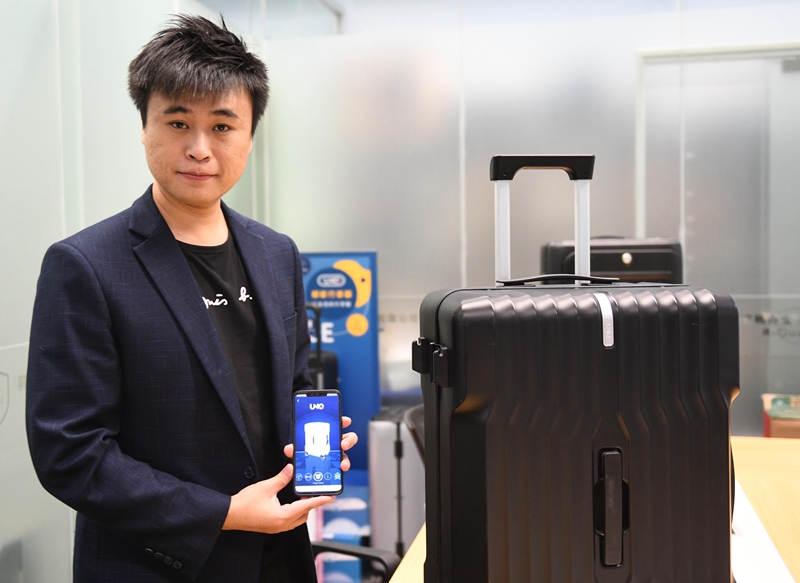 Kwok Wai Keung presents a smart suitcase and the related smartphone app of his company R-Guardian in Shenzhen, Guangdong Province, on September 10, 2020 (XINHUA)
Packing big aspirations, hopeful entrepreneurs and innovators have flocked to the Qianhai Shenzhen-Hong Kong Modern Service Industry Cooperation Zone in Shenzhen, Guangdong Province, in recent years. Kwok Wai Keung, a Hong Kong resident born in 1990, is one of those attracted to the zone, where today he has achieved his entrepreneurial dreams.
"The complete industrial chains and supportive measures in Qianhai are quite appealing. And the cooperation between Shenzhen and Hong Kong has allowed us to enjoy the preferential policies of both places," Kwok, cofounder of smart device startup R-Guardian, told Beijing Review. In October 2016, his team set up operations in the Shenzhen-Hong Kong Youth Innovation and Entrepreneur Hub in Qianhai.
Following the establishment of the cooperation zone in 2010, the hub was officially launched in 2013. As of June 2021, it had incubated 524 startups, of which 245 were established by people from Hong Kong.
Qianhai thus far has registered over 11,000 Hong Kong-funded enterprises. Last year, the central authorities unveiled new development plans for Qianhai and Hengqin, an island in nearby Zhuhai City, to further boost development in the Guangdong-Hong Kong-Macao Greater Bay Area (GBA).
Magnetic and electrifying
Majoring in information engineering, Kwok graduated from the Chinese University of Hong Kong in 2015. While studying for his master's degree, Kwok built his own business around the concept of smart suitcases—which he originally created for an undergraduate project. Today, these valises are one of his company's most popular products.
"The location of an R-Guardian smart suitcase can be traced via a smartphone app. The luggage displays its packed weight and the owner can unlock it using fingerprint recognition," Kwok said, adding that the company has also developed mobile chargers and smart bags.
R-Guardian has obtained 12 patents and forged partnerships with more than 10 bag and suitcase brands from China and abroad, selling its products worldwide. Its estimated market valuation now exceeds 100 million yuan ($15 million).
Kwok and his team members first established the company in Hong Kong, but soon found supply chain restraints and financing difficulties were hard to overcome there. They decided to relocate and set up shop in Qianhai to expand the business.
"In Qianhai, we have better access to funding and enjoy reduced office and housing rental prices, as well as lower taxes. Government departments promoting entrepreneurship have also provided comprehensive business registration and taxation services, creating an overall effective regulatory framework," Kwok said.
The company is riding the tide of smart technology and domestic demand for it.
"From my point of view, the GBA's economy has developed rapidly and people's general consumption power has been on the up. Where once the major demand was for simple items, today's consumers require high-end and more diverse products, which is generating great entrepreneurial opportunities," he said.
But with high-end demands come high standards and businesses must keep tweaking their products to retain consumer favor. Take Kwok's suitcases, for example. When moving around in vehicles or on planes, the valises' theft alert can prove inaccurate. Or, given people may not be charging their luggage on the daily, the suitcases' battery life may prove an issue. Kwok's team is working hard to iron out these kinks.
Furthermore, the impact of COVID-19 resurgences on R-Guardian's supply chains in recent months has pushed the company to look for backup suppliers in other cities.
"The GBA cities have been making the most of their respective advantages to driving complementary development. We have planned supply and assembly centers in Huizhou and Dongguan, which are among the nine Guangdong cities in the GBA, as alternative bases for Shenzhen. With our production base in the bay area, our company is planning to cover more of the domestic market," he said.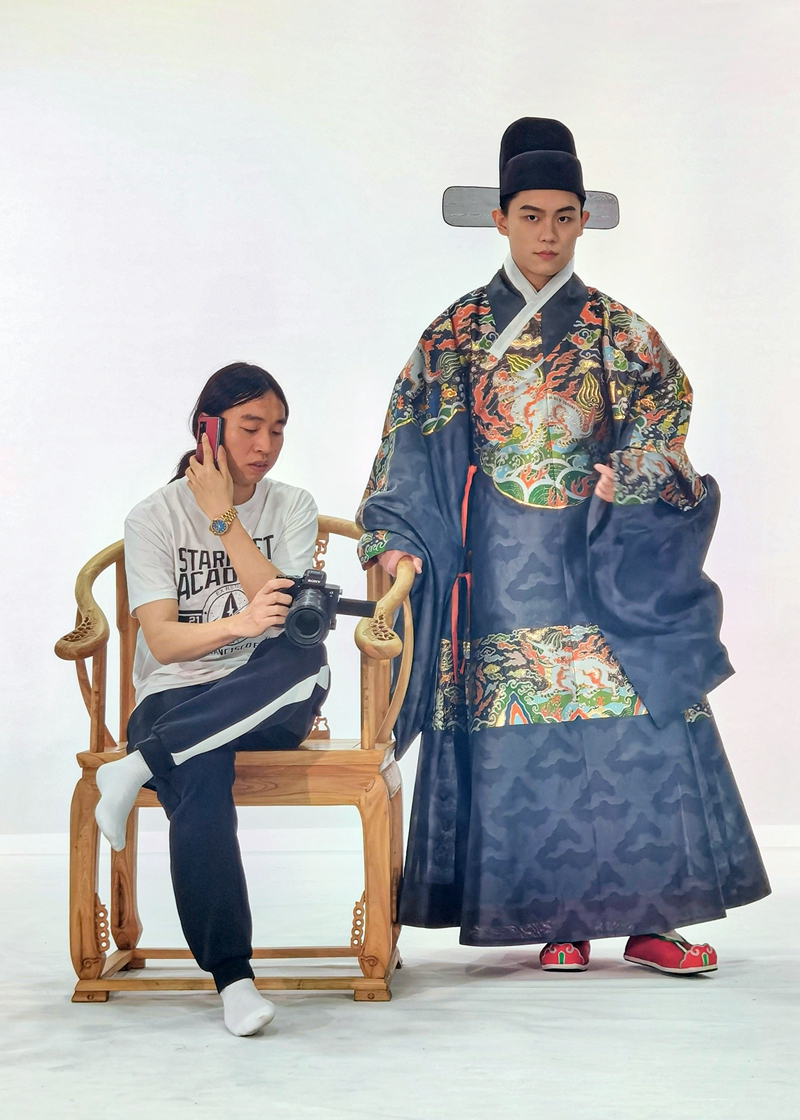 Designer Zhong Yi and a model during a hanfu shoot in the Minghuatang studio in Guangzhou, Guangdong Province, on March 1 (COURTESY PHOTO)
Take a chance on tradition
In May 2017, the image of model actress Lin Chi-ling wearing hanfu, or traditional Chinese dress, made it onto the mega screen in New York City's Times Square. In this city of all that is trendy, the longstanding allure of traditional Chinese fashion made a splash. The outfit was created by Zhong Yi, a hanfu designer from Hong Kong.
Born in the 1980s, Zhong is the founder of Minghuatang, a high-end hanfu brand focusing on reproducing costumes of the Ming Dynasty (1368-1644). Established in 2007, the label has grown into one of China's major domestic players in its modish genre.
Zhong first developed an interest in hanfu when he was in high school in Hong Kong. He, almost like a visionary, started wearing the outfits well before the hanfu trend took off across China in the late 2010s. After graduating from the Guangzhou Academy of Fine Arts in Guangdong in 2005, he launched his own brand in Guangzhou. According to Zhong, the Pearl River Delta in Guangdong is a manufacturing hub, making it convenient for him to translate ideas into products.
"When watching costume TV dramas, I realized some of the costumes weren't in line with ancient 'dress codes.' So I developed the idea of creating a hanfu brand to make costumes based on historical facts," Zhong said.
He chose to replicate Ming Dynasty styles because many of the era's clothes have been well-preserved and there's a plethora of paintings and literary works one can refer to. Plus, the styles of Ming and modern people do bear some resemblance, just think ankle-length skirts, for example, Zhong said.
Minghuatang focuses on making outfits for formal occasions—from weddings to official banquets. One full outfit can cost up to 9,000 yuan ($1,343). But for many fans, the typical patterns and fine fabrics of its tailored costumes are worth it. To guarantee product (and customer) satisfaction, Zhong visits fabric markets and handpicks the materials himself. The final design lies in the details, none of which escape his attention.
An idealist, Zhong hopes to preserve and carry forward traditional Chinese culture. He is happy to see more young people embrace their confidence in and preference for traditional culture, a feat ultimately marked by the rise of the China Chic trend, also known as the rise of China's native fashion trends since the late 2010s. While wearing hanfu has mainly become a trend on the Chinese mainland, it's also catching on among Hong Kong youth. Hong Kong has seen the emergence of several hanfu-dedicated societies, like Hanfu-Hong Kong (with around 200 members), in recent years.
"Young people may prefer new styles to old ones, but we, as designers, are not supposed to blindly cater to their preferences or just randomly create 'stuff.' I hope to promote the wearing of standard hanfu in more than just formal settings," Zhong said.
Copyedited by Elsbeth van Paridon
Comments to lixiaoyang@cicgamericas.com