Sculptures designed by
Enrico Taranta for the
World Expo in Shanghai
in 2010. The Italian
architect has been
running his own studio
in the city since 2010 (COURTESY PHOTO)
Enrico Taranta, an Italian architect, has been in Shanghai since 2005. For him, China's appeal has expanded from its culture to its booming growth. Despite language barriers, he decided to settle down and has seen his dreams coming true ever since.
At first, he went to Shanghai as lecturer of interior design at Donghua University. Later on, he worked for PTW, the Australian company that designed the National Swimming Center, an Olympic venue popularly known as the Water Cube. In 2010, he was commissioned to create a sculpture park on the site of the Shanghai World Expo. Later, he established his own studio, TARANTA CREATIONS.
"I always felt attracted by Chinese culture, since childhood, and I saw great opportunity here to build my dreams as a creative designer," he told Beijing Review.
China is no longer a stranger to Taranta, as he explores its history and future prospects. According to him, China and Italy are quite similar, both with long histories and splendid cultures, and the people having strong values surrounding family and good food.
Nevertheless, learning the Chinese language has remained a challenge for him and, to help make up for this, he asked Julia Xu, a Chinese designer, to join his studio as partner in 2018. Since then, TARANTA CREATIONS has continued to develop and become more established in China.
"My business is growing every year, even over the past two years when it was quite difficult for the world due to the COVID-19 pandemic. The Chinese market is evolving dynamically and the people are curious about new things. This will be a big new chapter in my company business and my creativity," he said.
Visionaries
Taranta said he has seen huge changes and developments in Chinese cities and society over his 17 years here.
In addition to public and commercial projects, he has been designing private home interiors since 2016. According to him, Chinese people are achieving a high standard of living, focusing more on the quality of products and services and always looking for new things that can improve their wellbeing. It makes him feel happy and also lucky to have been part of this change and having contributed to it.
Taranta is working on a program to bring digital art into people's homes through virtual and augmented reality technologies. With the help of hi-tech devices, users can experience a mix of the real world and displays of digital collections.
"There will be big LCD walls inside houses to connect with virtual worlds or display digital art. We have already started to develop this business. That is probably going to be the biggest new development in the world and in China for the next decade," Taranta said.
Understanding China
Rogier Bikker, Managing Director of Media.Monks China, is another entrepreneur attracted by China's growth. The Shanghai-based company aims to help top brands navigate the Chinese marketing landscape.
After college graduation, Bikker moved from the Netherlands to Shanghai and set up a creative digital agency, known as TOMORROW. "From the moment I set foot in China over a decade ago, I've been fascinated with understanding its youth," he said.
His business grew rapidly, working with iconic brands including Burberry, Budweiser, Starbucks, Coca Cola and Converse. In 2021, the company merged with Media.Monks, part of S4 Capital, a London-based digital advertising and marketing services company.
Bikker has also been involved in the promotion of Chinese brands overseas. According to him, while consumers in Europe and the U.S. were skeptical about the quality of Chinese products a decade ago, feature-packed phones from Huawei and Xiaomi are piquing their interest.
In 2014, he initiated a project called Brand New China to highlight the reliability and superior technology of Chinese brands. "Back then we had to work to prove their value and durability, but that's changing thanks to young Chinese entrepreneurs," Bikker said, citing the fact that increasing numbers of Chinese homegrown brands have emerged in recent years.
He highlighted the case of clothing brand SHEIN, which now launches over 1,000 new fashion items a day globally by using algorithms instead of design, giving global fast fashion brands a run for their money.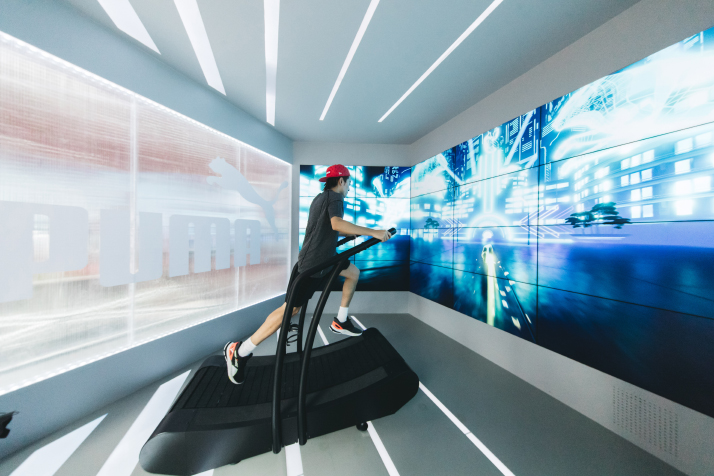 A virtual display by Media.Monks China for people to experience the products of sports brand Puma in Shanghai in July 2019 (COURTESY PHOTO)
Trial and error
Data from the Ministry of Commerce showed that newly established foreign-funded enterprises in China totaled 48,000 in 2021, up 23.5 percent year on year. In addition to transnational conglomerates, foreign-funded small and medium-sized enterprises (SMEs) are thriving in China, with its large market and improving business environment.
Many local governments have introduced supportive measures for foreign entrepreneurs. Since mid-2015, international students graduating from Chinese universities and living in Shanghai have been eligible to apply for an entrepreneur visa, which allows them to stay in China and start up their business in the city within a year.
In September 2020, the Beijing pilot free trade zone was launched, focusing on international commerce services, science and technology innovation, and high-end industries. Last July, the municipal government unveiled measures to improve the registration, taxation and social security systems for foreign-invested enterprises.
Despite rapid growth in demand within the Chinese market, establishing a business in China is not without its challenges for a foreigner.
Taranta said one of the biggest challenges for a small company is to compete with giants in the same field. Therefore, it is important to stay specialized, offer high quality, and create a market niche. His company has been focusing on research and innovation, and bringing the latest trends from Italy to China.
According to Bikker, Chinese consumers are responding more positively to local brands, especially those of electronic devices, cosmetics, as well as entertainment and fashion products. Domestic companies have captured the top spots in many industries on the back of strong national pride, as young people have become more interested in their own culture. As a result, building a foreign brand among Chinese consumers is no longer as easy as it once was.
Nevertheless, he still sees growth potential for foreign businesses in the Chinese market. Yue Xin Yi, a new ice cream brand launched by Swiss food company Nestlé in 2021, has been embraced. The product designs, as well as the lychee rice wine and frozen milk tea flavors all champion the culture of Guangdong Province, earning the love and loyalty from local consumers.
"It is still possible for foreign brands to win in China, but only with a deep understanding of and respect for Chinese culture," Bikker said.
(Print Edition Title: Chasing Chinese Dreams)
Copyedited by G.P. Wilson
Comments to lixiaoyang@cicgamericas.com