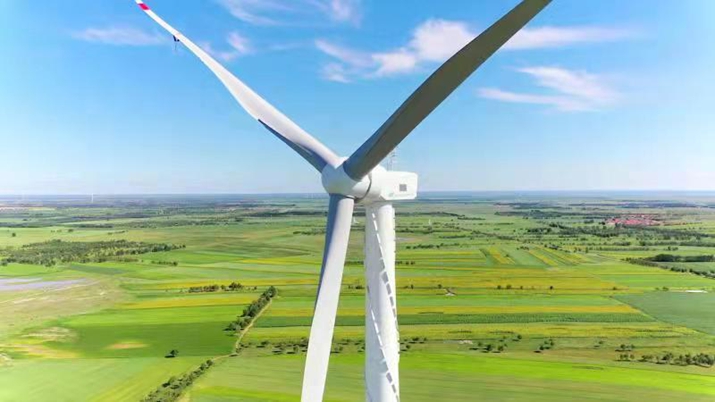 A Xinjiang Goldwind Science and Technology Co. Ltd.-equipped wind power project in Zhangjiakou, Hebei Province (COURTESY PHOTO)
A top political advisor has called for increasing clean electricity consumption and making the most of green finance to support renewable energy industries.
Wu Gang, a member of the 13th National Committee of the Chinese People's Political Consultative Conference (CPPCC), told Beijing Review during this year's CPPCC National Committee session, which commenced on March 4, that he has drafted various proposals on the green transformation of China's economic and social development along with several on the sustainable development of renewable energy.
China's energy transformation has entered the fast lane in recent years, Wu, Chairman of wind turbine manufacturer Xinjiang Goldwind Science and Technology Co. Ltd., said. As the world's largest energy consumer, the country must hasten the shift to green electricity in a bid to achieve its carbon peak and neutrality goals before 2030 and 2060, respectively. Given a carbon account mechanism can define emitters' rights and responsibilities, he called on more enterprises and institutions to embrace it so that it can be expanded across China by 2024.
"The mechanism can help develop a transparent carbon and green electricity management system to trace and monitor emitters," Wu told Beijing Review.
Local governments are also supposed to develop energy storage modes in line with market demand and ensure the safe and stable operation of energy storage stations. Sharing of energy storage should be encouraged, Wu said.
As green finance plays a key role in the expansion of the renewable energy industry, Wu further proposed to improve green credit by lowering re-lending rates and extending loan terms. He urged authorities to strengthen fiscal and taxation support for renewable energy, energy storage and green power consumption to facilitate the low-carbon upgrade of China's energy system.
Wu said wind power's substantial potential in empowering rural revitalization has yet to be unleashed. Since China is in its initial stages of energy transformation, boosting this particular, and common, type of renewable energy is vital to driving green transition. Data released by the National Energy Administration this year indicated that the newly installed capacity of wind and photovoltaic power generation in China totaled 101 million kW in 2021, with wind power accounting for 47.57 million kW.
Core technologies in China's wind power industry have increasingly matured, sustainably generating economic benefits. The government can promote the development of wind power demonstration counties, townships and villages as part of its efforts to energize rural areas, Wu added.
"With immense possibilities in developing wind power, these areas can translate their wind resources into profits while meeting their own electricity demands at a low cost," he said.
Copyedited by Elsbeth van Paridon
Comments to lixiaoyang@cicgamericas.com