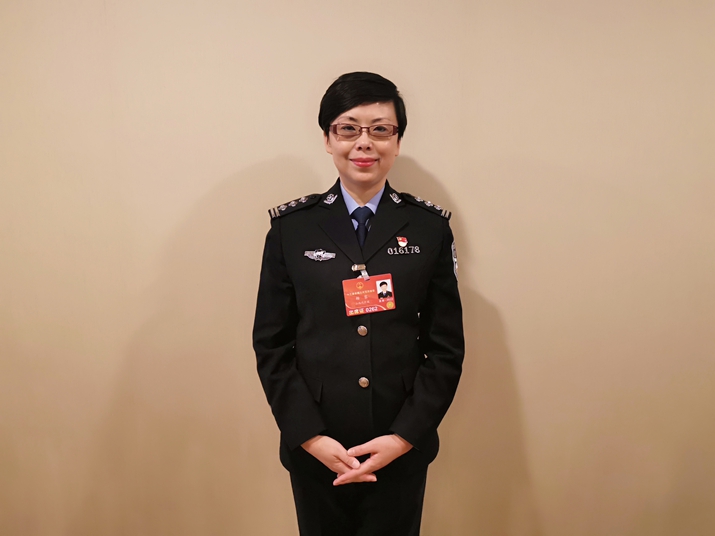 Yang Rong, a National People's Congress deputy from Taiyuan, Shanxi Province (COURTESY PHOTO)
"Through the performance of my duties, people's voices can be heard and acted upon by the National People's Congress (NPC), China's top legislature. This is the embodiment of whole-process people's democracy," Yang Rong, an NPC deputy from Taiyuan, Shanxi Province, told Beijing Review.
Yang, a police officer, arrived in Beijing on March 3 to attend the Fifth Session of 13th NPC, which will kick off on March 5.
As a lawmaker, Yang is to deliver proposals for the constituency she represents. The NPC, the highest state organ of power in China, is composed of some 3,000 elected deputies such as Yang.
Yang's proposals this year will concern the promotion of law-based grassroots governance and the development of safer communities. Additionally, as a member of the Taiyuan Women's Federation, she will also be focusing on issues related to the rights of women and children during the NPC session.
"We have achieved a lot in grassroots governance," Yang said. "For example, implementing new and effective management systems for communities and neighborhoods with high population densities, which allow us to identify social problems more easily."
"We have invited retired people and volunteers to participate in the management of different areas of my community," Yang said. "Dividing communities into smaller sections allows us to better manage risk, providing a safer and happier living environment for residents."
However, China's current urban and rural community governance models are complex,and often do not provide clear guidance on the distribution of responsibility. Yang said that it is necessary to regulate the governance of communities at the legislative level to make urban and rural community governance more effective.
"I developed the proposal based on the problems people face in their daily lives," Yang said, adding that she has conducted field research and discussed her proposal with experts.
"My work as a deputy over the past four years has allowed me to see the importance the NPC attaches to our advice," Yang said. "It also reflects the importance the Central Government attaches to grassroots affairs, which also inspires deputies to represent the people more actively."
Since becoming an NPC deputy in 2018, Yang has submitted proposals for reform concerning increasing the safety of police, promoting folk culture, and encouraging family education, which have been accepted by the NPC.
"The process by which I create and deliver the proposals, and the NPC considers the proposals is the embodiment of whole-process democracy," Yang said.
Copyedited by G.P. Wilson
Comments to taoxing@cicgamericas.com