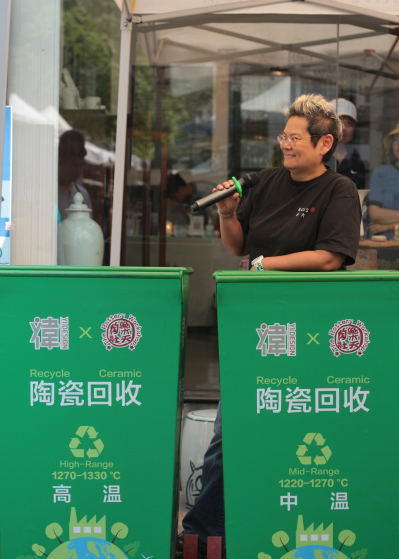 Cheng promotes the ceramic waste recycling project in Jingdezhen, Jiangxi Province, on May 1, 2021 (COURTESY PHOTO)
Her short, bleached-blonde hair has made Caroline Cheng, a maverick among members attending the Fifth Session of the 13th National Committee of the Chinese People's Political Consultative Conference (CPPCC).
At the session, she submitted two proposals. One on expanding and regulating non-motor lanes on Shanghai's streets to encourage more people to ride bicycles for a low-carbon lifestyle; the other to offer more preferential policies to startups working on environmental protection.
Environmental protection was included as a major chapter in the government work report delivered by Premier Li Keqiang on March 5. The report incorporated proposals submitted by political advisors—like Cheng.
The voice
Since 2007, she has spent around 10 days in Beijing each March, for 15 consecutive years as a member of the CPPCC National Committee, expressing her ideas and communicating with people from all segments of society.
Born in Cambridge in the United Kingdom in 1963, her life track has spanned three continents. She went to kindergarten and primary school in Hong Kong and attended middle school and college in the United States, where she discovered art to be her lifelong love. In 2001, she moved to Shanghai and has lived on China's mainland ever since.
As an internationally acclaimed avant-garde ceramist, she has been very active in China's art scene. She has held solo exhibitions and curated numerous exhibitions both in China and abroad since the 1990s. She is the founder of Pottery Workshop, the largest ceramic center in Hong Kong, Shanghai and Jingdezhen in Jiangxi Province, the latter renowned as the ceramic capital of China. She also founded ceramic workshops in Beijing, and Dali in Yunnan Province. She is a documentary producer, company founder, and adjunct professor at art colleges, an equestrian, and a constant promoter of green development.
In 2007, her first year of serving as a CPPCC National Committee member, Cheng lived in Shanghai and submitted four proposals: Three were on developing the creative industry in Shanghai and Beijing, and the other was on environmental protection.
Since establishing the Pottery Workshop in Jingdezhen in 2005, her proposals have covered areas including education of college students at Jingdezhen Ceramic University, protection of intangible heritage of local ceramic craftsmanship, and environmental degradation caused by ceramic waste.
"I conducted research and included solutions to the problems I uncovered in the proposals," she said. In preparing for the proposal in 2013, suggesting Jingdezhen offer more support to the young, she conducted interviews with young local ceramists and recorded their answers regarding their difficulties in studying, living and starting businesses in the city.
"The struggle to find low-rent workspace is a common concern for artists nationwide," Cheng said in the proposal. "The 798 Art Zone in Beijing and Tianzifang art enclave in Shanghai failed to maintain their attraction due to rocketing rent and other costs. I hope Jingdezhen can learn from these examples to have a longer view on development instead of making fast and short-term money."
"The annual session of the CPPCC National Committee has offered a very effective way for us to express our ideas and the proposals we have submitted have been given careful consideration," she told Beijing Review. "Every proposal we submit is delivered to relevant departments, which will then conduct research and provide a reply analyzing the causes of the problems and what they have done or will do to solve them."
"If we are not satisfied with the reply, they will continue work on that issue until we are," she said.
In 2015, she submitted a proposal on regulating the eligibility of institutions to offer the title "ceramic master." "Bestowing the title is a way for the institutions to make money, and those applicants paid money in return for being awarded the title. With the title, they can then raise the price of their works," she said in the proposal. She included a list of offending institutions in the proposal.
This proposal was well received, and these grandstanding title-awarding activities were canceled within a year.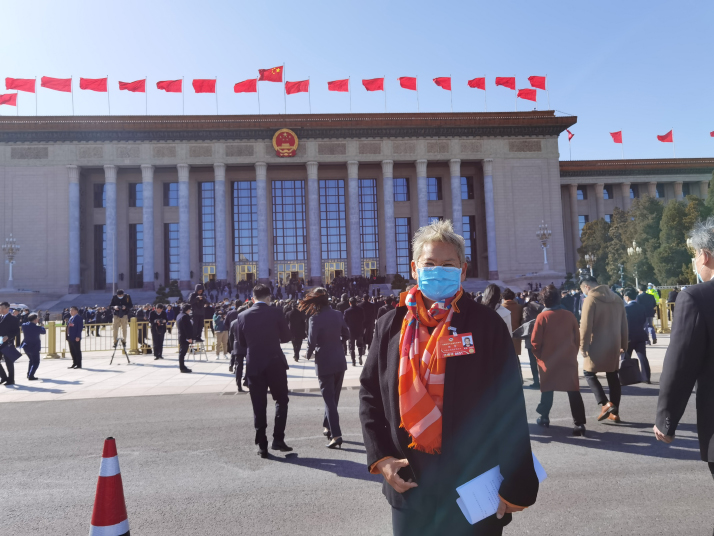 Caroline Cheng attends the Fifth Session of the 13th National Committee of the Chinese People's Political Consultative Conference on March 4
(COURTESY PHOTO)
Green promoter
Not all proposals can make such a prompt impact. Some take longer. Beginning in her first year serving as a CPPCC member, Cheng submitted a series of proposals on energy saving and environmental protection, and the environment has become a focus of her activities.
The proposal submitted in 2007 on environmental protection was rather an all-in-one proposal. It covered multiple aspects including air pollution, soil pollution and waste recycling.
She said she is glad to see the Central Government has laid increased importance on this area and significant progress has been made.
Cheng's proposals on the environment after 2007 have been more specific, covering issues such as wildlife protection, reduction of carbon dioxide emissions and, more specifically, on ceramic waste recycling.
"Over 10 million tons of ceramic waste are produced each year in China," she wrote in the proposal of 2021. "Ceramic waste is nondegradable. Usually, people bury the waste illegally at random. It poses a great challenge to the environment."
Cheng has also made her own contributions to this field. In 2021, along with partners, she initiated the Yi Design Ceramic Waste Regeneration Project, which established a factory to collect and process ceramic waste in Jingdezhen. Last year, 60 ceramic plants delivered over 5,000 tons of waste to the factory, and Cheng founded a company in Shanghai that uses this waste to produce eco-friendly materials.
"The CPPCC National Committee has gone through profound changes over the past 15 years," she said. "Fifteen years ago, we focused more on domestic issues, but now I can feel people are standing taller with much wider vision, and are making considerations with a more global view in mind. Global warming, for example, has become a common concern. We are expecting more progress in green development."
(Print Edition Title: Sculpting Change)
Copyedited by G.P. Wilson
Comments to yuanyuan@cicgamericas.com