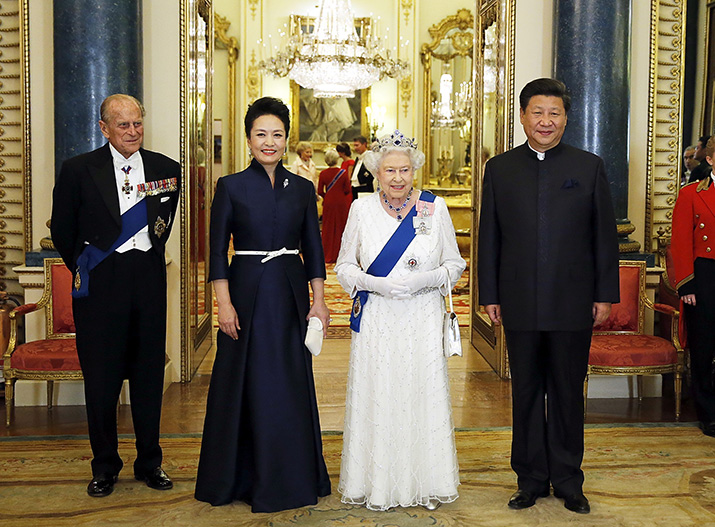 President Xi Jinping attends a banquet held by Queen Elizabeth II at Buckingham Palace in London on October 20 (XINHUA)
A few days before Chinese President Xi Jinping set foot in London to begin his state visit, British Prime Minister David Cameron told members of the media that the visit would mark "a golden era" in the two countries' relationship.
The statement turned out to be far from an exaggeration. Golden it was, with elaborate arrangements, eloquent dinners, and even a golden carriage to carry Xi to Buckingham Palace. Substantively, the commitment to collaboration reached during the trip has indeed sparked a "golden era" of China-Britain relations, with a significant set of achievements and deals reached that will benefit both parties.
Warm welcome
The Chinese Central Television (CCTV) news footage showed that on October 20, along with 41 rounds of gun salute fired from Green Park and 62 from the Tower of London, Queen Elizabeth II and the Duke of Edinburgh formally welcomed President Xi and first lady Peng Liyuan at the Royal Pavilion on Horse Guards Parade. They were also greeted by Prince Charles and his wife Camilla, the Duchess of Cornwall, in London on October 20.
Xi, accompanied by the Duke of Edinburgh, inspected the Guard of Honor and later joined the Queen and the Duke for a state carriage procession along The Mall to Buckingham Palace, with the Chinese National Anthem being played en route . After greeting cheering crowds, Xi enjoyed a private lunch at Buckingham Palace with the Queen and viewed an exhibition of items from the Royal Collection from China.
The high-profile reception by the British royal family of the Chinese leader reflects the extraordinary hopes Britain pins to the future of China-UK relations, said Zhang Min, a researcher on European studies with the Chinese Academy of Social Sciences (CASS). Zhang added that it also shows Britain's sincerity to join hands with China to move forward together.
Cui Hongjian, Director of the Institute of European Studies under China Institute of International Studies (CIIS), noted that the high-level royal reception sent a message from the British side that between the two countries are not only trade deals, but also respect and friendship.
Observers also noted that the high-level interactions between the leadership of the two countries contributes to mutual understanding and trust between Beijing and London. Although China-Britain relations have generally proceeded smoothly, misunderstandings and mistrust are omnipresent. The warm reception by both parliamentary leaders and the monarchy were therefore clearly appreciated by the Chinese side.
In an interview with China's Xinhua News Agency, Professor Fu Xiaolan at Oxford University claimed the warm welcome from the British side represents "the West and the East warmly embracing each other for a better future."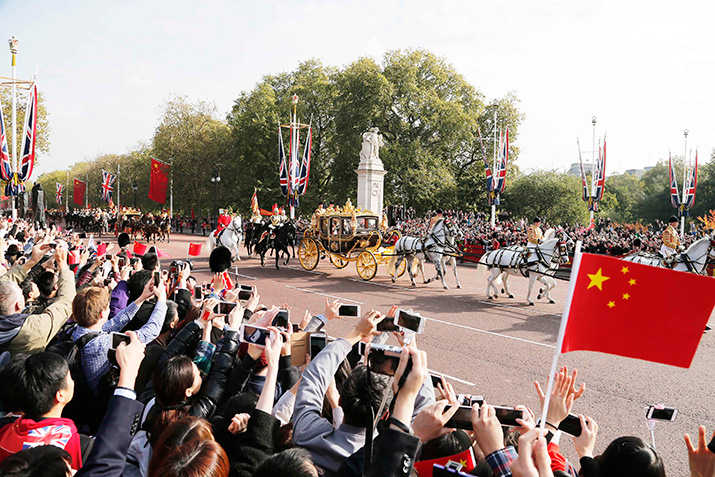 President Xi Jinping and Queen Elizabeth II ride a carriage to Buckingham Palace in London, on October 20, during a traditional ceremonial welcome (XINHUA)
Numerous achievements
The economic interaction between the two countries is dynamic, with trade and investment ties constantly expanding.
Bilateral trade exceeded $80 billion in 2014, a 15-percent rise year on year. Britain is currently China's second largest trading partner within the EU, while China is Britain's fourth largest trading partner. Britain is also the second largest source of foreign investment into China, and a major destination for China's outbound investment. Last year, Chinese enterprises launched 112 projects in Britain, creating nearly 6,000 jobs locally.
Sino-British cooperation has also seen a number of "firsts." Britain was the first Western country to join the China-led Asian Infrastructure Investment Bank (AIIB); the first to issue RMB-denominated sovereign bonds; and the first to support the inclusion of the RMB in the IMF's SDR (special drawing rights) basket.
Investment and finance were two themes central to Xi's visit. According to Xinhua News Agency, a series of deals worth about $60 billion were signed during the visit. The flagship announcement was a $9 billion investment by China's General Nuclear Corp. (CGN) in the Hinkley Point nuclear power station in Somerset in southwest England.
According to the cooperation agreement signed by CGN and Electricite de France (EDF), the developer of the power station, CGN will take a one-third stake in the planned Hinkley Point nuclear plant. The power station is due to be completed in 2025 and will provide 3.3 gigawatts of power, the largest output by a single plant in the UK and can meet 7 percent of the country's projected electricity needs for the subsequent 60 years. Cameron described the deal as "historic" as the project would provide reliable, affordable energy to nearly 6 million homes and create more than 25,000 jobs.
CGN will also take a two-thirds stake in the Bradwell nuclear plant east of London, where it plans to build a Chinese-designed reactor. Additionally, the Chinese company will invest a one-fifth share of a project for Areva-designed reactors at a Sizewell plant in Suffolk.
Other deals include more than $18 billion of oil and gas ventures. The biggest of these is a $10-billion deal for Britain's BP to supply China's state-owned power station, Huadian, with liquefied natural gas.
Meanwhile, Rolls Royce signed a $3.7-billion accord to develop engines with China's HNA Group; Carnival Corp. & plc entered a joint venture on new cruise ships; and a Legoland amusement park is now set to break ground in Shanghai.
Cui with the CIIS said that the governmental and social consensus on the development of the two countries have created a positive environment for bilateral economic collaboration. "Presently, the political visions of the Chinese and British leaders are in sync. The British side keeps a very open attitude on trade and investment, which is in accordance with China's interest in taking part in international economic cooperation," said Cui.
The British Government has not been shy in showing its intention to expand cooperation with emerging economies such as China and India. In addition, a recent opinion poll conducted by the UK-based YouGov research firm and published by the British newspaper The Telegraph on October 20 showed that 29 percent of Britons believe China will be their country's top trading partner in the next two decades. According to the poll, 74 percent of Britons suggested they were pleased with Britain's close trade relations with China, with 43 percent looking for closer ties.
Feng Zhongping, Vice President of the China Institutes of Contemporary International Relations, believed the complementary interests of the two economies is a major impetus to deepen their relationship. He explained that Britain's high demand for improving its infrastructure facilities needs investment from China, while China's economic trajectory provides opportunities for international service-savvy providers.
The British Government has introduced ambitious plans for upgrading its infrastructure, building the Northern Powerhouse in the north of England and implementing the strategy of UK Industry 2050. In an interview with Reuters prior to his visit to Britain, President Xi said the British plans, China's Road and Belt Initiative, and the initiatives of Made in China 2025 and Internet Plus undertaken by China complement each other in many ways.
Li Jingkun, another researcher from the CASS echoed Feng, claiming that the UK is one of the few countries in the West open to Chinese investment in infrastructure projects. She added that given the uncertainties in the eurozone, China's market and investment are especially appealing for individual European economies.
In a recent interview with Xinhua, Shada Islam, Director of Policy at Brussels-based think-tank Friends of Europe, pointed out that the British Government is particularly interested in securing Chinese investment in railway links, including the high-speed railway link in northern England. In other fields, including nuclear power plants, telecommunication and energy, China has financial capital Britain is interested in leveraging.
Feng added that it is also predictable that the two countries will strengthen cooperation on their financial sectors, cross-cultural education and study abroad programs, tourism, and in the creative industry. To this end, the UK announced that tourism visas for Chinese travelers will be valid for two years as from 2016. New 10-year, multiple entry visas are also to be made available to Chinese citizens.
In China, British television dramas are also getting a boost from Chinese youths. According to the BBC, China is now one of the top three markets in the world for British television dramas. In addition to the detective series Sherlock , other British dramas like Downton Abbey and Black Mirror are also trending in China. The first episode of the latest season of Downton Abbey on Youku, a Chinese video hosting service provider, received 4.7 million hits when it premiered last year.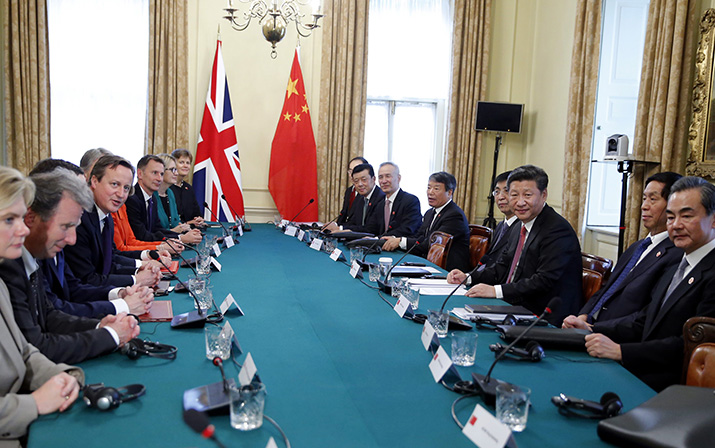 The Chinese delegation and their British counterparts hold talks at 10 Downing Street, on October 21 (XINHUA)
Domino effect
Britain's initiative to join the AIIB in March has triggered a wave of applications among Western powers for the China-proposed financial organization. Observers believed that the much-trumpeted visit of Xi to Britain and the numerous agreements made will also nudge other countries to continue to seek Chinese business partnerships.
Cui claimed that China-Britain relations are not only important on their own, but for China's relationship with other EU powers. According to Cui, there is competition among European powers in regards to doing business with China.
In the past several years, Sino-German relations have greatly benefited from their increasing economic ties. It is reported that German Chancellor Angela Merkel will soon visit China, her eighth trip as head of government. French President Francois Hollande will also arrive in Beijing in early November.
Cui noted that the warm embrace of China by major EU powers has also refuted some of the media's critiques of the Chinese economy. China's National Bureau of Statistics announced recently that the country's GDP growth rate dropped to a six-year low of 6.9 percent in the third quarter. This announcement was met with angst from many observers.
President Xi assured the audience at the closing ceremony of a China-Britain business summit during his trip in London that there will be no hard landing for the Chinese economy despite any downward pressure. Xi is keenly aware that closer international economic ties with European nations are a key component in ensuring this will remain the case.
Xi doubled down on his goal of increasing China-UK interconnectedness at the conclusion of the Xi-Cameron meeting at 10 Downing Street, saying it was the right time for the two sides to deepen their bilateral relationship and mutually beneficial cooperation as their "comprehensive strategic partnership" is starting its second decade.
Key Events in the China-UK Relationship
March 2015: Britain took the lead among European countries to apply to join the China-initiated Asian Infrastructure Investment Bank.
March 2015: Prince William and his wife Kate, Duke and Duchess of Cambridge, paid a visit to China.
2004: The two countries announced a comprehensive strategic partnership.
1999: Then Chinese President Jiang Zemin paid a state visit to Britain, the first time for a Chinese president.
1998: China and Britain established the comprehensive partnership.
1997: The smooth return of Hong Kong to China opened a new era in the China-Britain relationship.
1986: Queen Elizabeth II paid a visit to China, the first visit of its kind.
1982: Then British Prime Minister Margaret Thatcher paid a visit to China, becoming the first British prime minister to do so.
1954: China and Britain established diplomatic relations at the Charge d'affaires level, which was then upgraded to full ambassadorial level in 1972.
1950: The United Kingdom of Great Britain and Northern Ireland recognized the People's Republic of China, becoming the first Western power to do so.
(Compiled by Beijing Review )
Copyedited by Mara Lee Durrell
Comments to yulintao@bjreview.com