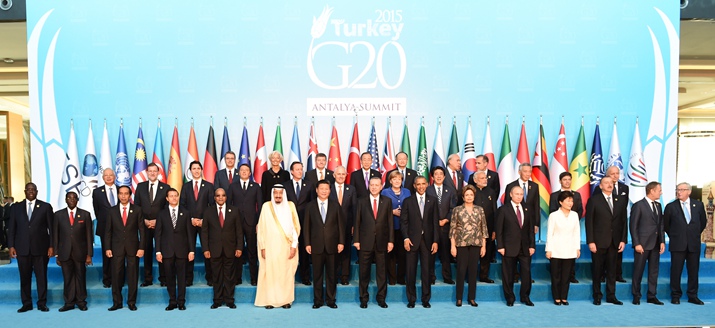 World leaders pose for a group photo at the G20 summit in Antalya, Turkey, on November 15 (XINHUA)
Seven years on from the international financial crisis, the world economy is still feeling the effects and finding it hard to achieve robust and synchronized global growth.
The International Monetary Fund's (IMF) October World Economic Outlook Report stated all countries are facing challenges and have downgraded their near-term growth rate even though they have far different prospects. The risk of sliding back into recession now looks more apparent than it did several months ago.
Under such circumstance, leaders of the Group of 20 (G20) pledged more collective action to boost world economic recovery at the 10th summit, which ended on November 16 in Antalya, Turkey.
In the final communiqué, the G20 leaders agreed on the need to do more to spur growth, as well as ensuring that such growth is inclusive and delivers more and better jobs.
G20 has been a major forum for global economic and financial governance since 2008. It is expected to underpin global confidence and ensure strong, sustainable and balanced growth for the world economy.
However, the growth pattern of the past has now encountered a bottleneck. All countries, even those emerging economies once regarded as the engine of global economic growth, need to seek a new growth model.
China's prescription
During the summit, Chinese President Xi Jinping put forward China's prescription for the growth issue. In a speech entitled "Innovative Growth That Benefits All," Xi said the G20 should seek to inject new stimulus into the world economy for long-term development.
Xi outlined his proposals: G20 members should strengthen communication and coordination on macroeconomic policies, promote reform and innovation to cultivate impetus for mid- and long-term growth, and work together to build an open world economy and facilitate vigorous international trade and investment. In addition, efforts should be made to implement the 2030 Agenda for Sustainable Development set at the UN development summit in September, to inject strong impetus into balanced and inclusive development.
Xu Xiujun, a researcher of international political economy at the Institute of World Economics and Politics at the Chinese Academy of Social Sciences, said Xi shared China's ideas and experience on development with other state leaders at the G20 summit.
In late October, the Chinese Government adopted a proposal on formulating the 13th Five-Year Plan (2016-20) on national economic and social development, which aims to build a "moderately prosperous society" and double its GDP from the base in 2010 and per-capita income of both urban and rural residents by 2020.
Xu told People's Daily that China's recently unveiled 13th Five-Year Plan would contribute to the world economic recovery and help reform global economic governance, as well as provide a solution for other issues of concern.
Slow growth is becoming a new feature of the world economy at a time when the globe faces many challenges, including geopolitical conflicts, the threat of terrorism and climate change. Against such backdrop, the proposals of China as the second largest economy are worthy of attention, Xu said.
On development, China believes it should be innovation-driven, balanced, green, open and shared. The development outlined in the 13th Five-Year Plan is similar to that advocated by the G20, Xu said.
Reform has been a strong driving force in China's rapid economic and social development during the last three decades. Many developed and developing countries, including China, have encountered a series of problems regarding further growth. Reform remains an important approach to solving current problems.
China has a strong will to deepen reform, which will enable China to continue to be an engine of world economic growth and an important player in global governance, Xu said.
Jia Jinjing, chief researcher of macroeconomics at Chongyang Institute for Financial Studies at Renmin University of China, said in his column in People's Daily that China always emphasizes comprehensive policies on promoting development, which conforms to the overall growth strategy G20 had set for world economic recovery.
"With only currency and finance policies, it is hard to solve all the problems in the economy," Jia said.
Despite slow global economic growth, China has been maintaining a high-speed annual GDP growth rate in recent years. The Chinese economy is predicted to grow by 7 percent this year, which its economic increment will continue to account for one third of the entire world's growth.
At many international meetings, the Xi has proposed building a community of common destiny with other states, indicating that China hopes to play a growing role in helping other countries achieve sustainable development goals, Jia said.
Action speaks louder
In Antalya, the Chinese president also attended a meeting of the leaders of the BRICS (Brazil, Russia, India, China and South Africa) countries and delivered a speech calling for emerging economies to collaborate more on common development.
China attaches great importance to building partnership with emerging economies including BRICS countries, said Xi. "The importance of being partners is not merely reflected on sharing benefits in favorable circumstances, partners should also work together to pull through the hard times."
Xi emphasized to other BRICs leaders that the emerging-market countries still contribute to more than half of global growth.
He suggested the BRICS members jointly help improve global economic governance by forestalling short-term financial risks within the G20 framework and increasing the representation and voice of developing countries.
"We should press ahead with the transition of the G20 mechanism from crisis response to long-term governance," Xi said.
BRICS countries have made a remarkable progress on financial cooperation, such as the foundation of the New Development Bank (NDB), an outcome of the framework agreement that BRICS leaders reached at Fortaleza summit in Brazil in 2014.
The headquarters of the NDB opened in Shanghai on July 21, with K.V. Kamath, a 68-year old Indian senior banker, taking office as the NDB's first president.
After the BRICS leaders' meeting, Indian Prime Minister Narendra Modi said the new bank will start business soon, and its first project involves renewable energy in one of the BRICS countries.
Russian President Vladimir Putin said in an address to the Asia-Pacific Economic Cooperation Economic Leaders' Meeting held on November 18-19 in Manila that the operations of the NDB and the Asian Infrastructure Investment Bank (AIIB) will contribute to developing the region and to the strengthening and stability of the global financial system, Russia's media Sputnik News reported.
The AIIB is a multilateral financial lender proposed by China to invest in infrastructure projects in the Asia-Pacific region. In October 2014, the AIIB started recruiting founder members. A total of 57 countries including many Western countries have become AIIB founding members.
Yakov Biegal, senior research fellow at the Institute of Far East Studies at the Russian Academy of Sciences told Sputnik News that both the NDB and the AIIB will help improve the stability of the international financial system, which relies too much on the Bretton Woods System based on the U.S. dollar.
RMB to go global
Apart from efforts to establish new multilateral banks, China's currency the renminbi (RMB) is going to become a world currency, enabling China to play a growing role in global finance governance.
On November 13, Christine Lagarde, Managing Director of the International Monetary Fund (IMF), issued a statement on a quinquennial review of the Special Drawing Right (SDR). IMF staff have determined the RMB is freely usable and recommended that the IMF board, when it meets on November 30, includes it in the SDR basket as a fifth currency, along with the British pound, euro, Japanese yen and U.S. dollar.
President Xi said during the G20 summit that China welcomes the IMF's proposal to include the RMB in the SDR basket of currencies. "Adding the RMB to the SDR is beneficial to improving the international monetary system and maintaining global financial stability," Xi said.
Gong Gang, Dean of the Finance College at Yunnan University of Finance and Economics, said that after the RMB is included in the SDR basket, more than 180 IMF member states will have one more choice in coping with transactions of international expenses and receipts.
The RMB will provide IMF members with a new source for financing and enable them to pay for intergovernmental or funding organization loans with the RMB, said Xu Min, professor of international finance at Zhejiang University of Finance and Economics.
According to analysis by Standard Chartered Bank and AXA, if the RMB becomes the fifth currency in the SDR basket, at least $1 trillion of international reserves will transfer to the RMB in the future.
Copyedited by Calvin Palmer
Comments to baishi@bjreview.com