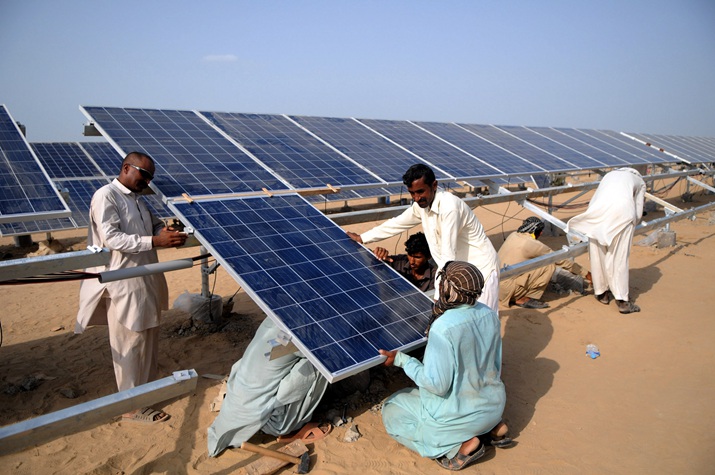 The Punjab Province-based 900-megawatt photovoltaic power project provided by China's Zonergy Co. Ltd. will soon be connected to Pakistan's national power grid to provide electricity for local residents (XINHUA)
Even though summer is gone, Pakistan, long-plagued by power shortages, faces temporary blackouts almost every day, with some lasting as long as five to six hours in remote areas.
Tarig Fatemi, Special Assistant to the Prime Minister of Pakistan, said at a briefing of a visiting Chinese media delegation in late November that power shortages remain the most daunting challenge confronting the ruling party of the country. Fatemi said Pakistan welcomes all sorts of power investment, may it be coal, wind, solar, hydro or nuclear energy.
His concerns are shared by the local authorities. Malik Rafique Rajwana, Governor of Punjab, the biggest and richest province of Pakistan, also listed the energy crisis as the biggest barrier for local economic expansion.
In the past decade, Pakistan's top priority was to rule out terrorist threats in the country. With a safer domestic environment, the current Nawaz Sharif administration is now shifting its focus to the country's economic development.
Standard and Poor's in May this year raised Pakistan's credit rating outlook from stable to positive, though affirmed its B-rating, signaling the international community's gradually regained confidence in the country's economic expansion efforts. The agency also lifted the country's 2015-17 average growth projection from 3.8 percent to 4.6 percent.
China, a long-time friend, has announced a $46-billion investment package called the China-Pakistan Economic Corridor to boost Pakistan's economic development. A major proportion of the billion-dollar investment will go to the energy sector.
(Reporting from Pakistan )