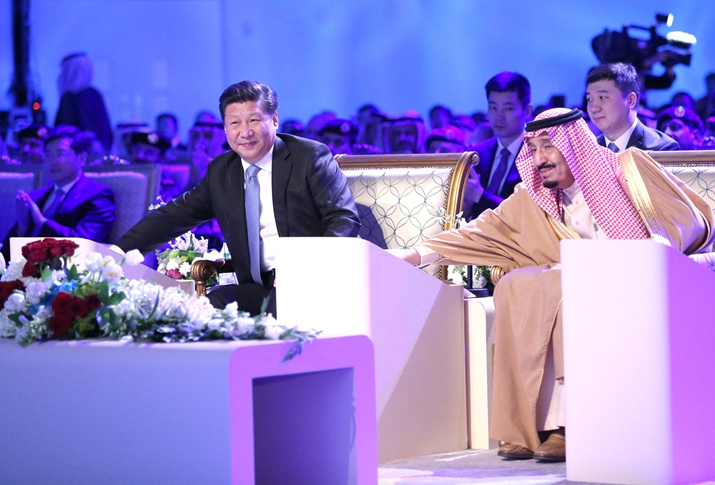 Chinese President Xi Jinping and Saudi King Salman bin Abdulaziz Al Saud inaugurate the Yasref Oil Refinery, China's largest investment project in Saudi Arabia, in Riyadh on January 20 (XINHUA)
In his New Year Message for 2016 on December 31, 2015, Chinese President Xi Jinping noted, "The world is so big and faces so many problems, and the international community wants to hear China's voice and see China's solutions. China cannot be absent."
Soon after, Xi set this diplomatic vision into action with a visit to the Middle East on January 19-23, traveling to Saudi Arabia, Egypt and Iran in turn.
The Middle East was one of the cradles of human civilization. Yet the region has been plagued with various kinds of problems, ethnic and religious conflicts in particular, that have hampered its development. Especially over the last decade and a half-starting with the Iraq and Afghanistan wars--and since the outbreak of the so-called "Arab Spring" five years ago, it has been haunted by persistent turbulence and bloodshed that has claimed hundreds of thousands of lives and displaced millions.
Today many people in the region are suffering from exacerbated poverty, frustration and sectarian conflicts as well as rampant extremism, but are praying for peace and the opportunity to improve their livelihoods.
Against this backdrop, Xi's Middle East visit was eagerly welcomed. Over the course of his visit, Xi's announcements of China's assistance for anti-terrorism and humanitarian efforts, as well as the fruitful outcomes agreed to between leaders have not only strengthened bilateral ties between China and the three host countries but also brought new hope for peace and development in the region.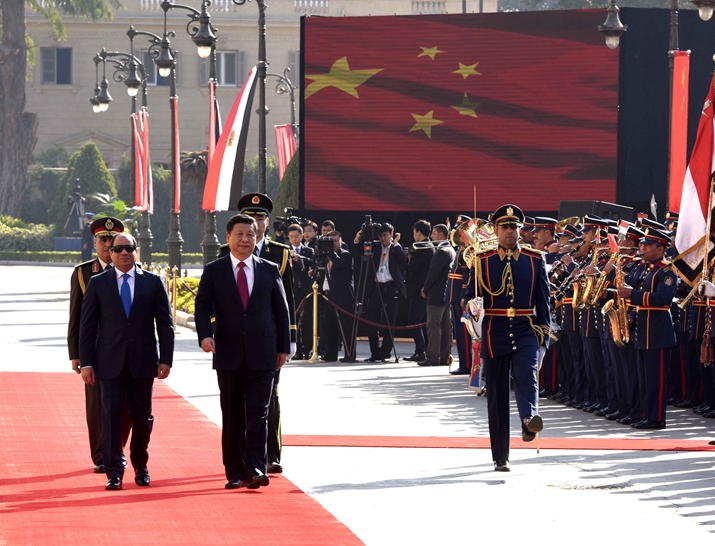 Egyptian President Abdel-Fattah al-Sisi hosts a welcoming ceremony for visiting Chinese President Xi Jinping in Cairo on January 21 (XINHUA)
Contributions
In the wake of the unprecedented chaos of the "Arab Spring" and several wars, many countries in the Middle East are hoping to get on the right track for social transition and development, said Liao Baizhi in an interview with Beijing Review. Liao is deputy director of the Institute of Middle East Studies under the China Institutes of Contemporary International Relations.
In the meantime, economic relations and personnel exchanges between China and the Middle East are becoming closer and closer, and China's interest in the region is expanding. Thus, Xi choosing the Middle East as the destination of his first overseas trip in 2016 showcases the importance that China attaches to the region, and that China is willing to play a role in promoting regional peace, according to Liao.
History shows that the roots of the problems in the Middle East are complicated, with prolonged sectarian rifts, national contradictions, weak development and Western intervention all playing a part in dragging the region into crisis. Xi's visit also marked the first trip by a world leader after nuclear-related sanctions on Iran were lifted--and just as the diplomatic feud between Iran and Saudi Arabia flared up--which some claimed shows China's resolve in constructively engaging with the struggling yet promising region.
During Xi's trip, China agreed with Saudi Arabia and Iran to upgrade their respective relationships to a comprehensive strategic partnership, and China and Egypt also vowed to work together with each other to add more value to their pre-existing one. The series of comprehensive strategic relationships are expected to help China shape its role in dealing with affairs in the Middle East and promote pragmatic cooperation.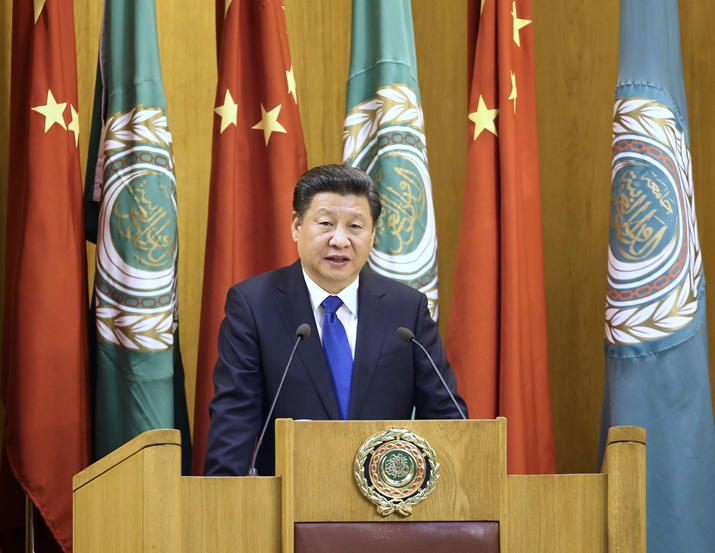 Chinese President Xi Jinping delivers a speech at the headquarters of the Arab League in Cairo, Egypt, on January 21 (XINHUA)
When addressing the Arab League (AL) at its headquarters in Cairo, Egypt, Xi sent a clear message that what China wants for the region dogged by decades of troubles is peace, development and stability. Xi told his audience that their problems obstruct development and that only through dialogue and development can differences be properly addressed and problems solved.
He stressed that the key to the elimination of divergences is to enhance dialogue and that military force is not the solution. The conflicting parties should focus on promoting a political settlement, Xi added.
The president also expounded on China's Middle East policy. China is not seeking any sphere of influence in the region, looking for proxies, or trying to fill any power vacuum. Instead, it promotes negotiations and seeks to build a cooperative partnership network for mutual benefit, Xi said.
Li Shaoxian, Director of the China-Arab Research Institute at Ningxia University in northwest China's Ningxia Hui Autonomous Region, said on China Central Television that most Middle Eastern countries view China as an impartial external force and welcome its participation in dealing with regional issues.
Last year, China also played an indispensable role in securing the historic nuclear pact between Iran and six major countries that is conducive to regional peace and reducing confrontation. And since 2011, China has explored ways of ending the turmoil grappling Syria, talking with rival sides to try to resolve their differences and providing millions of dollars in aid to respond to the humanitarian crisis in and around the country.
Back in 2013, shortly after Xi took office as president, China invited Palestinian and Israeli leaders to visit China. Xi called on both sides to end their generations-old hostility through
negotiations rather than confrontation.
In his speech at AL Headquarters, Xi again called on the international community to safeguard the legitimate national rights and interests of the people of Palestine. "The Palestinian cause is a basic issue for peace in the Middle East. If the international community wants an end to the conflict, it must help resume the peace talks, implement peace agreements and be committed to achieving fairness and justice," he said.
The Chinese president also announced in his speech new economic assistance to regional countries. The Chinese Government pledged 50 million yuan ($7.53 million) to help improve the livelihoods of the Palestinians and 230 million yuan (about $35 million) for Syria, Jordan, Lebanon, Libya and Yemen as humanitarian assistance.
In addition, Xi announced loan programs in support of development in the Middle East, including $15 billion of exclusive loans, $10 billion of commercial lending and $10 billion of concessional loans, as well as joint investment funds worth a total of $20 billion.
China's contribution toward promoting peace in the Middle East has gained positive reviews from Middle Eastern observers. In an interview with Xinhua News Agency, Ahmadi Mouhssin, a professor of international relations at the Cadi Ayyad University in Morocco, said that Xi's visit sends out a strong signal, especially his speech at the AL Headquarters.
Hazem Ahmed Hosni, a professor of international relations at Cairo University told Xinhua that Xi's visit marks a new chapter in China's policy in the Middle East, and China is set to play a more active role in the region.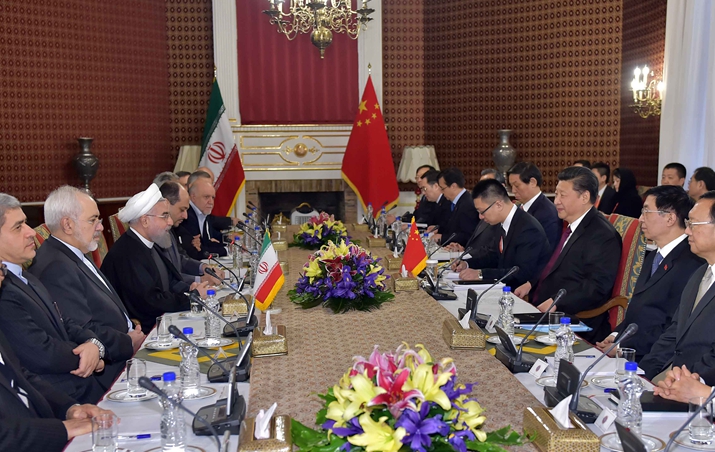 Chinese President Xi Jinping and Iranian President Hassan Rouhani hold talks in Tehran on January 23 (XINHUA)
Development solution
Based on China's successful development over the past 30 years, Xi suggested focusing on overall development in Middle Eastern countries--an effort that has started to take hold to resolve a variety of issues in the region. Identifying development as the core solution to reducing turmoil, Xi demonstrated that China is a willing, supportive and cooperative partner with the announcement of several moves to promote development in the region.
On January 13, China released its first policy document specifically addressing relations with the Arab world, noting that cooperation and development come hand-in-hand with peace and stability. During his trip, Xi emphasized this policy, pledging to strengthen cooperation with regional countries on promoting the China-proposed Silk Road Economic Belt and 21st-Century Maritime Silk Road (Belt and Road Initiative), which is a concrete step being taken to promote the common prosperity of the region.
Observers noted that for Middle Eastern countries, most of which are currently undergoing reform and change, political stability and dynamic economic growth are desperately needed.
"Development is the fundamental way in resolving the complicated issues in the Middle East," Xue Qingguo, a professor of Arabic studies at Beijing Foreign Studies University, said in an interview with Xinhua Daily Telegraph, a Chinese-language news daily in Beijing. Xue claimed that China has rich experience in economic development, and that through Middle Eastern countries joining hands with China to build the overland and maritime silk roads, it can greatly help boost their economic development, achieve industrialization and increase employment.
Wu Bingbing, head of the Institute of Arabic-Islamic Culture Studies at Peking University, told Chinese media that China's Belt and Road Initiative provides different mutually beneficial cooperation solutions targeting countries with varied conditions, thus the initiative can be seen as a set of keys for common development. For instance, Wu explained, many Middle Eastern countries are plagued by poor infrastructure as a result of sanctions, economic difficulties or civil conflicts and some countries need to accelerate industrial development in order to accommodate an increasing population and labor surplus. "The Belt and Road Initiative can meet different needs of these countries," Wu said.
During Xi's trip, China signed memorandums of understanding on cooperation on the Belt and Road Initiative with each of the three host countries. In addition, China also completed the signing of 14, 21 and 17 documents on cooperation programs with Saudi Arabia, Egypt and Iran, respectively. These programs cover areas such as economy and trade, energy, finance, aerospace and climate change, elevating cooperation between China and these countries to new heights.
In an interview with Xinhua, Khald Abdle Khaliq, an expert with Egypt's Ahram Center for Political and Strategic Studies, claimed that the Belt and Road Initiative is warmly welcomed by Middle Eastern countries and that Saudi Arabia and Egypt have expressed their willingness to restructure their ports and roads in order to join the huge project.
Hua Liming, a senior researcher on Middle East studies with the China Institute of International Studies, was quoted by Xinhua Daily Telegraph as saying that under the cooperation framework of the Belt and Road Initiative, China can transfer part of its advanced but oversupplied industrial capacity to the Middle East, which can not only benefit the economic restructuring in China but also help create more jobs in recipient countries.
Copyedited by Mara Lee Durrell
Comments to yulintao@bjreview.com