Since the beginning of 2016, the historic Iran nuclear deal has been put in motion. The United States, the EU and the UN have all announced that they will lift their sanctions step by step, paving the way for Iran to pursue its own economic development within the current international framework.
Geopolitical impact
Iran, as a regional power and one of the major oil producing countries, will once again be able to freely participate in the world market and international cooperation. Without the baggage of sanctions, Iran will likely become even more active in regional affairs in the Middle East, perhaps intensifying competition with another regional power and its nemesis, Saudi Arabia.
Prior to 2013, as an ally of the United States and other Western powers, Saudi Arabia appeared to have a strategic advantage over Iran. However, as Iran reached the deal with the international community to solve concerns over its nuclear program, and works to improve relations with the United States, Saudi Arabia no longer has the upper hand.
Saudi Arabia has also been making efforts to maintain a leading role in the Middle East. In Syria, it has been a prominent backer of the opposition groups fighting against President Bashar al-Assad's regime. The country is also heavily involved in the civil war in Yemen fighting the Iranian-backed Houthi rebels and has hosted Yemeni President Abdu Rabbu Mansour Hadi while in exile.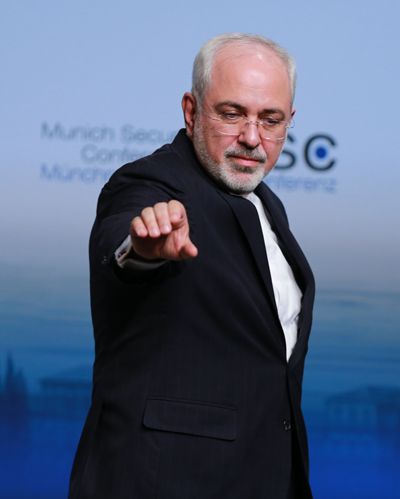 Iranian Foreign Minister Mohammad Javad Zarif attends the Munich Security Conference held in Germany on February 12 (XINHUA)
Just after the start of the calendar year, Saudi Arabia's efforts to exert influence in the region vis-à-vis Iran came to a head. On January 2,
Saudi Arabia announced the execution of the outspoken Shia cleric Sheikh Nimr al-Nimr. The religious dispute triggered the storming of the Saudi Embassy in Tehran. In response, the Saudis broke diplomatic ties with Iran on January 3.
Saudi Arabia deliberately escalated regional disputes to ensure the strong support of the United States. But the Americans are more inclined to pivot their focus to the Asia-Pacific region to counter China's growing influence. In fact, in the last year of his administration, U.S. President Barack Obama is unlikely to devote much energy and resources to the Middle East. He may hope instead that cooperation with Iran will help to end the conflicts in Syria and Yemen, as well as contain the rise of the so-called "Islamic State" group (ISIS). While trying to achieve stability in the Middle East, the United States is trying to build a new security structure that balances the interests and capabilities of the area's major countries.
Looking forward, the geopolitical situation will be mainly influenced by the competition between Iran and Saudi Arabia, with two main factors.
First, it depends on whether the pro-reform and moderate leaders that were elected in Iran's parliamentary election on February 26 will continue to build ties with Saudi Arabia and seek international cooperation despite a lack of support from the country's conservatives. Therefore it looks like Iran will be less likely to make radical moves if and when foreign disputes arise.
The other major factor is the position of the United States. If the United States remains relatively neutral between Saudi Arabia and Iran, hostile Saudi Arabia-Iran relations are unlikely to escalate into an all-round confrontation. And the four major power blocs in the region - the Arab countries, Iran, Turkey and Israel - will reach a balance in power dynamics as Iran reengages with the international community.
The price of oil
The United States and the EU's lifting of the severe sanctions paves the way for the Persian country to return as a major provider of oil. Under the sanctions, Iran's daily oil exports reduced to around 1.2 million barrels in January 2016 from 2.5 million barrels in January 2012. As restrictions are removed, Iran has started to increase its crude oil production by 400,000 barrels a day. That figure is expected to increase by another 200,000 barrels in the near term.
Yet adding Iran's oil output into the mix means that the supply of oil in the global market will further expand. Consequently, prices are likely to continue to fall. International oil prices dropped below $30 per barrel in January, the lowest since 2003.
Oil has long been used as a pawn in Saudi Arabia and Iran's geopolitical game. Despite the steep decline in oil prices since last June, Saudi Arabia, the largest member of the Organization of Petroleum Exporting Countries (OPEC), has refused to cut its oil production for fear of losing its market shares, especially to Iran.
From the Saudis' point of view, deflated oil prices are more unfavorable to Iran than to themselves, since Iran is desperate to recover lost shares and generate revenue. The current cost of oil will limit Iranian President Rouhani's ability to use the money from petroleum exports as the building block for domestic economic development.
Oil revenue accounted for one third of the Iranian Government's financial budget in 2015, and now it faces a huge deficit. Against this backdrop, Iran has decided to increase production and export to the European market with a price which is lower than that of Saudi Arabia's, ignoring the possible influence on market prices. In mid-February, the first 4 million barrels crude oil produced by Iran arrived in Europe.
On February 16, Saudi Arabia and Russia - a non-OPEC state but a significant oil producer - agreed to freeze output at January levels at a ministerial meeting in Doha, Qatar. OPEC members Qatar and Venezuela also joined the deal. But Iran has not agreed to take part in the plan. Instead, the country's petroleum minister Bijan Zangeneh said that Iran would "not forego its oil market share."
It is important to note here that it will take four to eight months to completely lift the years-long financial sanctions on Iran's banks. So it is hard to make an accurate forecast on how Iran will influence oil prices in the near future.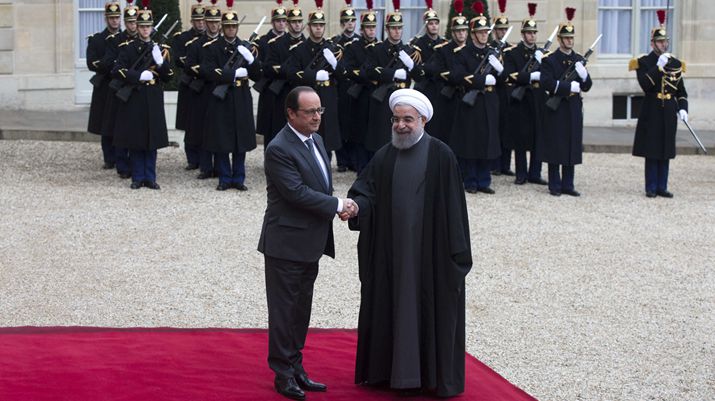 French President Fran?ois Hollande holds a ceremony to welcome visiting Iranian President Hassan Rouhani at the Elysee Palace in Paris on January 28 (XINHUA)
Seeking partners in Europe
Europe used to be Iran's major trading partner prior to the sanction period. Today, Iran needs the EU's investment and technologies to advance its industrialization process and reach an annual economic growth rate of 8 percent. In return, European countries - which are still beleaguered by a weak economic recovery - are eager to tap into Iran's market potential. Iran also has significant buying power, as the country will soon be able to use offshore funds up to $100 billion that were previously frozen.
Since the Iran nuclear deal was reached, around 140 foreign economic and political delegations have paid visits to Iran, and over 70 of the delegations were European. Some were led by EU senior officials, including Federica Mogherini, High Representative of the Union for Foreign Affairs and Security Policy and Vice President of the Commission, British Foreign Minister Philip Hammond, President of Austria Heinz Fischer, and European Parliament President Martin Schulz. European enterprises have also begun to seek opportunities in Iran.
In an effort to build closer Iran-EU economic and trade ties, Rouhani made a diplomatic tour to Europe in January, which was the first time an Iranian president has visited Europe in 16 years. During his travels, he focused on seeking economic cooperation with EU countries.
The Supreme Leader of Iran, the Grand Ayatollah Seyyed Ali Hosseini Khamenei, also supports the Rouhani administration's efforts to reestablish economic ties with Europe.
But the future of Iran-U.S. relations is still in question. During his European tour, Rouhani said that he looks forward to improving relations and paying a visit to the United States. The U.S.'s policy toward Iran will therefore be vital to solving the decades-long feud between the two countries, and to establishing a new balance of power in the Middle East.
The author, Lu Jin, is a research fellow at Institute of West-Asian and African Studies under Chinese Academy of Social Sciences
The co-author, Liu Lanyu, is a PhD candidate in international relations at School of Social Sciences, Tsinghua University
Copyedited by Mara Lee Durrell
Comments to liuyunyun@bjreview.com