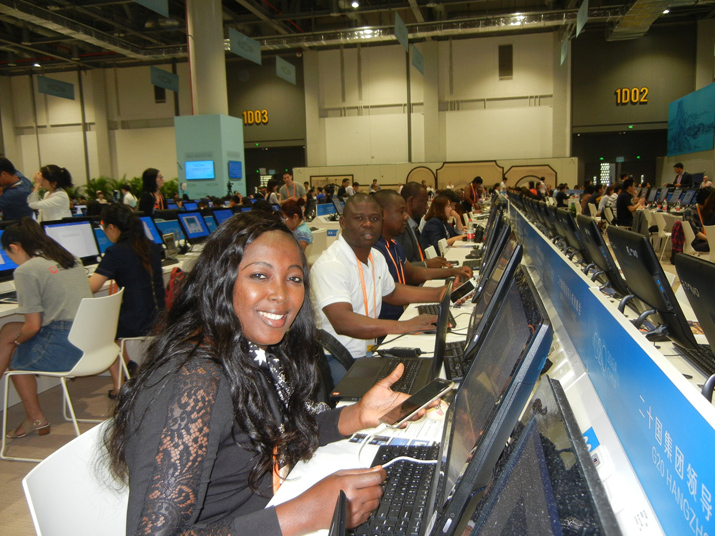 African journalists at work in the media center of the G20 Summit in Hangzhou (SUDESHNA SARKAR)
When Chinese President Xi Jinping held a press conference at the end of the G20 Summit in Hangzhou on September 5, watching him intently from the third row in the cavernous hall was Mary Yugu. The 20-year-old is from South Sudan, the world's youngest state, born out of a civil war in 2011 and engulfed by fresh violence this July.
"Everyone is running for their lives," Yugu said, talking about her life in the capital Juba. "Most high-level officials have sent away their families to safer places. Food is expensive and scarce. Going around is a problem."One year ago, Yugu was forced to leave Central Equatoria, the smallest state in the country, where she lived with her mother and elder sister and which was regarded as a safer place. She had to come to Juba as jobs were scarce for young women in Central Equatoria, a predominantly mining state. In Juba, she received a plum assignment--to travel to China to cover, among other things, the G20 Summit as well as Xi's press conference.
Yugu was part of a visiting team of 28 African journalists from 27 countries on the continent. They were invited by the China Public Diplomacy Association, a non-profit organization based in Beijing, to see China through their own eyes.
The invitation led to an unprecedentedly strong presence of African journalists at the Hangzhou Summit, coinciding with a sizeable African representation among the participating countries. Though South Africa is the only African member of the G20, Chad's President Idriss Deby attended as the rotating chairperson of the African Union, as well as President Macky Sall of Senegal, who chairs the New Partnership for Africa's Development Heads of State and Government Orientation Committee. In addition, the Chinese Government had invited Egyptian President Abdel Fattah al-Sisi as a special guest.
"In the past, they discussed Africa but there was no African voice at the summit except for South Africa's," said Caroline Mwangi, a Kenyan journalist with K24 TV. "Hopefully, in the future there will be more African voices. We are a global village and we all grow together, whether you are a world superpower or a developing economy."
The African journalists lauded Xi's remarks at the press conference. Obambe Gaston, a 41-year-old radio journalist with Radio Congo, the state radio in the Republic of Congo, said it means the G20 will also take care of Africa. "The African economy is feeling the pinch of falling raw material prices. The development of a secondary sector is needed to create jobs and avert a crisis. Jobless people can be manipulated into crimes and terror activities. There is also a high degree of immigration, which is caused by poverty. If the standard of living in African countries is improved people will find no need to travel abroad to look for jobs," Gaston added.
In their joint communiqué issued at the end of the two-day summit, G20 leaders renewed their support to industrialization in Africa and the least developed countries (LDCs). "We are committed to supporting our workforces throughout this transition and to ensuring that the benefits of the new industrial revolution extend to all," the communiqué said.
The Hangzhou Summit saw the launch of the G20 Initiative on Supporting Industrialization in Africa and LDCs, meant to strengthen their inclusive growth and development potential through voluntary policy options. The initiative will promote inclusive and sustainable structural transformation; support sustainable agriculture, agri-business and agro-industry development; and promote investment in sustainable and secure energy.
It will also look for ways to develop cooperation on industrial production and vocational training as well as sustainable and resilient infrastructure and industries. Industrialization through trade would be supported in accordance with WTO rules and equitable access to finance will be ensured, especially for women and the youth. Science, technology and innovation would be the critical means of industrialization.
The G20 would also contribute to the African Development Fund, the concessional window of the African Development Bank.
The bloc would set goals for social progress too, seeking affordable, reliable and clean modern energy services for Sub-Saharan Africa.
Copyedited by Dominic James Madar
Comments to liuyunyun@bjreview.com