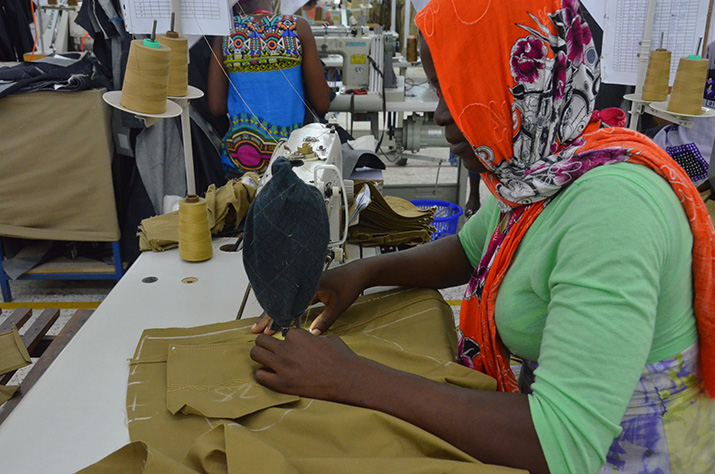 A Tanzanian worker stitches trousers at the Tanzania Tooku Garments factory in Dar es Salaam. The company has hired some 1,800 locals, 60 percent of whom are women (CHEN RAN)
In the spacious, bright and slightly noisy sewing section of Tanzania Tooku Garments, Shraban Kitwana works fast at his desk, quickly unhooking two pieces of a pair of trousers from the dispatching machine and partly stitching them together on his sewing machine in just 10 seconds.
The 21-year-old is one of the few male workers at the company's sewing section, working there for two years. "I like this job," he smiled. "Gender is not a problem at all."
Grooming talent
Established in July 2012 by J.D. United Manufacturing Corp., a global supplier of garments and home textiles headquartered in Changzhou, east China's Jiangsu Province, the garment company is located inside the Benjamin William Mkapa Special Economic Zone in Dar es Salaam. With an investment of $16 million, it covers 33,000 square meters, which includes sewing, laundry and packing zones.
Levi's, TCP, and Primark are among its clients and its annual export volume hits 3 million pieces.
"Our core competence is lower price, better quality and a shorter delivery period [than our competitors]," said William Tai, general manager of the company. "We could not have achieved so much without our hard-working staff."
Tanzania Tooku has some 1,800 local staff, 60 percent of whom are women. The company has an ambitious business plan—opening three to four factories every year across Tanzania in the coming five years. This means qualified Tanzanian workers would be in tremendous demand.
"The most challenging part in doing business in Tanzania is talent training because most of the local recruits are rookies," Tai said.
Hence, a layered training scheme has been introduced to address the problem, where Zheng Hongjuan, a 44-year-old sewing line supervisor, plays a vital role.
Zheng, who had previously worked in J.D. United's Cambodia branch, moved to Tanzania two years ago. In the sewing section, each line will choose five "seed workers" out of 90 based on the assessment of their initial week-long basic training. Supervisors like Zheng would give intensive hands-on guidance to these workers, who would then become tutors for other workers. It takes at least two months for a rookie to start working in the production line.
"I like working with the local staff because they are quick learners," said Zheng, inspecting the production line.
"Poa sana! (Very good!)" She gave the thumbs-up to a worker in Swahili.
Besides training workers, Tai said the company plans to have more local staff in middle-level management.
Paul Bakanga, the human resources manager, is one of the 30 local managers. "I appreciate Chinese working ethics. They always meet deadlines and make decisions fast," the 33-year-old said.
Tony Sun, Executive Director of the Sunshine Group, shares ideas on how to run a successful business in Africa (CHEN RAN)
Lessons to keep in mind
Tony Sun, Executive Director of the Sunshine Group, shares Tai's concern over talent training. "No business will be successful without basic vocational training and education in the preparatory stage," he warned.
Sun, a major in international trade, gained a foothold in Tanzania after years in South America, as Tanzania began enjoying a more stable and favorable environment for the development of the real economy. Starting with mining, the Sunshine Group today has a myriad of businesses spanning energy, agriculture, finance, building, processing and manufacturing, as well as tourism and catering. The total investment is over $100 million. The group has about 1,700 local employees.
Ramadhan Amir, 31, switched from print media marketing to a sales executive of Sunshine Industrial two years ago. With an MBA degree, he finds positive energy and more efficiency in the daily routine. "The best part of working here is that I can develop my career and know about China at the same time," Amir said.
Qualified local employees like Amir are the foundation of the company's future, which envisions another 15 to 20 years of business plans. Eliminating cultural conflict is Sun's top priority. "I have seen so many failed cases among our peers who could not cope with cultural differences appropriately. Previous management and operation experience in China may not be applicable here without adjustments. What we have been doing is enhancing mutual respect and understanding," Sun said.
Another possible cause for many Chinese investors' failure in Africa is over-optimism about the African market, according to Sun. Investment in real economy has a better future than in trade, but the former requires deeper market analysis and orientation. Any potential foreign investor coming to Africa should also bear in mind that there may not be a well-organized industrial chain.
Leo Li, CEO of Sunshine Industrial, remembers the difficulties while launching their sunflower oil production line. The 10-acre (40,468-square-meter) oil processing plant in Dodoma, capital of Tanzania, started operation in June 2015. "We collected high-quality seeds directly from locals, but there was an unexpected difficulty," Li said. "During harvest, the farmers didn't have enough storage space. The only option for us was to build a storehouse immediately."
After one and a half years of operation, Li is happy to see the product, Sunbelt oil, capturing 65 percent of the sunflower oil market share. He is also proud of the plant serving as an example of the cyclical economy. After the oil is extracted, the residual parts are used as cattle feed. The plant also rears cattle, and beef is supplied to restaurants.
"We have learned from past experiences. We had to pay a price but the knowledge is precious," Li said. "For investors, especially small and medium-sized enterprises, there is no guarantee of success while doing business in Africa. Getting yourself prepared for that physically and mentally helps."
(Reporting from Dar es Salaam,Tanzania)
Copyedited by Sudeshna Sarkar
Comments to chenran@bjreview.com