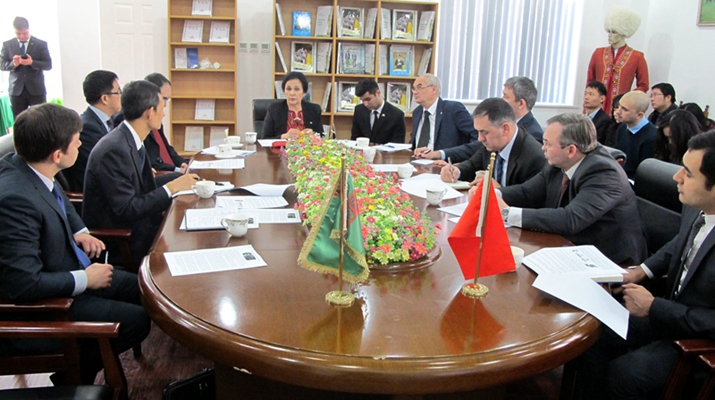 Chinar Rustamova (center), Turkmenistan's Ambassador to China, attends a news briefing in the Embassy of Turkmenistan in Beijing on January 11 (MA XIAOWEN)
Though Turkmenistan is far from China geographically, they have a long bond of friendship, Chinar Rustamova, Turkmenistan's Ambassador to China, said at an event in Beijing on January 11 ahead of celebrations for 25 years of diplomatic ties between China and the Central Asian country.
The envoy said in the past, Turkmenistan communicated with China through camel caravans plying on the ancient Silk Road. Today, a 1,800-km natural gas pipeline connects the two, with millions of Chinese consuming natural gas from Turkmenistan.
Now Turkmenistan wants more links, like railways.
"We consider China as our top international market, but it is hard for our products to go to China," Rustamova said. "That's why we want to build railways and we need help from China."
Turkmenistan plans to establish a railway construction agency in China in 2017 to further cooperation on building a second railway for freight transport.
The country's economic development plan has prioritized construction of a railway network. The existing network is 5,113 km, of which 1,755 km were built after independence from the Soviet Union in 1991.
Ashgabat's wish to expand transport services jells well with China's Belt and Road Initiative. In 2016, the first rail line involving Turkmenistan started carrying freight from Yiwu in China's Zhejiang Province to Tehran, Iran. The rail journey takes 12 days, reducing travel time by half.
Copyedited by Sudeshna Sarkar
Comments to yanwei@beijingreview.com