Recent meetings between the Chinese and U.S. leaders will provide steady political guidance and help keep bilateral relations on the right track, said Chinese Ambassador to the United States Cui Tiankai in his speech at the 2017 International Finance and Infrastructure Cooperation Forum on April 24 in New York City.
The forum, the first high-level business forum held in New York after U.S. President Donald Trump and Chinese President Xi Jinping met in Florida in early April, was co-hosted by Bloomberg L.P. and the China General Chamber of Commerce – U.S.A. (CGCC). The event focused on international cooperation in the finance industry and in U.S. infrastructure, and its opportunities and challenges. Over 200 senior business executives and financial professionals from China and the United States attended the forum in Bloomberg's headquarters.
Cui recalled the meeting between Xi and his U.S. counterpart in a keynote speech. "Less than three weeks ago, President Xi Jinping and President Donald Trump had their first meeting in Mar-a-Lago, Florida. It was a historical and successful meeting," said Cui. The two leaders spent over seven hours altogether, and had "very substantial and fruitful discussion," he said, pointing out the most important outcome of the meeting was that the two leaders got to know each other, and built an effective working and personal relationship.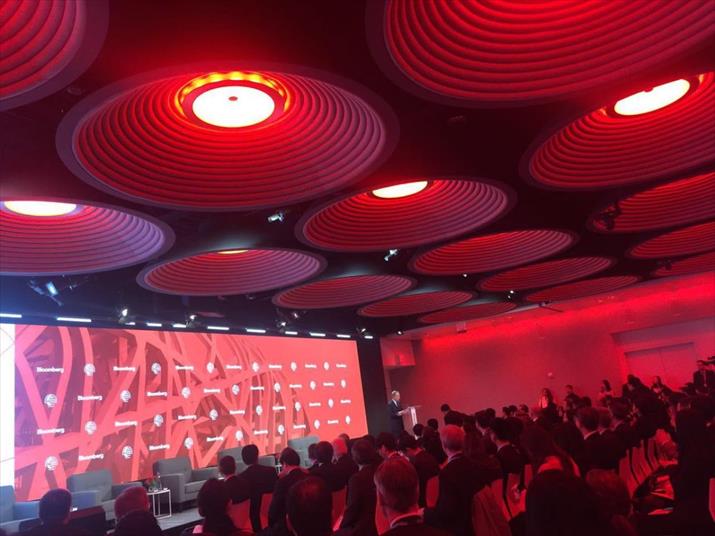 The 2017 International Finance and Infrastructure Cooperation Forum is held in New York City on April 24 (DING YING)
"Cooperation between the U.S. and China is critical to meeting all the big challenges facing our world," said Michael Bloomberg, founder of Bloomberg L.P. and former Mayor of New York. "China has taken some very important steps to make new partnerships possible, through financial reform and by opening up its markets to global investors. The more we work together across borders and create partnerships between business and government, the stronger our future will be," said Bloomberg.
At the meeting, Yi Gang, Deputy Governor of the People's Bank of China (PBOC), provided an update on the progress of China's financial market reforms and shared his confidence in furthering the bilateral economic and trade relationship. Yi stated that China's central bank is dedicated to removing existing barriers, making its policies as simple and transparent as possible, providing better services for the internationalization of the RMB, and further opening up China's financial sectors. "We should make financial cooperation between the two countries more efficient, balanced, and sustainable," Yi said.
Xu Chen, Chairman of the CGCC and President and CEO of the Bank of China U.S.A., agreed that efficient financial cooperation is key to realizing both countries' full economic potential. He said, "We believe the opening up of the Chinese bond and equity market and the implementation of the U.S. infrastructure plan would indeed create more opportunities to benefit the two economies."
U.S. officials welcomed Chinese investors to join the country's infrastructure construction efforts at the forum.
"Governors, as the CEOs of their states, are instrumental in the maintenance and building of America's infrastructure," said Scott Pattison, CEO and Executive Director of the National Governors Association. "They would want to continue discussion with officials throughout the world to foster best practices in financing and building infrastructure as they anticipate national infrastructure proposals at the federal level."
Speaking on the current infrastructure investment situation in the U.S. and the outlook ahead, Matt Bevin, Governor of the State of Kentucky, stressed in his interview with Chinese media that the United States is a big nation and people are in great need of infrastructure like roads, railways and bridges. Bevin added that these projects demand a large amount of capital input. "Chinese investors are smart investors. They understand opportunity. And we understand capital. And we should combine smart investing with [our] needs... and [our search] for opportunities," he said.
"I am a big believer that there should be a partnership between [the people of China and the U.S.]," he claimed. "When we are talking about building partnership between people, we need to take a longer term of view."
(Reporting from New York City)