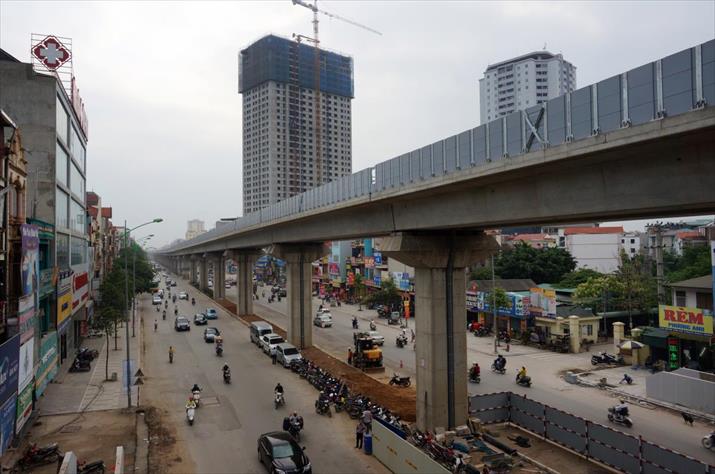 The Cat Linh-Ha Dong Light Rail is expected to ease the traffic congestion in Hanoi (SHEN XIAONING)
A new train rests on well-laid rail at La Khe Station of the Cat Linh-Ha Dong Light Rail project in Hanoi. Construction workers, sweating in Hanoi's already very hot spring, were putting the finishing touches to the whole project; setting up signs and polishing the walls of the station.
"La Khe Station is the model station of this new light rail. It will soon be open for the public, and by the end of the year, it will be in trial operation," said Sun Dezhi, Deputy General Manager of the Overseas Project Company of China Railway Sixth Group Co. Ltd (CRSG), which was contracted to construct the project.
Sun explained that the light rail is about 13 km in length, and its trains will run at up to 80 km per hour. The total investment is $850 million. The design, construction, materials and service all use technologies from China and meet Chinese standards.
"This is the first and only city rail project in Viet Nam, and it is also a model project for China-Viet Nam cooperation," Sun said. "After it is officially put into operation in the second quarter of 2018, the hourly carrying capacity will be 13,400 passengers, and in the future, it will increase to 23,200, which will largely relieve the current traffic congestion in Hanoi."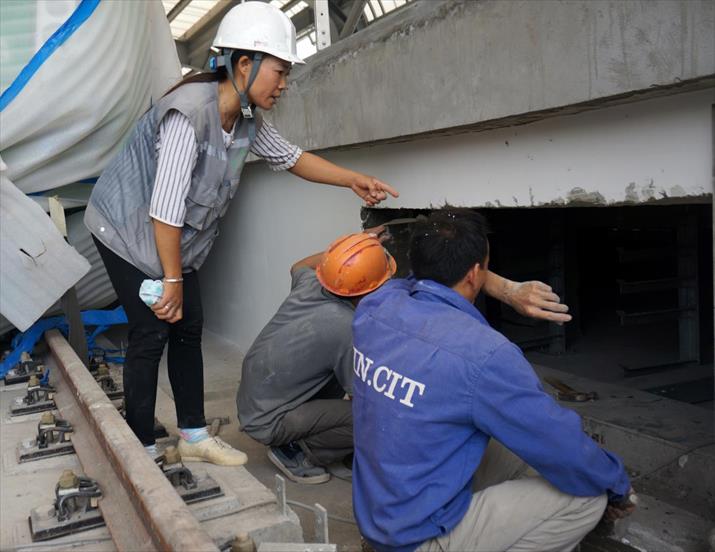 Vietnamese Si Thi Ngoc instructs construction workers on site (SHEN XIAONING)
A landmark scheme
Si Thi Ngoc, a 47-year-old from Viet Nam, has been working on the project for two years. She is in charge of 25 construction workers at La Khe Station.
"This project is exhausting," she said. "It is harder than the previous projects I've done. We have to work against the clock all the time. It is really stressful."
She said that they sometimes had to work overnight and could manage to go back home only once every two days.
The government of Viet Nam decided to construct the Cat Linh-Ha Dong Light Rail in October 2003, but the construction didn't start until October 2011 due to extensive negotiations.
Even though the line is only 13 km long, it passes through quite a few administrative districts, residential areas and rivers and lakes, making construction very difficult. Furthermore, a long time was spent communicating with local people and local government departments, as this type of public transport is a new thing in the country. All of this largely affected the project's progress.
"According to the contract, the line should be put into operation in August 2018," Sun said. "CRSG worked overtime to catch up. Now, we are confident of advancing it to the second quarter of 2018."
In fact, the Cat Linh-Ha Dong Light Rail line was the last among three light rail projects in Viet Nam to be approved, but it is the first one under construction and will be the first to operate. As a landmark project in Hanoi, "it will help to ease the traffic congestion in the city and provide a useful reference for the construction and operation of urban rail transit in Viet Nam," Sun said.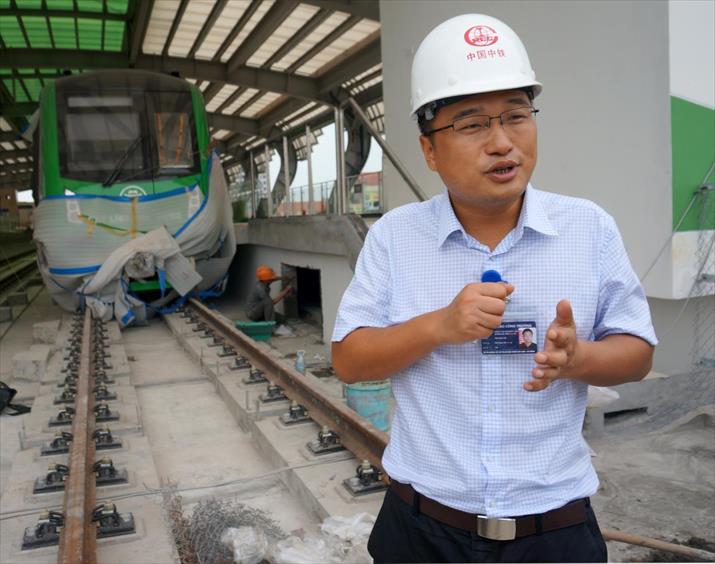 Sun Dezhi from China Railway Sixth Group Co. Ltd is at the construction site (SHEN XIAONING)
Doubts and expectations
Hanoi has suffered from heavy traffic congestion in recent years. Cars and motorcycles can only crawl slowly in peak hours, and the pollution caused by exhaust fumes has become a big headache. Therefore, the governments of both Viet Nam and China have attached great importance to the Cat Linh-Ha Dong Light Rail project.
The construction, however, didn't start smoothly. The project was heavily questioned by residents in Hanoi, especially in 2015, after the design of the light rail was unveiled to the public.
CRSG held an exhibition of locomotive models to help Vietnamese gain a more direct and vivid understanding of Chinese manufacturing. More than 10,000 people visited the event.
In 2016, a video made by a Vietnamese netizen was uploaded on YouTube. It displayed many pictures comparing this light rail project with one undertaken by a Japanese contractor in Ho Chi Minh City. The video compared construction duration, investment amount, locomotive style and price of the two projects and showed that the Chinese one is cheaper but better. The video sparked heated discussion online.
Gradually, there have been fewer questions and more expectations of the CRSG project. On February 19, 2017, the first train specially made for the light rail arrived in Hanoi.
"The operation of lifting the train onto the rail started at 11 p.m. on that day. It was raining, but hundreds of Hanoi residents still came to watch," Sun said.
The operation lasted for about four hours, and when it was finished at 3 a.m. the next day, the surrounding crowd applauded and cheered. The whole process was covered live by Vietnamese TV. Dozens of reporters stayed on site with cameras, and unmanned aerial vehicles hovering above recorded the whole process.
Positive in every aspect
Hanoi's light rail is being made strong enough to resist magnitude-8 earthquakes. All the materials used are the best available in Viet Nam.
The project has greatly benefited local employment. There are more than 600 Vietnamese construction workers on site. Last year, more than 2,400 people were working there at the peak of construction.
CRSG brought technicians from China to train local workers, and in the past six years, they have trained about 7,000 local workers.
Employees from China and Viet Nam get along pretty well. When a child of a Vietnamese employee got dengue fever, others immediately raised 70 million Vietnamese dong ($3,080)and sent the child to hospital.
"The company is like a big family, and we are always ready to help each other," said Doddian, a Vietnamese translator at the company. "It feels very warm."
CRSG also became actively involved in local welfare. Last year, it donated 3 billion Vietnamese dong ($150,000) to fund bridge-building in an impoverished mountainous area.
According to plan, Hanoi will have eight light rail lines, whose total length will reach 305 km. The government of Viet Nam is satisfied with CRSG's work, and its Ministry of Transportation hopes that if everything goes smoothly, CRSG can construct another light rail.
"The Belt and Road Initiative is a great support for us, and we will adopt the best equipment and technology in the construction of light rails in Viet Nam," Sun said.
The author is a reporter with China Report
Copyedited by Chris Surtees
Comments to zanjifang@bjreview.com