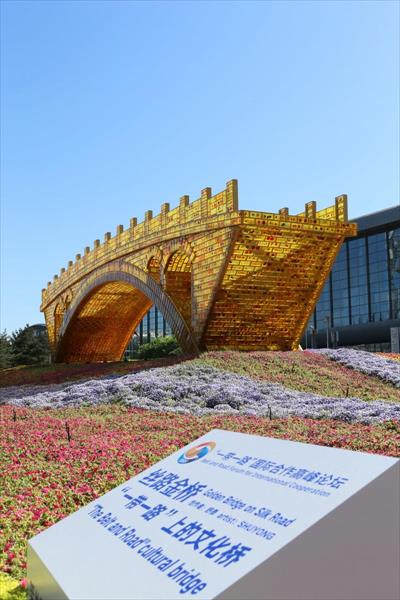 A sculpture symbolizes friendship bridge among participating countries of the Belt and Road Initiative outside the China National Convention Center (XINHUA)
Although she was born thousands of miles away in a village near Dar es Salaam, Tanzania, Hilder Edimund Malecela describes her relationship with China as close, almost family-like. As a Swahili translator of Chinese TV dramas, the young Tanzanian woman is well aware of how Chinese and Tanzanians share many common values. One of them is the core importance of family in both countries.
"Family is family, whether you are in China or Tanzania," said Malecela at a session on people-to-people connectivity at the Belt and Road Forum for International Cooperation held in Beijing on May 14-15.
Thanks to the partnership between China and Africa, aimed at improving infrastructure connectivity on the continent, Tanzanians like Malecela are increasingly connected to the world and remote parts of China. Whether it is in education, healthcare, culture or media, people-to-people exchanges are receiving a boost as the Belt and Road Initiative scales up cooperation.
Better conditions
Watching television used to be a luxury in Africa as the monthly cost of cable network access was around $50, said Malecela. "It is now only $3 a month and affordable to most households."
The Belt and Road Initiative is about changing ordinary people's lives in such ways. "The people are the builders of the Belt and Road. The objective of development is to improve the life of people," said Charles Kayonga, Rwanda's Ambassador to China.
Such an initiative would lead nowhere without the full support of participating nations. "Only when countries have frequent people-to-people contacts, can their hearts become closer. Only then, will the conditions for pragmatic and friendly cooperation in other areas become ripe," Song Tao, Minister of the International Department of the Communist Party of China Central Committee, noted in his keynote speech at the session.
Since it was proposed in 2013, the initiative has received widespread support from many local governments and businesses in China. But most of the efforts have focused on infrastructure, trade and capital projects. Investment in understanding participating countries' cultures and peoples seems to be lagging.
"Knowing the culture, laws and customs before venturing into a foreign country is essential because if the locals do not welcome your business, your endeavor is doomed to fail," noted Zhao Kejin, Associate Professor in International Studies at Tsinghua University.
Raphael Oni, a Nigerian journalist who came to cover the Belt and Road Forum, agreed that cross-cultural understanding makes it easier to do business. "If there are no people-to-people relations, it is impossible for us to locally adapt the message you wish to convey, never mind to translate it into our own culture," Oni said.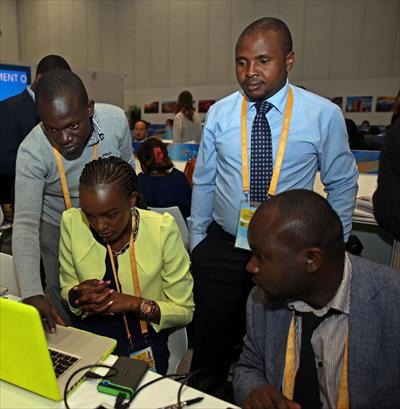 Journalists from Africa discuss work at the media center of the Belt and Road Forum for International Cooperation in Beijing on May 14 (XINHUA)
On an equal basis
Oni appraised the Belt and Road Initiative as truly pioneering and filled with great opportunities for Africa. "Being part of this initiative will help [Africa] achieve our development agenda faster," he noted.
The initiative is now working with established mechanisms for bilateral and multilateral cooperation, such as the Forum on China-Africa Cooperation, and regional development programs, such as the African Union's Agenda 2063. Under the joint efforts of such mechanisms, exchanges in areas like education, healthcare, personnel development and technology are more and more frequent, say experts.
Statistics from China's Ministry of Education show that there were about 200,000 students from Belt and Road participating countries studying in China by the end of 2016. China has also reciprocated, with 350,000 of its students studying in these nations since 2012.
Many African countries have attached high importance to increasing their capability to develop independently when carrying out personnel training cooperation with China. Understanding this, China has given prior consideration to this aspect when establishing partnerships in the sector of technology transfer. "This is important because we can be independent in development," Oni pointed out. He added that programs aimed at sharing China's expertise enable Nigerians to make products in their country.
In his keynote speech delivered at the opening ceremony of the forum, Chinese President Xi Jinping pledged that China will invite 2,500 young scientists from participating countries to conduct short-term research projects in China, train 5,000 scientists, engineers and management personnel, and establish 50 laboratories for joint scientific research in the next five years.
Future plans
The session mapped out a three-year action plan on promoting people-to-people connectivity throughout the Belt and Road. The plan gives special attention to non-governmental organizations (NGOs) through the establishment of the Silk Road NGO Cooperation Network. Supported by the China NGO Network for International Exchanges (CNIE), the network has secured the participation of 160 Chinese and foreign NGOs.
"In the future, CNIE will optimize resources and strengthen contacts with foreign NGOs and think tanks to encourage more talents from non-governmental sectors to contribute to the initiative," Zhu Rui, Secretary General of CNIE, said at the session.
Members of the network will regularly share cooperation needs and approaches to deepen exchanges through reciprocal visits, seminars and workshops. It will also support NGOs in initiating voluntary cooperation programs in education, healthcare and livelihood improvement plans in an effort to deepen understanding and build trust among participating nations.
These efforts will be beefed up by the Chinese Government with additional people-to-people exchange programs.
Ding Wei, Vice Minister of Culture, said before the forum that China's cultural exchange programs with countries participating in the initiative will involve 30,000 people and 1,000 institutions over the next three years. Meanwhile, another 13 Chinese cultural centers will be established abroad. China will also launch a national Silk Road scholarship program to assist 10,000 students annually studying in China.
"It is cross-cultural interaction that brings us to reach a common point and help each other fit in locally," Oni said. He hopes that with such programs in place, people-to-people exchanges between China and Africa would be scaled up to cover more people and more areas.
Copyedited by Bryan Michael Galvan
Comments to zanjifang@bjreview.com