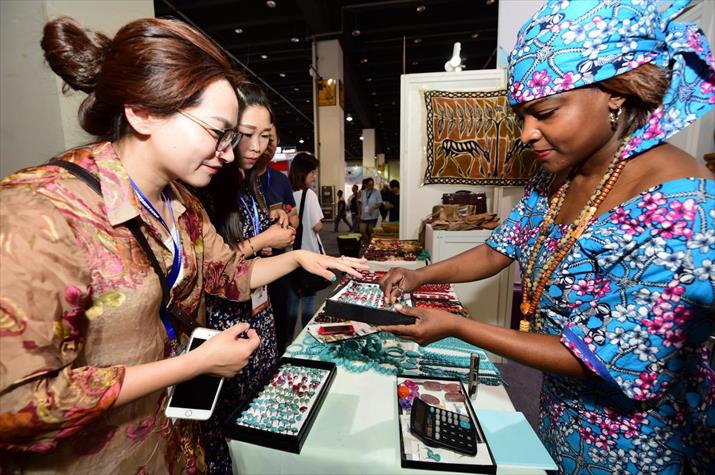 Visitors shop African jewelry at the China International Tourism Commodities Fair in Yiwu, east China's Zhejiang Province, on May 26 (XINHUA)
In the age of booming Sino-African relations, one question keeps popping up: Where is the ideal symbolic and practical representative of African commerce in China?
It's a legitimate question. The China-based European Union (EU) Chamber of Commerce, American Chamber of Commerce, French Chamber of Commerce and Industry and others all give a voice to the businesses of their respective regions and countries in China. The interests of these businesses and their engagement within China are at the heart of the work each chamber conducts as recognized independent bodies.
Hermann Mefire, a 32-year-old independent business consultant, thinks an African board of representatives is of utmost importance for future China-Africa cooperation.
"I would like to see this happening sooner rather than later," said Mefire.
A man with a vision
Graduated in 2014 with a bachelor's degree in international economics and trade and an MBA in international commerce in 2017, Mefire speaks of a coming age where the African Union (AU) will need to take precedence as a leading voice and advocate for African business in China.
"This organization must assume its responsibilities, like the EU," he said.
A successful middle-man between Chinese economic players wanting to forge new partnerships in and with Africa, Mefire has assisted hundreds of Chinese clients to transfer and build their businesses on the continent. Mefire recognizes a growing gap in policy, guidance and advocacy for their African counterparts in China. "An African chamber of commerce could gather [African] companies [together], uniting small strengths to become bigger," he said.
By closing the gap between African business owners and suppliers of the materials and equipment they most need in China, he has made a name for himself. One of his list of clients is in West Africa. "I have been helping a businessman from Cameroon. He is in construction, [and needs] materials. Our supplier is located in north China's Hebei Province—his materials are shipped from the port of Tianjin to the port of Douala [Cameroon]," he told ChinAfrica, a monthly publication of Beijing Review.
Yet although Mefire's consulting skills are helping African businesses obtain resources in China, he keeps questioning how Africans might be better prepared and assisted in crafting startups in or migrating their businesses over to China.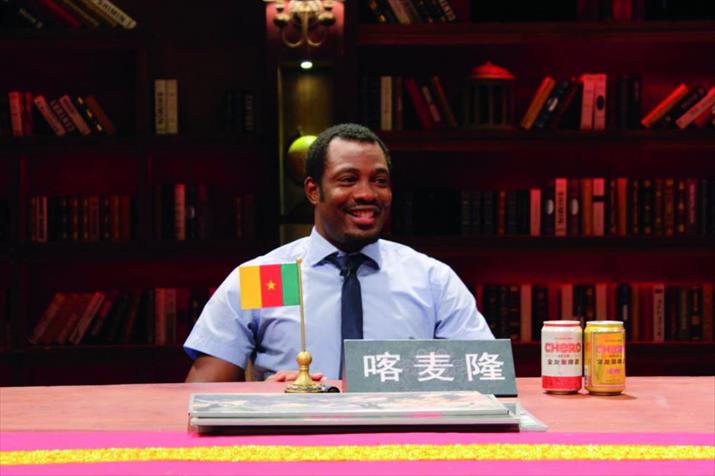 Hermann Mefire, representing Sub-Saharan Africa on Hubei TV program Informal Talks, gives his opinions on cultural differences between China and the rest of the world (COURTESY PHOTO)
Speaking the same language
Choosing to learn and study in Chinese, Mefire recalls, was the foundation of his current success. Before completing his MBA at Beijing Union University, he interned at a mining company in China. The company later commissioned him to represent it in his home country of Cameroon. He was sent to help negotiation while helping to maintain a constant and efficient work-flow.
"To be successful, it's so important to speak the language to negotiate on an equal footing. The mining company knew I spoke Chinese and the native language in Cameroon. I was an asset because of this," he said.
But internal problems and missed business opportunities prompted him to take a leap of faith and start out on his own.
"I no longer wanted to work for the company whose projects were usually short-term," he said. "I also thought I can be more useful as a consultant, because I can share my business experience in China with my fellow Africans—so that they can make good deals with [the] Chinese," he added.
In 2016, he established Zhou Hua International Business Consulting Ltd. An African expert with first-hand knowledge of the business environment on the continent, Mefire has become symbolic of a rare breed in China-Africa business consultation—a native of Africa.
"Does it not make sense to think that Africans know Africa best?" he mused.
Global and regional representation
Mefire has developed a career in assisting the endeavors of Chinese commerce in Africa, but what about the economic undertakings of Africans in China? The end goal in aiding Africans to truly benefit from growing global and China-Africa commerce is the building of what Mefire refers to as a global African chamber of commerce. Part of the responsibility for uniting the needs of African businesses into a collective that benefits from such initiatives as the Belt and Road, lies with embassies and the AU, he believes.
"There's no representative of the AU in China. An African chamber of commerce would bring several African nations together within a common structure. China is a far too large market for any single African country to handle," he said.
"One chamber of commerce for all African nations could be difficult to manage. It's better to create a chamber of commerce [using] small African regional organizations, because they have points in common," he said.
These common points would help regionally constructed chambers of commerce efficiently provide services and guidance specific to the needs of each diverse nation on the continent. "For example in Central African region, we have an organization called Economic Community of Central African States. The members use the same currency, the same passport, the same official language—it's the same for Western Africa, Eastern Africa and Southern Africa and so on," he said. If guidance and assistance are tailored around cultural and economic differences on the continent, African commerce would fare better with enhanced and strategic support and representation in China, he noted.
Mefire said focusing on assisting African countries to industrialize may help African nations utilize their resources to produce more products for import to China, rather than the current trend of African businesses buying from China.
"What we need now is to industrialize. We can, for example, transform African agricultural products directly on the spot," he said. According to him, the market price of raw materials is volatile, so the only path to development for Africa goes through adding value. "For this to happen, we need to diversify cooperation between the continent and China."
Despite the expressed need for further innovative ingenuities, Hermann's nine years of working in China-Africa commerce has cumulated into a wealth of knowledge of how locals are benefiting from initiatives such as the Belt and Road, which continues to help local businesses thrive, increases the mobility of the continent's people and earns potential for companies.
"China's purpose is to partner with Africa and increase cooperation," he said. "The Belt and Road Initiative represents a major opportunity for Africa to establish itself as an essential backbone of this initiative. We should seize this opportunity," he added.
Moving forward, Mefire would like to see more African experts and consultants from the continent representing their countries and introducing the diverse continent to foreign investors and entrepreneurs. "I hope that the younger generation of Africans will be able to negotiate the way in which cooperation takes place on the ground. We do want to open up the African market to China," he said.
This would help curate better cross-cultural partnerships and support for Chinese investment led by Africans for Africans.
Copyedited by Francisco Little
Comments to liuyunyun@bjreview.com