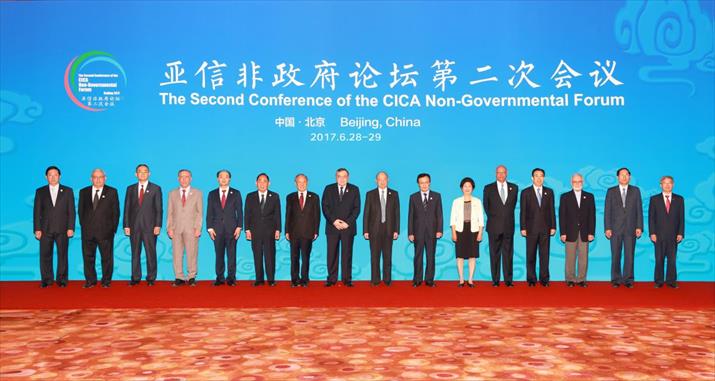 Delegates to the Second Conference of the CICA Non-Governmental Forum in Beijing pose for a group photo on June 28 (FILE)
In the past three decades, Asia was the most dynamic region in the world for economic growth with the emergence of a handful of emerging economies. It is home to more than two thirds of the world's population and accounts for one third of the global economy. But at the same time, Asian countries also face a variety of traditional and non-traditional threats, including territorial disputes, terrorism, extremism and poverty.
In response, scholars and political celebrities from 26 member states and 14 observing countries of the Conference on Interaction and Confidence-Building Measures in Asia (CICA) as well as representatives of international organizations have proposed deeper regional integration as a promising solution. They reached the consensus at the Second Conference of the CICA Non-Governmental Forum held in Beijing on June 28-29.
Furthermore, they stressed the need for CICA countries to strengthen cooperation in fields such as sustainable development, cybersecurity and counterterrorism, and to advance CICA cooperation to higher levels.
First proposed by Kazakh President Nursultan Nazarbayev, CICA was established 25 years ago with the role of maintaining and promoting security in the continent. At the 2014 CICA Summit in Shanghai, Chinese President Xi Jinping proposed the establishment of the CICA Non-Governmental Forum to provide a platform for think tanks, social groups, media organizations and experts in other academic societies to participate in building a peaceful and prosperous Asian region. The first session of the forum was held in Beijing in May 2015.
Based on the concept that "security is the basis of development and security without development is unsustainable," participants at this year's conference expected the CICA mechanism will work well with the China-proposed regional development blueprint—the Silk Road Economic Belt and the 21st-Century Maritime Silk Road, collectively known as the Belt and Road Initiative.
Addressing the conference, Chen Yuan, Chairman of the forum and Vice Chairman of the National Committee of the Chinese People's Political Consultative Conference, said the forum produces insights for regional governance and serves as a unique mode to build mutual trust and respect. He called on CICA countries to join hands in promoting peace and economic globalization.
A growing role
Since assuming the presidency of CICA in May 2014, China has made great efforts to expand and improve the cooperation platform with its influence, including hosting conferences of the CICA Non-Governmental Forum and the Business Forum, establishing CICA committees for youth and entrepreneurs and convening meetings of the Special Working Group and the Senior Officials Committee.
During the 2014 CICA Summit, Xi proposed a new Asian security concept which advocates common, comprehensive, cooperative and sustainable security and provides new thinking for regional countries to address security challenges. In the past three years, the idea won extensive support from Asian countries.
In a congratulatory message to this year's conference, Xi said China has been pushing discussions on building a new framework for regional security and cooperation and is committed to deepening cooperation on trust-building measures.
In his keynote speech at the event, Russian Ambassador to China Andrei Denisov hailed China's contribution to the development of CICA, saying China has attached great importance to promoting semiofficial or non-governmental dialogue.
Former Egyptian Prime Minister Essam Sharaf said development is unlikely without security. More importantly, he pointed out, common development needs common security, which is established based on pragmatic mechanisms and sincere partnership. Sharaf also stressed the importance of jointly combating terrorism in promoting common development, hoping CICA can play a larger role in this field.
Former Philippine House Speaker Jose de Venecia told the participants that durable peace is not impossible in Asia and the world. He said understanding among great civilizations is the only basis for an enduring global peace.
Venecia spoke highly of the Chinese proposal of "putting aside sovereign disputes and engaging in joint exploitation" in solving the South China Sea issue, saying territorial disputes can be addressed peacefully through new thinking.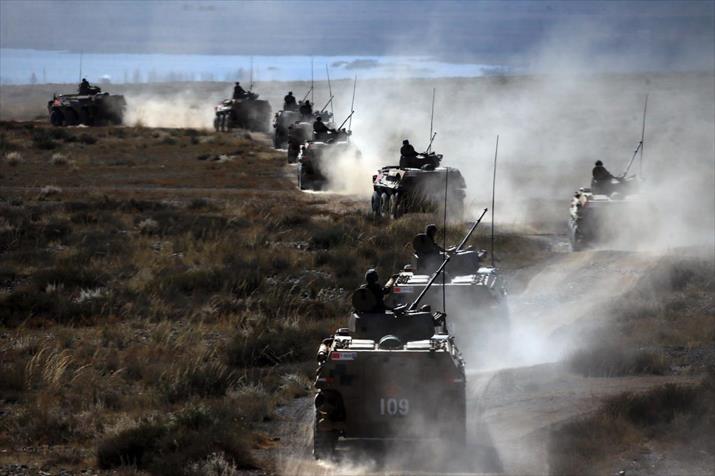 Chinese troops take part in a multinational counterterrorism drill in Kyrgyzstan on September 18, 2016 (XINHUA)
New opportunity
During the conference, participants strongly recommended the Belt and Road Initiative as another platform to promote peace and security through economic integration.
Many member states of CICA are part of the Belt and Road Initiative, which Xi proposed in 2013, to build a trade and infrastructure network connecting Asia with Europe and Africa. Security issues are vital to the Belt and Road Initiative since it involves vast expanses of several regions, including some of the world's most volatile countries. Participants at the conference believe the economic and social development yielded by the initiative is conducive to tackling security issues.
Former Prime Minister of South Korea, Lee Hae-chan, told the conference, "As intra-regional interdependence increases and the economies of each region develop together, security risks will lessen." He added that the Belt and Road Initiative is an excellent endeavor to enhance Asia's economic development and interdependence.
Shakhrat Nuryshev, Kazakh Ambassador to China, stressed the supplementary relationship of CICA and the Belt and Road Initiative. Nuryshev said the initiative is a new "propeller for cooperation" among countries. Mutual trust in security, the core principle that CICA advocates, is needed to build the Belt and Road.
"In the past 25 years, CICA has accumulated rich experience in building mutual trust and security cooperation, which can contribute a lot to construction of the Belt and Road," said the ambassador.
Sun Zhuangzhi, Secretary General of the Shanghai Cooperation Organization Research Center at the Chinese Academy of Social Sciences, said the Belt and Road Initiative has made remarkable progress, which is highly relevant to CICA in terms of security cooperation.
Sun said the peaceful advancement of the modern silk routes should dock with multiple cooperative platforms and regional development strategies. To address security challenges, he suggested the Belt and Road Initiative should deepen dialogue with the CICA mechanism, particularly on the new Asian security concept.
Sudheendra Kulkarni, Chairman of Indian think tank Observer Research Foundation, said under the CICA spirit of enhancing mutual trust, India should not boycott the Belt and Road Initiative and the China-Pakistan Economic Corridor (CPEC), but should instead link the CPEC with India for more development
Noting that the CPEC is very important for India, Kulkarni pointed out that there was connectivity between Delhi and the Pakistani city of Lahore, which is only 15 minutes' drive from the Indian border, for thousands of years, but the two countries built a border wall and shut off the connectivity because of territorial disputes. "It's high time to come up with an innovative solution that will take care of our sovereignty issues in a new way; a comprehensive regional integration is needed to make connectivity a reality," he said, adding that it's possible only if three handshakes between China, India and Pakistan are to occur.
Copyedited by Bryan Michael Galvan
Comments to yulintao@bjreview.com