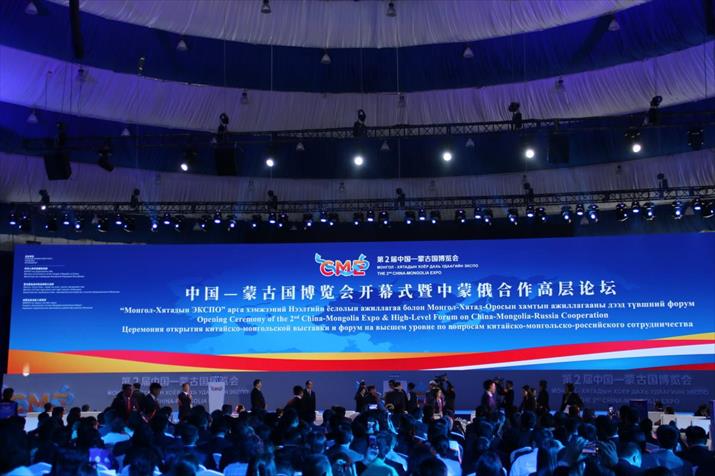 The Second China-Mongolia Expo opens on September 26 in Hohhot (MA XIAOWEN)
The second China-Mongolia Expo (CME) opened in Hohhot, capital city of north China's Inner Mongolia Autonomous Region, on September 26.
Themed Construct the China-Mongolia-Russia Economic Corridor (CMREC), Embrace Global Win-Win Cooperation, the expo lasts five days, through to September 30.
The biennial event serves as an important platform providing new opportunities for exchanges between China and Mongolia. This year, Russia has been invited as a special guest, to promote the influence of the expo, and delegates from around 40 nations in total have gathered in Hohhot.
CME comprises investment and trade negotiations, conferences and forums, exhibitions, and cultural exchange. This time round, the event includes almost two dozen activities arranged by the Inner Mongolia authorities to showcase trilateral cooperation between China, Mongolia and Russia in mineral exploitation, agriculture, education, tourism and other sectors.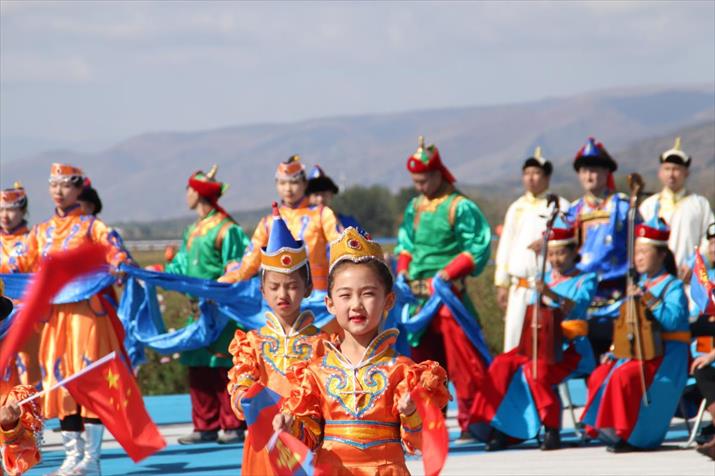 A group of Inner Mongolia children performed a traditional Mongolian dance accompanied by traditional music before the opening ceremony of the Second China-Mongolia Expo on September 26 (COURTESY OF ZHAO SHAN)
CMREC, outlined in a document signed by the leaders of the three nations on June 23, 2016 in Tashkent, Uzbekistan, is expected to reinforce the trilateral cooperation by increasing trade volumes, enhancing product competitiveness, facilitating cross-border transportation and developing infrastructure in the three countries.
CME is an attempt to further facilitate cooperation between the three nations in the construction of CMREC, especially regarding trade. Inner Mongolia Autonomous Region, which has a long border with Mongolia, accounts for over 50 percent of China's trade volume with the country, according to Wu Tuanying, Deputy Director of the Standing Committee of the Inner Mongolia Autonomous Regional People's Congress.
China is Mongolia's largest source of imports and largest trading partner. The China-Mongolia trade volume in 2016 was 4.61 billion yuan ($694.6 million), and bilateral trade barreled along in the first half of 2017 to reach 3.1 billion yuan ($467.8 million), up 44.2 percent year on year, according to statistics from China's Ministry of Commerce.
Wu noted that CMREC should function as a corridor for the three nations to deepen their cooperation and as an important bridge connecting Asia and Europe.
Wang Qige, a researcher with the Inner Mongolia Academy of Social Sciences, said that CMREC, as part of China's Belt and Road Initiative, was not only a gateway to economic prosperity, but also intended to enhance cultural exchanges and mutual understanding.
"The cooperation among the three countries is based on common recognition of multiculturalism," he said at a forum held on September 26, "which means, harmonious co-existence and prosperity of multiple cultures."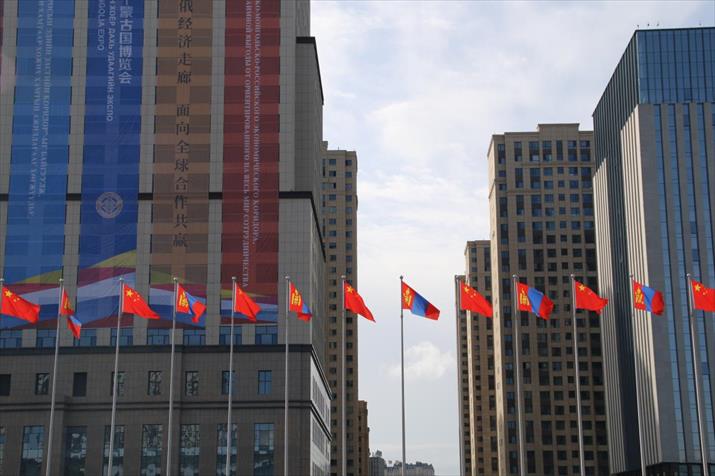 The national flags of China and Mongolia on display outside the International Exhibition Center of Hohhot, capital of Inner Mongolia Autonomous Region, on September 26 (COURTESY OF ZHAO SHAN)
Valerii Zandawulitovich, former Director-General of the Alma-Ata office of the Press Department of the President of Mongolia, citing Taishir hydropower station in Mongolia as an example, said that the three nations could collaborate with each other in fields like clean energy and environmental protection.
During the first CME, held in 2015, a total of 166 investment and trade cooperation agreements were signed, which led to over 140 billion yuan ($21.08 billion) worth of planned investment.
In a statement written in October 2015, President Xi Jinping said the China-Mongolia Expo was expected to become an important platform for enhancing economic and trade cooperation, as well as people-to-people and cultural exchanges, between China and Mongolia and for helping to boost China-Mongolia relations toward a higher level.
Copyedited by Chris Surtees
Comments to maxiaowen@bjreview.com