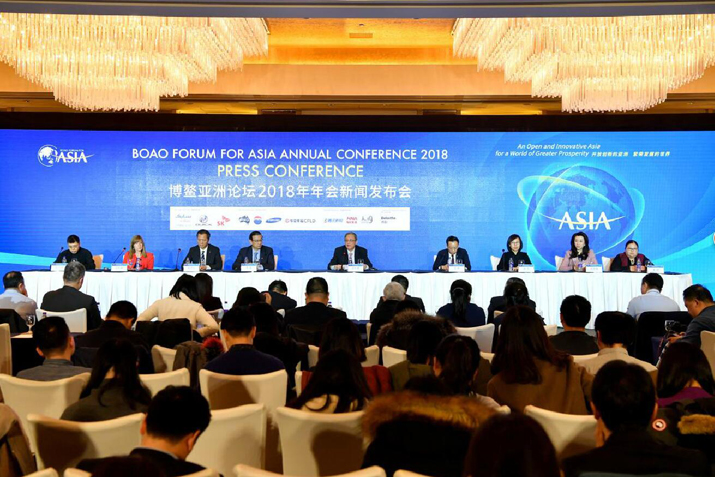 A press conference on the Boao Forum for Asia Annual Conference 2018 in Beijing on January 25 (XINHUA)
The Secretariat of the Boao Forum for Asia (BFA) held a press conference in Beijing on January 25 to brief the media on preparations for the BFA Annual Conference 2018.
According to Secretary General Zhou Wenzhong, the BFA Annual Conference 2018 will take place over four days from April 8 to 11 in Boao, south China's Hainan Province, under the theme of "An Open and Innovative Asia for a World of Greater Prosperity."
"Amid an environment of increased anti-globalization and protectionism, which have already caused setbacks in efforts to advance globalization, the Asia-Pacific region needs development that is more open, better coordinated, more inclusive and more balanced than ever before," Zhou said at the press conference.
This year's conference, for which Beijing Review will be an official media partner, is to be divided into four parts including some 60 sessions, namely Globalization and the Belt and Road Initiative, an Open Asia, Innovation, and Reform.
Globalization and the Belt and Road Initiative will form a continuation of the relevant topics addressed at the 2017 Annual Conference, but with greater focus on finding solutions. An Open Asia will seek to broaden the depth and breadth of regional cooperation to pave the way for a more open and better coordinated Asia.
Innovation is based on the concept of innovation-driven development, a viable option for emerging economies in Asia and elsewhere to overtake developed nations through "leapfrog" development. Reform is both a review of the past 40 years of China's reform and opening up as well as a preview of plans for the further reform mapped out by the 19th National Congress of the Communist Party of China.
There will also be sessions addressing specific topics related to the Guangdong-Hong Kong-Macao Greater Bay Area, the Xiongan New Area and China's strategy for an ecological civilization.
"Today, global economic growth remains vulnerable and its prospects uncertain," Zhou said. "Asia and the rest of the world share the mission of building a global community with a shared future."
Copyedited by Laurence Coulton
Comments to yuanyuan@bjreview.com