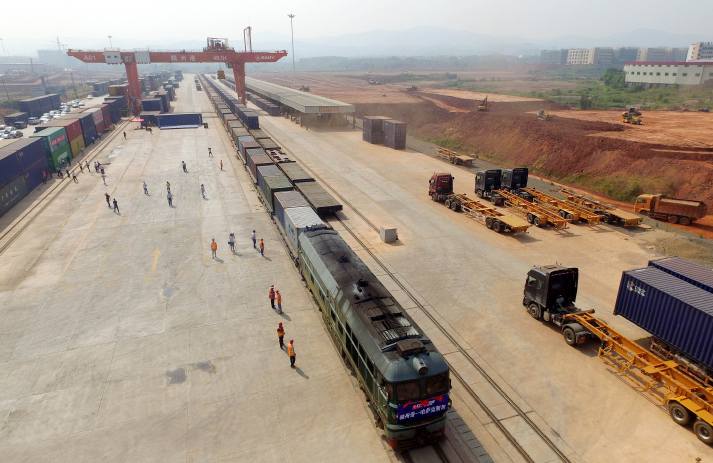 A cargo train leaves for Kazakhstan from Ganzhou, east China's Jiangxi Province, on July 27, 2017 (XINHUA)
Two thousand years ago Chinese caravans, accompanied by the jingle of camel bells, carried goods such as tea and silk to ancient trading centers in Central Asia, such as the Kazakh city Almaty and other faraway places, where they were exchanged with foreign counterparts for spices, furs and other products. Over time their footprints forged the ancient Silk Road, which for centuries witnessed the earliest forms of economic, cultural and political communication between China and the Western world.
The Belt and Road Initiative, proposed by China in 2013, looks to revive the ancient Silk Road and its spirit of economic cooperation with countries along the routes, placing common development through strengthening interconnectivity as its stated goal.
The initiative offers an opportunity for some of history's great but forgotten metropolises to shine once more, while also attracting new participants to its grand plan. Among these are three countries bordering the Caspian Sea, Azerbaijan, Kazakhstan, Georgia, as well as Turkey who have reached consensus to forge a Trans-Caspian Corridor to integrate with the Belt and Road Initiative. In early February, the four countries jointly hosted an international conference on the Role of the Trans-Caspian East-West Trade and Transit Corridor in the Realization of the Belt and Road Initiative in Beijing, in an attempt to align the two development strategies.
Economic prosperity
The Trans-Caspian Corridor starts from China, crossing the Caspian Sea, and passing through Azerbaijan, Kazakhstan, Georgia, eventually reaching Turkey, Bulgaria, Ukraine and other states surrounding the Black Sea. From start to finish, it spans 6,500 km.
With the trade between China and Europe set to increase, the transportation of freight by train will become an attractive prospect due to low costs and high speeds compared with alternatives via sea and air. This route, cutting through Central Asia and the Caucasus, is the shortest and most direct means of connecting China and Europe.
According to statistics from the European Commission, China and Europe trade on average over $1.2 billion a day. Chi Fulin, President of the China Institute for Development and Reform, forecasted a possible $1 trillion in trade by 2020 in comments about the future expansion of trade volume between the two sides. In light of these figures, economic activity related to the transport and accommodation of goods has the potential to bring great economic prosperity to countries along the routes.
Early in 2014, Kazakhstan's Ministry of Investment and Development issued a document outlining its aim to attract 8 percent of EU-China freight traffic by 2020 based on its advantage of location, equivalent to 15 million tons of cargo, according to their calculations.
Facilitating connectivity is one of the central goals of the Belt and Road Initiative, which prioritizes the construction of infrastructure, including railways, highways, and ports throughout participating regions. In his opening speech at the conference, Wang Shouwen, Vice Chinese Minister of Commerce, welcomed the conception of the Trans-Caspian Corridor as highly consistent with the Belt and Road Initiative.
New railways
The backbone of the corridor, the Baku-Tbilisi-Kars Railway was completed in October last year. With a total length of 846 km, the capacity of the Baku-Tbilisi-Kars Railway is expected to reach 17 million tons of cargo by 2030. The project also included the Marmaray Tunnel which passes under the Bosphorus Strait, and through which goods can reach Europe through its terminals in Turkey and Bulgaria.
Wang's comments included high praise for these new routes, noting that the China-Europe freight train from Urumqi in Xinjiang Uygur Autonomous Region to Europe started its maiden voyage on the railway on January 19, marking a milestone in the implementation of the Belt and Road Initiative.
Railway transport via the Trans-Caspian Corridor would be shortened to 12 to 15 days from the 40 to 62 days it takes by sea, Veysi Kurt, Director General and Chairman of the Board for Turkish State Railways Transport, said.
Li Wenxin, Vice General Manager of the China Railway Corp., noted that railway transportation between China and Europe enjoyed the advantage of large capacity, low prices and high speeds, and that the transportation time via the Trans-Caspian Corridor was approximately one third of that by sea, its cost one fifth of that by air. The opening of the China-Europe freight train provides a third logistic option for trade between China and Europe in addition to existing mechanisms via sea and air.
In order to capitalize on a combination of transport by sea and rail, the littoral states of the Caspian Sea have been seeking to optimize the capacity of their ports. The new Baku International Seaport located 70 km south of the Azerbaijani capital near a small town called Alat, sits at a strategic crossroads of the region's railroads and highways.
According to Taleh Ziyadov, Director General of the Baku International Sea Trade Port, the new port covers an area of 400 hectares of land, of which around 100-115 hectares make up an area for the development of the International Logistics and Trade Zone.
Ziyadov claimed that under the non-resource-based economic strategy of Azerbaijan's President Ilham Aliyev, the Baku International Seaport was expected to become one of the leading hubs of trade and logistics in Eurasia.
Compared with the other intercontinental railway which reaches Europe via Russia and Belarus, the Trans-Caspian Corridor enjoys the advantage of warmer annual temperatures, which is critical to some specific goods, said David Peradze, General Director of Georgian Railway.
A way to go
Actually, due to complicated customs clearance procedures at present, transportation via the Trans-Caspian Corridor usually takes longer than necessary, Sui Jun, Deputy Managing Director of COSCO Shipping Lines Co., said at the conference. Freight from China still needs to travel for 35 days before reaching Istanbul, with costs three times higher than transportation by sea without any considerable upgrade in speed.
Sui pointed out that there was a pressing need to boost the volume of goods on the return journeys made by freight trains from Europe to China, as this also greatly affects the cost of transportation.
Shahin Mustafayev, Minister of Economic Development and Chairman of the Transit Council of Azerbaijan, proposed that all four countries involved in the plan make concerted efforts to simplify customs clearance procedures, in order to cut transportation times and attract more Chinese and European goods.
Mustafayev also suggested that countries along the route endeavor to increase the publicity of the China-Europe freight train in order to build a good brand. He explained how governments can play a role in strengthening the attractiveness of goods and by adopting measures which support companies that choose this means of transportation. In fact, actions have already been taken to that end. Last year, Kazakhstan, Azerbaijan and Georgia agreed to establish the international organization of the Trans-Caspian International Transport Route. Its main function is to attract more goods via this route. In order to reach this goal, it must play a vital role in the simplification of administrative procedures and by providing accurate information to all parties concerned.
Copyedited by Laurence Coulton
Comments to wenqing@bjreview.com