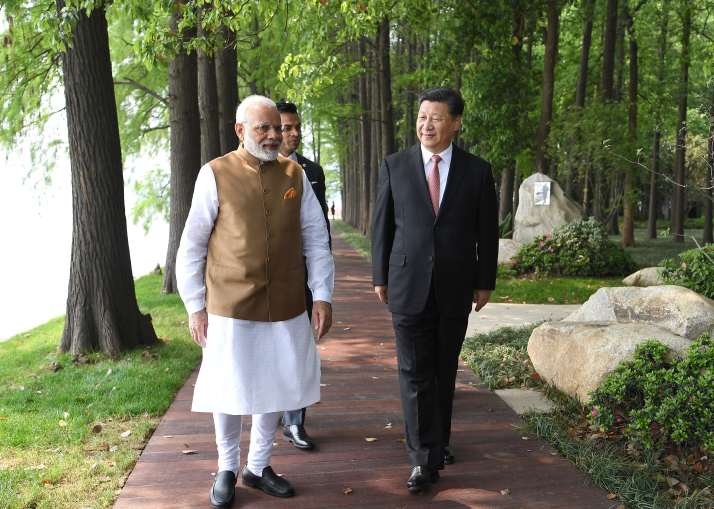 Chinese President Xi Jinping and Indian Prime Minister Narendra Modi walk by Easter Lake in Wuhan, a city in central China's Hubei Province, on April 28 (XINHUA)
When Indian troops trespassed into China's Donglang area last June, it was almost impossible to imagine that several months later Indian Prime Minister Narendra Modi would be having a one-on-one meeting with Chinese President Xi Jinping while walking by a Chinese lake in a relaxed and friendly atmosphere.
Modi was warmly welcomed to Wuhan, a city along the Yangtze River in central China's Hubei Province, on April 27-28. Since the end of the border standoff in August 2017, the two countries have been hoping to thaw strained relations and enhance mutual trust.
Unconventional visit
This is Modi's fourth visit to China since becoming prime minister in 2014. He is due to return to China in June to attend the Shanghai Cooperation Organization Summit to be held in Qingdao, China's eastern Shandong Province.
"It is unusual for Modi to visit China twice in such a short time span," said Qian Feng, a research fellow on Indian studies at Tsinghua University, in an interview with Beijing Review. Moreover, according to diplomatic conventions, the Chinese leader should have paid a return visit to India first, since Modi officially visited China in 2015. Yet, the Indian leader chose to break norms and visit China, reflecting the importance India attaches to bolstering ties with China, Qian added.
For its part, China, which upholds a good-neighbor policy, hailed India's efforts at improving bilateral ties by providing a detailed and thoughtful visit.
According to Lin Minwang, a researcher at Shanghai-based Fudan University, such an informal meeting is in fact more effective for the two leaders to exchange views.
It was the first time that Chinese and Indian leaders had held an informal meeting, free from routine arrangements associated with formal visits, such as agendas, the signing of agreements or the publication of declarations. Thus, it left more time and space for actual communication between the two leaders, Lin wrote in a recent article published on the website of China Newsweek.
Lin also noted in his article that the two leaders have put great emphasis on improving personal friendship during mutual exchanges, and such informal meetings could help to enhance the relationship between Xi and Modi.
As a matter of fact, their hometown diplomacy is another good example of enhancing personal friendship. During his first visit to India in September 2014, Xi went to Modi's home state of Gujarat. Subsequently Modi traveled to Xi's hometown of Xi'an, northwest China's Shaanxi Province, in 2015.
During the recent meeting, the two leaders endorsed the informal meeting format. Xi said he believed that he and Modi will meet informally from time to time in the future to have in-depth communications on major issues. Modi said he hoped such informal meetings would become a tradition between the two countries and aimed to host Xi at a similar meeting in India in 2019.
Special timing
Modi's unconventional visit and China's elaborate reception demonstrated the sincerity from both sides to mend the once strained relationship. Since the beginning of 2018, both parties have made great efforts to thaw the icy ties. In January, Vijay Keshav Gokhale, considered an expert on China, was appointed India's foreign secretary and visited China in February, followed by India's External Affairs Minister Sushma Swaraj's visit in April.
In addition, the two countries agreed to reopen the Nathu La Pass, a key route for Indian pilgrims to reach Mount Kangrinboqe in China's Tibet Autonomous Region, a holy mountain for Buddhists and Hindus. The countries will also resume sharing data on some trans-border rivers such as the Yarlung Zangbo River, crucial to predicting floods in India's northeast.
Frictions in bilateral relations escalated last summer when Indian troops intruded into China's Donglang area to block Chinese road-building. However, both sides exercised restraint and refrained from repeating the events of the armed border conflict in 1962. This time, with efforts by both parties, the Indian Government finally retreated in August without an intensification of tensions. The border stalemate alarmed China and India, making them both realize each other's importance and the necessity to reset relations, which was one of the reasons for Modi's visit, Qian noted.
Meanwhile, the aggressive posturing by U.S. President Donald Trump has also pressured the two big countries to thaw relations. According to Lin, India does not regard Trump as a friendly politician who included India on the list of trade investigations and threatened retaliatory trade tariffs if India did not ease taxes on U.S. imports. The Trump administration's visa reform has adversely affected Indian IT firms and work visa applicants.
On global issues, India is a firm supporter of economic globalization and multilateralism, and shares a similar stance to that of China, which offers a basis for cooperation, Lan Jianxue, an associate researcher with the China Institute of International Studies, told Beijing Review. Modi's speech at this year's World Economic Forum in Davos had striking similarities with the speech Xi gave in 2017 on the significance of global economic order. Moreover, India, like China, pursues an independent foreign policy of non-alignment, which also increases the chances for cooperation, Lan said.
China-India model
To rebuild trust was the priority of the informal meeting which is the most crucial issue concerning bilateral ties. For two days, Xi and Modi had frank discussions and reached broad consensus, setting a positive tone for bilateral ties at the highest level.
The fact that the informal meetings took place at all proved to be the biggest success, said Qian, marking the evolution from a border dispute to the opening of a new positive chapter. Moreover, the two leaders clarified each other's development strategies and exchanged views on development trends, which will help to further deepen strategic trust.
Lan pointed out that the informal meeting helped to dispel tensions and set the orientation toward the development of future Sino-Indian ties.
"As the two most populous developing countries, China and India are faced with similar tasks for boosting their economies," Lan said. "China and India should see each other's development as an opportunity rather than a threat, and contribute to enhancing mutual trust."
Lan proposed that the two countries establish a China-India model for bilateral interactions in the future. Notwithstanding that there are still major territorial differences and other issues, the two countries could effectively manage and control disputes, focus on common interests and conduct pragmatic cooperation.
Copyedited by Rebeca Toledo
Comments to wenqing@bjreview.com