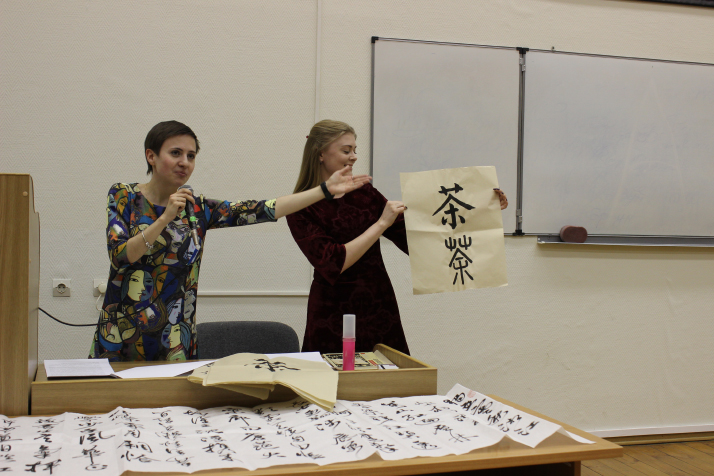 Sofya Simatova (left) gives a lecture on Chinese calligraphy to students at Moscow City University (COURTESY PHOTO)
"When walking in a group of three, my teachers are always present. I draw out what is good in them so as to emulate it myself, and what is not good in them so as to alter it in myself."
These were the winning words written by Sofya Simatova, a PhD candidate and Chinese teacher at Moscow City University, who recently claimed first prize at the Shanghai Cooperation Organization (SCO) Chinese Calligraphy Contest.
Simatova chose the lines from The Analects of Confucius as the subject of her calligraphy which was submitted to the organizing committee of the contest.
"Every Chinese language teacher should adopt these words as their motto, because as Chinese language teachers, we should not only teach but also learn from other people to improve ourselves," said Simatova in a video clip played at the award ceremony in Beijing.
Jointly hosted by subsidiaries of a Chinese media conglomerate committed to international communication, the China International Publishing Group (CIPG), China Pictorial and China.org.cn, the contest has been held on two previous occasions. This year's iteration, sponsored by the New Health Industry Group, aimed to create a friendly and cultural atmosphere at the SCO Qingdao Summit to be held in early June.
More than 2,000 entries were submitted by competitors hailing from SCO member states and other countries in Europe and Asia, with approximately 40 receiving prizes.
"The contest boosts cultural exchange and highlights the role of Chinese calligraphy…It also provided a platform for Chinese calligraphy lovers from different countries to show off their talent," Wang Gangyi, Vice President of the CIPG, said during the ceremony.
"The contest has afforded an opportunity for young people from SCO member states and other countries in Asia and Europe to gather together to build the Shanghai Spirit," said Aizada Subakozhoyeva, Deputy Secretary General of the SCO.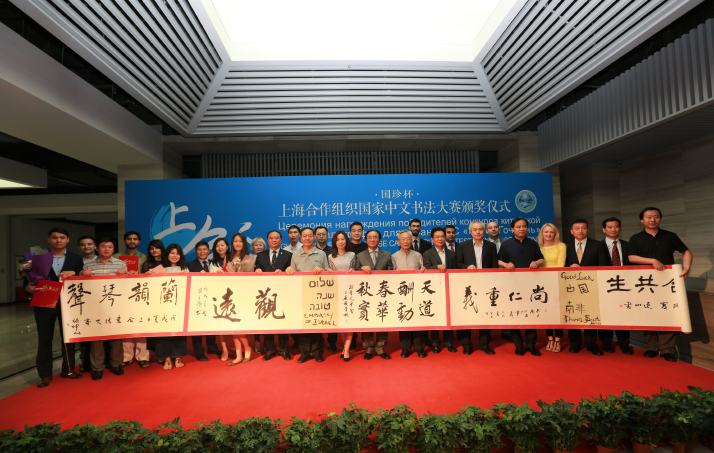 Organizers and participants of the SCO calligraphy competition pose for a photo at the award ceremony in Beijing (COURTESY PHOTO)
Sinophile
Simatova began learning the art of Chinese calligraphy while studying for a Master's degree at the Beijing Language and Culture University. "Originally I was just trying to improve my mood through calligraphy because I was quite down when I first arrived in Beijing as the city was new to me and I had few friends," Simatova told Beijing Review.
"Now calligraphy is not only one of my hobbies, but also part of my career," she added. After attaining a master's degree in linguistics last year, Simatova continued her education by pursuing a PhD at Moscow City University where she also teaches Chinese.
She said that calligraphy has served to arouse her students' interest in the Chinese language.
Every time someone in her class celebrates a birthday, she writes the Chinese character which she thinks best represents their personality and gives it to them as a gift.
"Now my students all look forward to having class on their birthdays because they want to know what character they resemble most. It's a lot of fun," she said.
Simatova has also lectured on the basics of Chinese calligraphy, including its various styles, techniques, implements and history. She also plans to organize activities for students to experience writing Chinese calligraphy in the future.
Born in Chita, a city in eastern Siberia that is only a six-hour drive from Manzhouli in north China's Inner Mongolia Autonomous Region, Simatova has a long relationship with the Chinese language and the country itself.
She began learning Chinese at primary school where it was a compulsory part of the curriculum. However, it was not until in high school that she decided to make the language the focus of her career and began to study more diligently.
"I am very interested in Chinese and have a special connection with the language. Chinese for me means a completely different world which is waiting to be explored," she said.
Prior to studying in Beijing, Simatova had learned Chinese for a year at Heilongjiang University in Harbin, the capital of northeast China's Heilongjiang Province, on a scholarship program offered by the Confucius Institute.
She has participated in a number of Chinese speaking contests having won prizes along the way, including the 12th Chinese Bridge, a proficiency competition for overseas university students of which she was the winner in Europe and in the top 10 worldwide. Hosted by the Confucius Institute Headquarters in China, the Chinese Bridge competition is one of the most significant events for university students across the world studying the Chinese language.
Simatova's primary interest lies with Chinese grammar and she has chosen Chinese grammatical theory as the subject of her PhD. In her opinion, the most difficult part of learning Chinese is the vocabulary, and she sometimes struggles to find the appropriate word.
"I think this is a problem with learning any foreign language because language itself is not finite or easily defined," said Simatova.
She hopes to work in a field related to China and the Chinese language once she graduates.
Character building
Dana Taibagarova, a sophomore from Kazakhstan studying international economics and trade at the East China Normal University in Shanghai, also won a top prize at the SCO Chinese Calligraphy Contest. "It was a real challenge for me taking part in the competition and I didn't expect to win because there were so many contestants who submitted excellent works of calligraphy," Taibagarova told Beijing Review.
Her entry for the competition was a poem written by the Tang Dynasty (618-907) poet Cen Shen, which expresses his longing for his hometown.
"Although it is pleasant studying in China, I miss my family sometimes. So I chose this piece because I can sympathize with the poet," said Taibagarova.
She began learning Chinese four years ago. "At that time, China for me was a mysterious country with a long history and I found Chinese difficult to learn, especially to write, since it was completely different from my mother language. However, the fun derived from learning the language outweighs the difficulties," Taibagarova said.
She signed up to a calligraphy course at her university last year and said practicing calligraphy can have a therapeutic effect.
"Whenever I take out my brush and slowly begin to write, I immerse myself in the world of calligraphy and forget everything else. Calligraphy has become a way for me to learn more about myself," said Taibagarova.
Copyedited by Laurence Coulton
Comments to jijing@bjreview.com