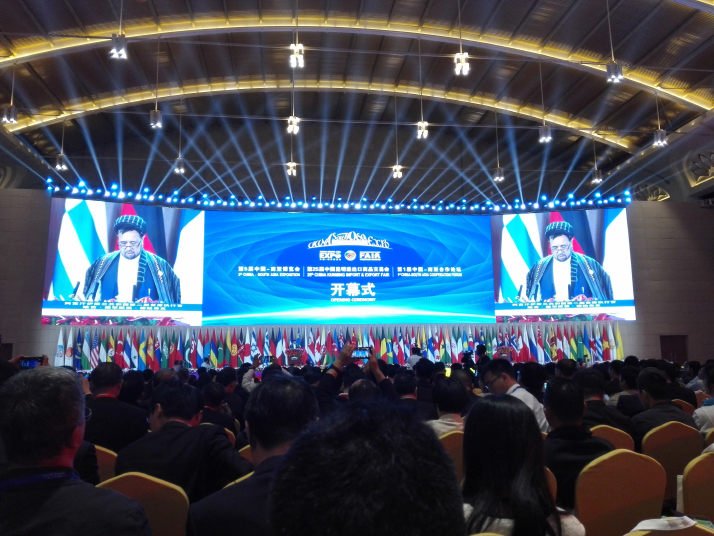 The 5th China-South Asia Expo kicked off in Kunming, Yunnan Province on June 14 (YU LINTAO)
The 5th China-South Asia Expo kicked off in Kunming, Yunnan Province, on June 14. While meeting with journalists reporting on the event, Tian Huqing, Deputy Director of the Information Office of Yunnan Provincial People's Government, said that the unique position of Yunnan has offered great opportunity for the province along with China's further opening up.
Located in China's southwest, Yunnan is at the junction of the Chinese, South and Southeast Asian economic circles, where around half of the world's population lives. Yunnan thus serves as an important gateway to South and Southeast Asia, Tian said.
Along with the implementation of the Belt and Road Initiative, the province enjoys more distinct advantages as it is the very place where the Bangladesh-China-India-Myanmar (BCIM) Economic Corridor and China-Indo China Peninsula Economic Corridor converge. It is also a crucial player in Lancang-Mekong Cooperation (LMC). As a result, the province has become a pivot in connecting China with South Asia, Southeast Asia and the Indian Ocean, and it has displayed great momentum and considerable space for further development, Tian explained.
Actually, Yunnan is home to abundant natural resources, rich historical and cultural legacies and a variety of ethnic cultures. It is sometimes hailed as the "Kingdom of Fauna and Flora", the "Kingdom of Non-Ferrous Metals", a "Panoramic Park of Ethic Cultures" and a "Tourist and Holiday Resort."
Tian declared that the natural resources and cultural legacy boast enormous potential for development.
When Chinese President Xi Jinping made his inspection tour of Yunnan in January 2015, he suggested the province integrate into national development strategies and strive to become the radial center of South and Southeast Asia.
Since then, according to Tian, the province has drawn on its advantages to strive for "leapfrog development" and scored many achievements in socio-economic development. In 2017, its GDP reached 1653.1 billion yuan ($258.52 billion), up 9.5 percent over the previous year. Apart from rapid economic growth, the province also witnessed social stability, improvement in people's living standard and deeper reform and opening up.
Copyedited by Laurence Coulton
Comments to yulintao@bjreview.com