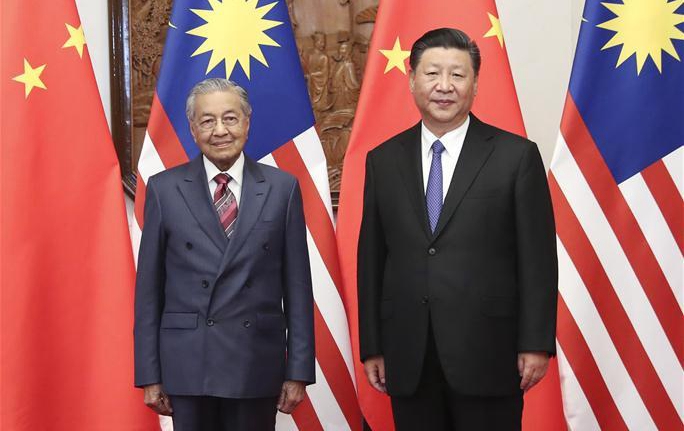 Chinese President Xi Jinping (R) meets with Malaysian Prime Minister Mahathir Mohamad in Beijing on August 20 (XINHUA)
Chinese President Xi Jinping met with Malaysian Prime Minister Mahathir Mohamad in Beijing on August 20.
Xi expressed his appreciation for the great importance Mahathir has attached to advancing ties between the two countries and his support for the China-proposed Belt and Road Initiative, as well as his contributions to accelerating regional cooperation within Asia.
China is endeavoring to achieve its two centenary goals, meanwhile, Malaysia has embarked on its journey of building a new Malaysia, Xi noted, saying that bilateral ties stand at a new and pivotal point.
China and Malaysia, as major rising forces in Asia, are cooperating in providing development opportunities for each other, Xi said, voicing his hope that the two countries can strengthen strategic communication to promote bilateral ties, the rejuvenation of Asia and prosperity of the world.
Malaysia was the first country from the Association of Southeast Asian Nations (ASEAN) to establish diplomatic relations with China since the regional organization was founded.
Xi reiterated China's commitment to developing friendly ties with Malaysia and expressed his confidence in further intensifying relations in the new era.
He called on the two countries to respect one another, settle issues properly through negotiation and follow the direction of friendly cooperation, so as to achieve mutually beneficial and win-win results.
With a focus on Asia and a global perspective, the two should upgrade the quality and efficiency of China-ASEAN cooperation, speed up construction of the East Asia economic community, inject new impetus into South-South cooperation, enhance the representation and voice of developing countries, and take a firm position against unilateralism and trade protectionism, Xi said.
He noted Malaysia is an important country along the ancient Maritime Silk Road and was among the first to participate in the Belt and Road construction.
Xi called for the joint construction of the Belt and Road, which serves as a focus in pragmatic cooperation between the two countries in the new era.
China and Malaysia should increase overall planning and alignment of development strategies, push forward industrial and innovation cooperation, cultivate new bright points, expand new fields, and seek new ideas and models in their cooperation, Xi added.
He also encouraged the two countries to look for cooperation opportunities with third parties along the Belt and Road so as to inject positive energy into the economic development of the region and the world.
Saying his visit to China indicates an important step taken by Malaysia's new government, Mahathir stressed his country's friendly policy toward China remains unchanged.
Malaysia has benefited from its cooperation with China, a significant and influential country as well as Malaysia's largest trading partner, said Mahathir, adding that China's development never poses a threat to his country.
Malaysia admires the miraculous achievements China has made in industrial and commercial fields and hopes to learn from China's experience in its attempt to "Look East," he said.
China is welcome to invest more in Malaysia, the Malaysian prime minister said, expressing his hope that through this approach bilateral cooperation can be cemented and people of the two countries will benefit.
He spoke of the great Chinese navigator Zheng He's visits to Malaysia more than 600 years ago and voiced his country's support for the Belt and Road Initiative, which is expected to increase regional exchanges.
Also on Monday, Li Zhanshu, chairman of the Standing Committee of the National People's Congress, met with Mahathir, calling for more cooperation between the two countries' legislatures.
Mahathir is paying an official visit to China from August 17 to 21.
(Xinhua News Agency August 20, 2018)