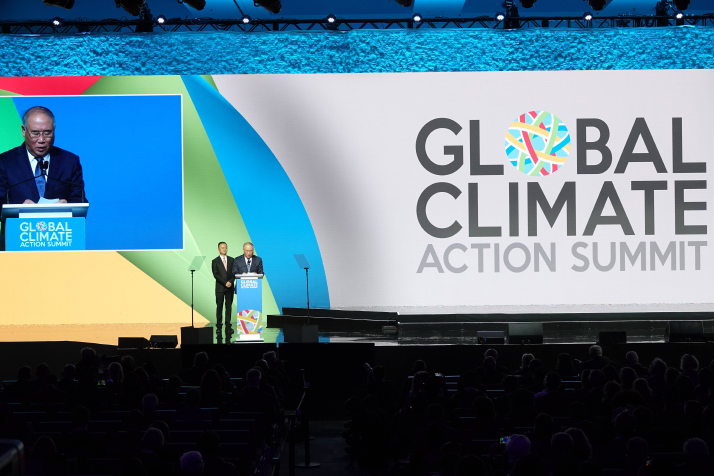 Xie Zhenhua, Special Representative for Climate Change Affairs of China, delivers a speech at the opening plenary of the 2018 Global Climate Action Summit in San Francisco, the United States, on September 13 (XINHUA)
More than a year after U.S. President Donald Trump decided to pull the United States out of the landmark Paris Agreement on climate change, the California state government took up the baton to host the 2018 Global Climate Action Summit (GCAS 2018) in San Francisco on September 12-14.
The summit, held at the midway point between 2015 when the Paris Agreement was reached and 2020 when the parties to the agreement need to review progress and enhance targets, brought more than 4,000 participants from around the world to "Take Ambition to the Next Level."
At the summit, representatives from states, regions and cities; businesses; investors and civil society advanced new commitments in five challenging areas: healthy energy systems, inclusive economic growth, sustainable communities, land and ocean stewardship, and transformative climate investments.
"Now is the time for all leaders to step up and take bold action. Climate change is a threat to all of humanity, and it can only be solved by a global cooperative effort," said the Call to Global Climate Action issued by the delegates at the summit. It also called on national governments around the world to step up targets now, chart a clear path to a zero-carbon future and empower bottom-up climate action.
With its rising role in global climate issues, China had a big presence at the summit, with a delegation of over 120 government officials, entrepreneurs, philanthropists and researchers.
China's Special Representative for Climate Change Affairs Xie Zhenhua, along with California Governor Jerry Brown and United Nations Secretary General's Special Envoy for Climate Action Michael Bloomberg, was among the co-chairs of the summit.
China's Ministry of Ecology and Environment and the state of California, with the support of the Energy Foundation, also organized the China Pavilion, a three-day affiliated event, which attracted many participants.
"China has taken this global summit very, very seriously," said Brown at the opening session of the China Pavilion on September 12, adding that he hoped to build on the event in the months and years ahead as California and Chinese provinces plan to work even more closely to combat climate change.
China's role
China's achievements in reducing greenhouse gas emissions since 2005 have been remarkable.
While China's GDP grew 1.5 times between 2005 and 2017, its carbon emissions fell by 46 percent, which reached the 2020 goal of 40-45 percent, three years ahead of schedule, said Xie at the summit.
"China's leadership has been truly outstanding. I want to again express the gratitude people around the world feel for China," said Al Gore, former U.S. Vice President, at the China Pavilion on September 12.
Gore said it is high time that countries stepped up financing clean energy and phased out subsidies of fossil fuels. "It is significant that China is also the global leader in financing renewable energy," he said.
The Global Trends in Renewable Energy Investment Report 2018, released by the UN Environment Program (UNEP) in April, showed that China's investment in renewable energy is the world's largest, with a record $126.6 billion in 2017, accounting for 45 percent of the global total.
In 2017, more than half of the world's new solar capacity came from China, according to Erik Solheim, Executive Director of UNEP. The report also showed that the world installed a record 98 gigawatts of new solar capacity in 2017 and the driving force behind the surge was China, who added some 53 gigawatts.
In 2017, non-fossil fuels reached 13.8 percent of China's total energy consumption, according to Xie. At the end of 2017, China's installed capacity of renewable energy reached a record high of 650 gigawatts, with that of solar power already reaching the 2020 goal and that of wind power completing 76 percent of the 2020 goal. "The goal of 15 percent for non-fossil fuels in total energy consumption by 2020 is achievable," said Xie.
Nicholas Stern, Chair of the Grantham Research Institute on Climate Change and the Environment at the London School of Economics and Political Science, showed the audience a trajectory of China's greenhouse gas emissions at the opening session of the China Pavilion.
It indicated that China's greenhouse gas emissions began decreasing in 2011 after a rapid increase in the first decade of the 21st century, with a plateau developing since 2016. "China's leadership is already clear in this diagram," he said.
Stern added that an important lesson other countries can learn from China is that an emission increase is not necessary for development, as it experienced between 2000 and 2010 when emissions more than doubled. "China is not only acting itself, it's carrying very powerful messages for development around the world," he said.
Close cooperation
California has a longstanding, successful partnership on climate and clean energy with China. Since 2013, California and several Chinese provinces have been working together to develop low-carbon economies. In June 2017, right after Trump's announcement pulling the United States out of the Paris Agreement, Brown visited Beijing and signed an agreement with China to work together on reducing emissions.
After years of trials in seven cities, China launched its national carbon market at the end of 2017, the prototype for California's carbon cap-and-trade program. Last year, three clean technology innovation centers were established in collaboration with California in Beijing, Shenzhen and Jiangsu Province.
Electric vehicles are another important area of collaboration, which was also discussed at the summit because Brown has set a goal of having 5 million zero-emission cars in the state by 2030.
"China is promoting zero-emission vehicles in a very, very important way. It is the biggest market, which keeps ratcheting up the requirement for electric cars and hydrogen cars. The U.S. auto industry ought to do that," he said.
China, California and the other 13 U.S. states following California's lead in adopting rigorous greenhouse gas standards for cars and trucks are united in their efforts, said Brown. "We will continue the partnership."
China's investment in related technologies has also been valued. Continued investment in renewable energy and zero-emission vehicles by China is believed to lower technology costs, making the resources more economically attractive to consumers.
Brown signed an executive order on September 10 which commits California to zero emissions by 2045. "We have no chance of getting there unless China invests hundreds of millions of dollars in all the technology that we need," he said.

Challenges remain
Stern predicted that infrastructure in the world will double in the next 15 years, the world economy will double in the next 20-25 years and the population of the world's cities will double in the next 40 years. At the same time, the world has to cut emissions by at least 30 percent in the next 15-20 years to meet Paris Agreement targets.
Action in the next few decades will be critical in establishing low-carbon development, growth and poverty reduction, he added.
China, the world's largest developing country, also faces arduous tasks in developing its economy, eliminating poverty, improving people's livelihood and health, and protecting the environment, making its fight against climate change more challenging, said Xie.
China has made the fight against climate change a major strategy of its economic and social development, Xie added. By bringing into full play the role of local governments, businesses and public organizations, China will have to find a green, low-carbon development path suitable to the national conditions of a country with 1.4 billion people.
In the United States, the world's second largest carbon emitter, annual per-capita greenhouse gas emissions are actually much higher than in China. Even in California, which has been ambitious in developing a zero-carbon economy, its per-capita greenhouse gas emissions are about 11 tons per year, higher than eight tons in China, according to Brown.
Worse still, the United States lacks federal support and a national roadmap on climate action as a result of Trump's withdrawal from the Paris Agreement.
With zero support from the federal government, Bloomberg and Brown launched the America's Pledge initiative in July 2017, which seeks to aggregate and quantify the actions by states, cities and businesses and other non-national actors in the country to drive down their greenhouse gas emissions consistent with the goals of the Paris Agreement.
Although the Fulfilling America's Pledge report unveiled at the summit showed that the United States is almost halfway to the Paris Agreement goals, "we need more leadership from the federal government," said Bloomberg at the press conference releasing the report. "But until we get it, this report can serve as a blueprint for national climate action, driven from the bottom up."
"States, cities, businesses, universities and non-profits are showing the way with real commitment and real action on climate," said Brown. "We're getting it done, but there's still a mountain to climb."
(Reporting from San Francisco)
Copyedited by Rebeca Toledo
Comments to yushujun@bjreview.com