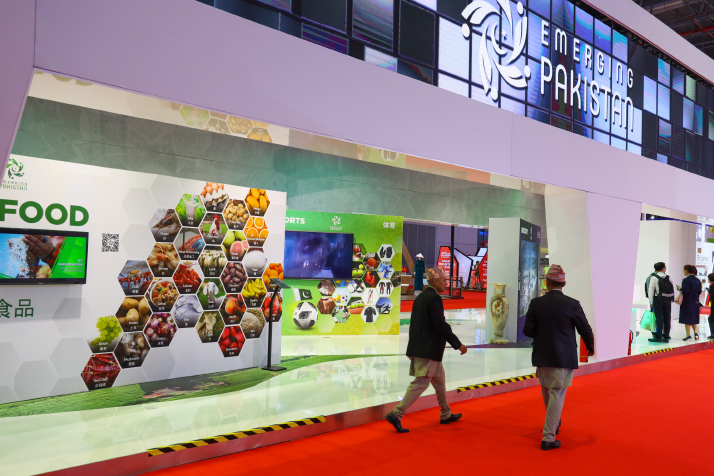 The Pakistani Pavilion at the first China International Import Expo in Shanghai (XINHUA)
The Shanghai-based Greenland Group started its cooperation with Viet Nam in 2017 when it signed an agricultural import agreement worth $500 million. A year later, on the eve of the first China International Import Expo (CIIE) in Shanghai on November 5-10, Vietnamese Prime Minister Nguyen Xuan Phuc met with Zhang Yuliang, Chairman of Greenland Group in Shanghai, with plans to initiate a $43.5-million purchase order.
The first CIIE, which was attended by more than 1,000 companies from 58 countries along the China-proposed Silk Road Economic Belt and 21st-Century Maritime Silk Road (Belt and Road), has added momentum to the already rapid growth in trade between China and countries such as Viet Nam.
China has been Viet Nam's largest trading partner for 14 consecutive years, with the bilateral trade volume estimated at $121 billion in 2017. China's exports soared 277.8 percent from 2009 to 2016. Meanwhile, Viet Nam has also entered China's top 10 trading partners, with agricultural products and consumer goods two of the top export items. Among all the imported goods in China, 99 percent of cashew nuts, 60 percent of fish, 50 percent of coffee and 40 percent of rice come from Viet Nam.
Viet Nam's exports to China are shifting from low-value agricultural and sideline products, primary commodities and mineral resources to high value-added products such as electronic goods and components. According to the General Statistics Office of Viet Nam, Viet Nam's exports to China reached $43.6 billion in the first nine months of 2018, with electronics and components worth $6 billion, up 28.8 percent year on year. China has become its largest export market for electronics and spare parts.
Wang Bingnan, Vice Minister of Commerce of China, said the CIIE has become another important prop for Belt and Road construction, offering new opportunities for other countries along their routes to expand exports to China.
A model of the L410 UVP-E20 aircraft is displayed at the exhibition booth of the Czech Republic at the first China International Import Expo in Shanghai (XINHUA)
Top-level design
In 2017, the import and export volume between China and other Belt and Road countries reached $1.44 trillion, up 13.4 percent from 2016, accounting for 36.2 percent of China's total import and export trade. China's $774-billion exports to these countries accounted for 34.1 percent of its total exports, a year-on-year increase of 8.5 percent. Its imports were worth $666 billion, up 19.8 percent compared with the previous year and accounting for 39 percent of China's total imports.
China attaches importance to expanding trade links with other Belt and Road countries. For example, during a meeting with Kenyan President Uhuru Kenyatta, who was in Shanghai to attend the first CIIE, on November 4, Chinese President Xi Jinping said China is ready to help increase added value and competitiveness of Kenyan products and increase imports from Kenya.
China and Kenya signed a number of trade deals on agricultural products such as flowers, horticulture, tea, coffee and nuts during the first CIIE. They are expected to open doors for over 40 percent of Kenya's fresh produce including avocados, mangoes and cashew nuts into the vast Chinese market.
Another outcome was the signing of a memorandum of understanding (MoU) on the establishment of a trade negotiation working group. The group's mandate is to negotiate trade tariffs, particularly on Kenya's tea and coffee exports to China, and explore additional markets for the country's cash crops.
The construction of the Belt and Road has made progress on different levels, Hu Biliang, Dean of the Emerging Markets Institute at Beijing Normal University, told Beijing Review. "The CIIE has opened a window for countries that have run trade deficits with China to participate in its titanic market and multiply their exports to China. It also gives them the confidence to deepen cooperation with China on Belt and Road construction," Hu said.
In addition to President Kenyatta, leaders of 17 other countries also attended the first CIIE. According to Hu, high-level exchanges play a significant role in promoting the connectivity of policies and development strategies, as well as promoting bilateral and multilateral investment, security cooperation and people-to-people exchanges.
He Wenping, a senior researcher at the Institute of West-Asian and African Studies under the Chinese Academy of Social Sciences, shared Hu's view. She said as the connectivity of policy is one of the priorities in Belt and Road construction, the active communication between top leaders and the signing of the intergovernmental memoranda would set a general direction for future cooperation.
Significant outcomes
Zhao Beiwen, a researcher on the world economy with the Shanghai Academy of Social Sciences, believes that the wide participation of countries along the Belt and Road routes in the first CIIE not only proves China's significance in world trade but also demonstrates its determination to drive both trade and investment and implement the strategy of balancing imports and exports.
The Czech Republic's exports to China totaled $2.41 billion in 2017, up 26 percent year on year, while its imports from China amounted to $11.89 billion, up 12 percent. Eighty Czech companies participated in the first CIIE, showcasing their products in fields ranging from automotive, heavy machinery and financial services. Eight MoUs were also signed at the China-Czech Business Forum CIIE 2018.
Czech President Milos Zeman, who attended the first CIIE, said his country welcomes Chinese enterprises to invest and start new businesses and is willing to further enhance dialogue and coordination between the two governments and actively take part in Belt and Road construction.
On the eve of attending the first CIIE, Pakistani Prime Minister Imran Khan and Chinese Premier Li Keqiang attended the signing ceremony of 16 bilateral agreements to boost cooperation in Beijing. The two countries also agreed to accelerate construction of the Gwadar Port and supporting projects, as the facilities are key for cross-regional connectivity and a pillar of the China-Pakistan Economic Corridor. This will further strengthen the all-weather strategic cooperative partnership between the two countries.
According to Zhao, the CIIE has not only expanded China's foreign trade and investment but also boosted global trade growth, especially between emerging economies and developing countries. "From the traditionally export-focused Canton Fair to the CIIE, from one-way to two-way, it shows the transformation of China's trade strategy and China's willingness to develop mutually beneficial trade relations with other countries," he said.
Copyedited by Craig Crowther
Comments to mamm@bjreview.com