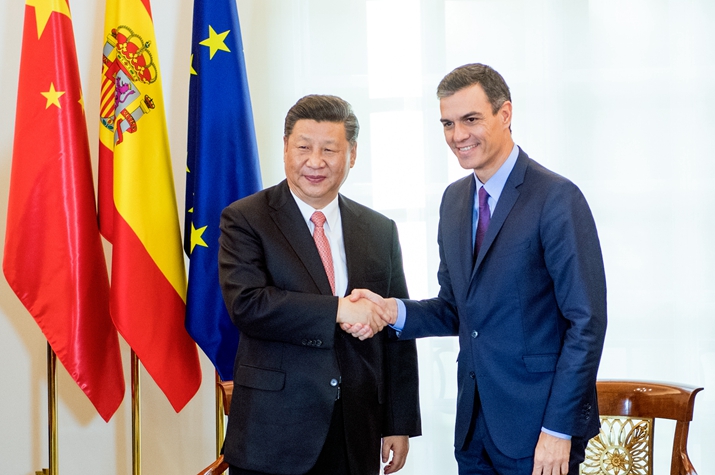 \
Chinese President Xi Jinping meets with Spanish Prime Minister Pedro Sanchez in Madrid on November 28 (XINHUA)
Many Chinese are aware that their country ranks second on the UNESCO's list of number of recognized sites but it is unlikely that they know who takes third place. The answer is Spain. Besides football and ham, many Chinese don't know much about the European nation. Despite this, the two countries actually have a history of exchanges spanning 2000 years.
The ancient Silk Road linked the ancient Chinese capital of Chang'an with the Spanish city of Tarraco, known as Tarragona today. Convoys of camels, Chinese silk and tea traversed the Eurasian continent to the distant nation of Spain. Today, the ancient trade route is set to be renewed with the Belt and Road Initiative, which strengthens ties between China and Spain. Under the framework of the Belt and Road Initiative proposed by China, China and Spain committed to forging a closer economic and trade relationship. President Xi Jinping's visit to Spain from November 27 to 29 injected fresh impetus to this continually growing bilateral partnership.
Economic Ties
2018 marks the 45th anniversary of diplomatic ties between China and Spain. President Xi is the first Chinese President to visit Spain in 13 years. It was the first leg of his European and Latin America tour, during which he visited Argentina, Panama and Portugal and attended the G20 Summit in Argentine capital, Buenos Aires.
During his meeting with Spanish King Felipe VI on November 27, President Xi said, "The two sides should intensify cooperation in such areas as economy, trade, tourism, and third-party markets within the framework of the Belt and Road Initiative, so as to bring the Sino-Spanish comprehensive strategic partnership to a new high in the new era for the benefit of both countries."
Spain has been positive about the Belt and Road Initiative. In May 2017, former Spanish Prime Minister Mariano Rajoy attended the first Belt and Road Forum for International Cooperation in Beijing, in which he spoke highly of the blueprint for promoting common development. During Xi's visit, Spanish Prime Minister Pedro Sanchez said Spain will actively take part in construction of the Belt and Road Initiative-related projects.
The railway that connects China's Yiwu with Madrid is one of the early fruits of bilateral cooperation under the initiative. As the world's longest international route crossing the most countries, the container trains were first launched on November 18, 2014. It connected the "world supermarket" Yiwu to Madrid, the largest distribution center for small commodities in Europe, and offered another option for cargo transportation between China and Spain.
Products such as red wine, maternal supplies, high-end kitchen utensils, sanitary products and auto parts are also more accessible to the Chinese market. Exports from Spain to Yiwu surged from less than $1.6 million in 2014 to $10.11 million in 2017.
However, there is a problem of insufficient return capacity which requires expansion, according to Qu Bing, an associate researcher with the China Institutes of Contemporary International Relations. Qu claimed, one solution is to transport more high value-added Spanish products and high quality agricultural products to China.
China and Spain should also make joint efforts in cooperating in third party markets under the framework of the Belt and Road Initiative, Qu said. Spanish companies are among the best in the world in terms of technology and experience in overseas market development. The participation of Spanish companies in the Panama Canal Expansion Project and the Mecca High Speed Rail Project are proof of this.
Spanish companies have successfully made gains in the Latin American market for many years and are familiar with local rules and laws which can complement Chinese companies, Qu said.
Spain's economy has performed well since recovering from financial crisis in 2014. Last year, its GDP increased 3.1 percent over the previous year, achieving a historic high of 116.3 billion euros ($131.2 billion). Its economic performance attracted many Chinese investors.
In July 2017, China Ocean Shipping Group purchased a 51 percent stake in Spanish container terminal operator Noatum Port Holdings, which operates container ports in Valencia and Bilbao. In the first seven months of this year, Noatum Port Holdings completed a total of 2.084 million twenty-foot equivalent units, an increase of 13.2 percent compared with last year.
The bilateral trade volume increased from $12 million in 1973 to $30.94 billion in 2017. Spain is now an indispensable trading partner of China in Europe, and China is Spain's largest trading partner outside the EU. The trade imbalance is a problem for both. In the first half of 2018, Spain imported Chinese goods worth $16.47 billion, and exported goods equivalent to $790 million.
China does not pursue a trade surplus and also works with Spanish to solve the problem. China reiterated its determination to further open up and made concrete measures to back this up. On November 28, President Xi also encouraged Spanish enterprises to make use of the China International Import Expo to win more business opportunities in China and takes bilateral trade to new heights.
People-to-people exchanges
"The Ingenious Nobleman Sir Don Quixote of La Mancha is a popular masterpiece among Chinese readers. History shows that despite the great distance, our splendid cultures have brought our people together, with mutual learning, mutual enrichment and common progress defining the exchanges between the two nations," in his signed article published in Spanish newspaper ABC on November 26, President Xi wrote.
During his stay, the Chinese president received the Golden Key of the City of Madrid from the city Mayor Manuela Carmena. Noting that her citizens have been fond of the Chinese Spring Festival and recognizing the close ties between Madrid and China, Carmena said she looked forward to more cooperation.
Madrid became a friendship city of Beijing back in 1985, which injected vigor into every field of cooperation between the two countries. Delighted to accept the golden key, Xi said he wishes to use the key to further open up the door of communication between the two peoples and the doors of mutual exchanges will open even wider.
People-to-people exchanges between China and Spain have been evident in recent years. With joint efforts from both sides, eight Confucius institutes have been established in Spain. More than 50,000 people study Chinese in Spain, and the number of people taking Chinese proficiency tests ranks first in Europe. China has included Spanish in its high school curriculum since the beginning of 2018.
Spain is also a hotspot for Chinese tourists. Spain is endowed with many cultural and natural attractions which appeal to Chinese visitors. In 2017, the number of Chinese tourists visiting Spain reached 514,000, topping per capita consumption.
Chinese tourists to Spain are expected to continue growing. The development of tourism will promote people-to-people exchanges and enhance understandings between the countries, said Zhang Min, Director of the Spanish Research Center of the Chinese Academy of Social Sciences.
Copyedited by Craig Crowther
Comments to wenqing@bjreview.com