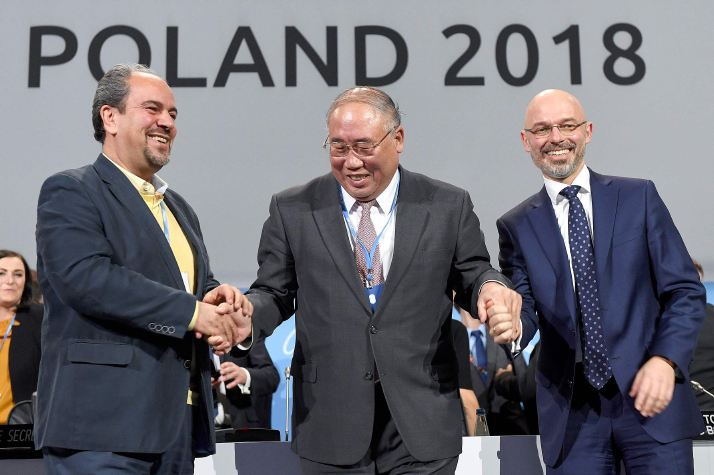 At the final session of the COP24, China's top climate negotiator Xie Zhenhua (center) with COP24 President Michal Kurtyka (right) and Iran's head of delegation Majid Shafiepour Motlagh in Katowice, Poland, on December 15 (VCG)
Two weeks of intensive talks in Katowice finally saw negotiators from 196 countries and the European Union agree on December 15 on a guideline to implement the landmark Paris climate agreement signed two years ago. The 24th Conference of the Parties to the United Nations Framework Convention on Climate Change (COP24) in Poland, although criticized by some as not being strong enough, still saw the international community making efforts to achieve comprehensive and balanced outcomes. The Katowice agreement demonstrates that countries will continue to fulfill their commitments to cap global warming at 2 degrees Celsius above pre-industrial levels while pursuing the even tougher goal of limiting it to 1.5 degrees Celsius.
Chinese Foreign Ministry spokesperson Hua Chunying said the meeting conveyed the positive message of adhering to multilateralism and strengthening global action. It boosted the parties' confidence in the multilateral mechanism for climate governance and provided new drivers for green and low-carbon development worldwide.
The outcomes of COP24 need to be measured in the long-term perspective, Zhang Yi, a research fellow with the China Institute of International Studies (CIIS), told Beijing Review. Progress in climate action has been slow as it is a hard and daunting task for humanity to tackle climate change. Even a little step forward can be of great significance for the future.
Detailed framework
The practical and detailed proposals in the Katowice agreement lay a solid foundation for the implementation of the Paris Agreement in 2020, said Dong Yifan, a researcher on world studies with the China Institutes of Contemporary International Relations.
The conference adopted a detailed transparency framework, requiring countries to provide information about their respective plans for domestic climate actions, such as the reduction of greenhouse gas (GHG) emissions every two years, starting from 2024.
"The aim is to urge countries to undertake emission reduction actions on the basis of facts and provide detailed information on their plans," Dong told Beijing Review.
The meeting agreed on how to uniformly measure GHG emissions. Less developed countries that cannot meet the general standard will be allowed to make proportional contributions while a plan to build up their capacity is readied.
Outcomes and challenges
Despite much debate between developed and developing countries, the meeting finally set new targets on financial support from 2025 onwards, a follow-on to the current commitment of mobilizing $100 billion per year from 2020 to support developing countries. They also agreed to jointly assess the effectiveness of current actions to deal with climate change by 2023, and reached consensus on monitoring and reporting the developments. Besides, they also agreed to transfer technology to developing countries to help them rise to climate challenges.
According to Dong, another notable result was that the Katowice consensus reflected the key principle of common but differentiated responsibilities, which is of great concern to some developing countries such as China. Zhang of the CIIS added that China will uphold the principle and shoulder its responsibilities.
A recent World Bank report titled Regulatory Indicators for Sustainable Energy 2018 says that although many countries have significantly improved their renewable energy regulations since 2010, there are still grave barriers to global progress on sustainable energy. Global GHG emissions hit a record high this year and are growing at their fastest rate in seven years.
Researchers at the University of East Anglia and the Global Carbon Project, which seeks to quantify global carbon emissions and their causes, have warned that to limit global warming to 1.5 degrees Celsius, emissions have to be slashed 50 percent by 2030 and reach zero around 2050.
But the Katowice meeting fell short of endorsing a report by the Intergovernmental Panel on Climate Change on the devastating effects of even a 1.5-degree-Celsius rise in global warming and instead, merely welcomed the "timely completion" of the report.
This demonstrated that some nations have not woken up to the urgency of the report. COP24 failed to spur a greater desire to cut emissions sufficiently, Dong said. While it showed undoubted progress in the global response to climate change, still greater efforts are needed from all countries to effectively combat climate change.
While the adoption of the guideline is a landmark, decisions on some few key issues were postponed to next year due to divisions between different countries. These include how to create a carbon credit market and distribute the funding from developed countries to help developing countries better adapt to climate challenges.
China's role
China, with its unique geographical location and stage of development, was at the forefront of the challenging negotiations during the conference, Zhang said. It served as a bridge to promote negotiations between developing countries and developed countries on some key issues.
Canada's Minister of Environment and Climate Change Catherine McKenna claimed in interviews that China's role at the negotiating table couldn't be overestimated.
Since 2017, China has been a torchbearer of ecological civilization. Michal Kurtyka, President of COP24, said that with the effective measures it has adopted, China has become an example for other countries amid divisions and uncertainties. Former U.S. Vice President Al Gore has also hailed China's leadership in tackling climate change, saying it is one of the few countries on track to meet its Paris commitment.
In recent years, China has made remarkable efforts and invested a lot to ease pressure on the environment. For instance, to reduce GHG emission, China has encouraged the use of new-energy vehicles (NEVs) by offering tax exemptions and purchase subsidies. It has been the world's largest NEV market for three consecutive years, with some 777,000 NEVs sold in 2017 alone. Sales in the first 10 months of this year jumped 75.6 percent year on year to 860,000 units.
According to Ministry of Ecology and Environment statistics, in 2017 China's carbon dioxide emissions per unit of GDP declined by approximately 46 percent compared to 2005, exceeding the 2020 target of reducing carbon intensity by 40-45 percent. The share of coal in energy consumption in 2017 was 60.4 percent, down 1.6 percent from 2016. Non-fossil energy accounted for 13.8 percent of primary energy consumption, up 0.5 percent compared with 2016. Afforestation and forest protection advanced, enhancing the ability to adapt to climate change.
"With these goals met, a very solid foundation has been laid for meeting the target of halting the increase of carbon dioxide emissions by 2030, and even accomplishing that sooner than planned," Xie Zhenhua, China's special representative for climate change affairs, said ahead of the Katowice conference.
China is well positioned to meet its carbon dioxide emission peaking target by 2030 and will remain steadfast in addressing climate change and implementing the Paris Agreement, Xie said.
Copyedited by Sudeshna Sarkar
Comments to mamm@bjreview.com