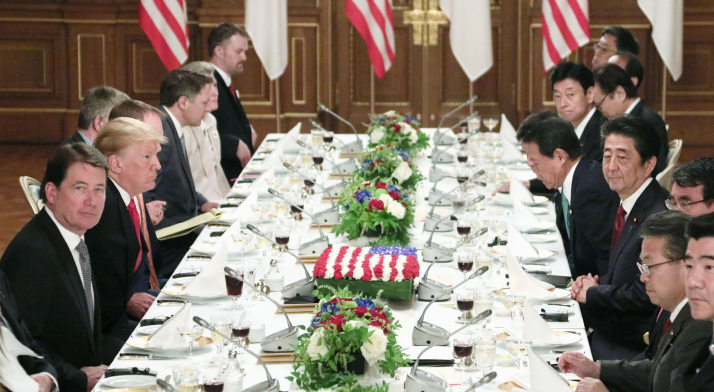 Japanese Prime Minister Shinzo Abe attends a working lunch with visiting U.S. President Donald Trump in Tokyo, Japan, on May 27 (XINHUA)
From playing golf with Japanese Prime Minister Shinzo Abe to watching a sumo tournament, where he presented a special "President's Cup" to the winner, to enjoying a lavish state banquet, U.S. President Donald Trump was treated to a series of high-profile activities brimming with pomp and circumstance during his recent visit to Japan.
His four-day tour in May came on the heels of Abe's visit to the U.S. in April. Trump became the first foreign leader to be received by Japan's new Emperor Naruhito, who ascended the throne earlier in May.
The opportunity of being the first foreign leader to meet Naruhito came just prior to the Group of 20 (G20) Summit to be held in Osaka on June 28-29, Shi Yongming, a senior researcher on international studies, told Beijing Review.
Despite Abe's continuing courtship, Trump's visit and his meeting with the prime minister were rather ceremonial, aiming to highlight the strengths of the U.S.-Japan partnership in the Reiwa Era as well as prove that Abe himself can still pull off a bromance with Trump, according to Shi. During the visit, the two sides didn't get too entangled in the existing divergences, which nonetheless remain intractable for the alliance.
Reciprocal exchanges
The reason why the U.S. is now more willing to placate Japan is largely due to its ongoing trade friction with China and the stalemate on trade negotiations with other allies such as the European Union, said Zhou Yongsheng, a professor of Japanese studies at the China Foreign Affairs University, in an interview with Beijing Review. As the most important U.S. ally in the Asia-Pacific region, Japan has now become even more crucial to Washington, he added.
Japan seemingly also has its own intentions. The relationship with the U.S. remains the backbone of Abe's diplomacy, his posture during Trump's visit was aimed to reassure the U.S. and protect Tokyo from harsh blows amid recent moves by the U.S. to reshape trade relations, while at the same time, campaign for the upcoming Upper House election in July and pave the road for the G20 summit in June.
The parliamentary election is critical for Abe's administration because it will directly affect his efforts to revise the country's constitution if the ruling Liberal Democratic Party-led coalition wins the election and if the members who agree to revise the constitution win more than two thirds of the seats, said Zhou. Abe, who is believed to have forged a close personal bond with Trump, needs more support from the U.S. head of state.
A yet bigger test for Abe will be the G20 Summit where the bloc's leaders will come together in Japan, said Sun Chenghao, an assistant researcher with the China Institutes of Contemporary International Relations. Against the backdrop of rising protectionism and a continuing global economic downturn, whether the Japanese host can construct an effective bridge for communication among those leaders or even reach some positive results remains to be seen.
According to Zhou, given current military tensions with some regional countries, Japan is also seeking closer military cooperation with the U.S. That explains why Japan purchased 105 F-35B stealth fighter jets from the U.S. Not only did it improve the combat capability of its self-defense forces, but it also was an attempt to ease pressure regarding the U.S. trade deficit, which is among Trump's top agenda items with Abe as evidenced by trade talks that took place hours after Trump's arrival in Japan.
Tariffs threats
The agricultural and industrial product talks were attended by Japanese Economy, Trade and Industry Minister Toshimitsu Motegi and U.S. Trade Representative Robert Lighthizer and concluded with no obvious progress. "We deepened our understanding of each other's positions on trade. However we're not in complete agreement," Motegi said on May 25 after the talks.
It is one of Trump's priorities in U.S.-Japan relations to finally reach a trade deal that addresses the U.S. trade deficit, Sun said, adding that the current $56.8 billion deficit the U.S. runs with Japan is unacceptable to Trump who described it as a "tremendous imbalance." Though he postponed the decision on imposing automobile tariffs for up to 180 days, the U.S. president still views Japanese car imports as a potential national security threat.
While the two countries have long touted their friendly alliance, no joint statement was released after the three-hour summit between the two leaders on May 27. However, at the following joint press conference, Trump said, "I think we will be announcing some things probably in August that will be very good for both countries."
This demonstrated that Trump has also gotten the hang of election politics and that he was well aware that Abe would not make any big concessions until after the July election, Shi said.
At the same time, Abe avoided answering questions about trade talks, stressing instead the contribution of Japanese enterprises to the U.S. economy and only confirming that the two sides had agreed to speed up the process of the negotiations.
It sent a clear message that the U.S. and Japan had not yet reached any agreement on substantive issues of mutual concern and that future trade talks would remain in a see-saw state, according to Zhou. Japan has huge investment interests in the U.S., and any kind of potential trade friction will be more costly to it than to the U.S. Thus, whether Japan will make another major compromise like it did back in the 1980s is up in the air, Zhou added.
Other issues
Abe has other schemes against U.S. rising unilateralism up his sleeve. Europe and Japan have already set up one of the world's largest free trade area. After U.S. withdrawal from the Trans-Pacific Partnership (TPP), Japan spared no effort to establish the Comprehensive and Progressive Agreement for Trans-Pacific Partnership in the Asia-Pacific region with the remaining TPP countries.
China, Japan and the Republic of Korea are also deepening economic and trade ties, Lu Yaodong, a researcher with the Chinese Academy of Social Sciences, told People's Daily, noting that due to the lack of mutual trust in U.S.-Japan economic and trade relations, Japan is adopting a variety of tools to oppose U.S. protectionism and Trump's America First policy.
Another issue between the U.S. and Japan is their attitude toward the Democratic People's Republic of Korea (DPRK) and the nuclear issue on the Korean Peninsula. In response to the DPRK's recent firing of tactical guided weapons into waters off its coast, Trump said he was not "personally bothered" by it. Abe, on the other hand, was more sensitive and reluctant to see the warming of U.S.-DPRK relations, according to Shi. Abe claimed that the missile tests violated UN Security Council resolutions, adding that he was concerned because it posed a threat to Japan's security.
"But strategic intentions are quite similar for the two countries since they both would like to take advantage of the nuclear issue on the Korean Peninsula to realize their own military presence in East Asia," Shi said.
Copyedited by Rebeca Toledo
Comments to mamm@bjreview.com