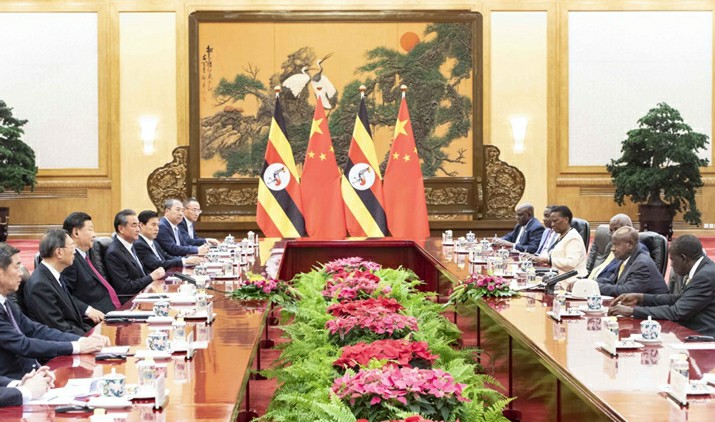 President Xi Jinping holds talks with Ugandan President Yoweri Museveni at the Great Hall of the People in Beijing on June 25. The two leaders witnessed the signing of a series of cooperative documents after their talks (XINHUA)
President Xi Jinping has called on China and African nations to increase communication and synergy and deepen solidarity and cooperation to strive for concrete progress in the implementation of the Beijing Summit of the Forum on China-Africa Cooperation.
Xi made the remark in a congratulatory letter sent to the opening of the Coordinators' Meeting on the Implementation of the Follow-up Actions of the FOCAC Beijing Summit on June 25.
In the letter, Xi said the FOCAC Beijing Summit in September was a milestone in the history of China-Africa relations.
He said Chinese and African leaders unanimously decided to work together closely in the joint construction of the Belt and Road and the African Union's Agenda 2063, as well as the development strategies of African countries. In that way, they can jointly build a China-Africa community with a shared future and together implement the eight major initiatives of China-Africa cooperation that chart a new blueprint for China-Africa relations on a higher level.
"I am glad to see that China and Africa have worked together to positively push forward the implementation of the FOCAC Beijing Summit's achievements, which have already resulted in many early achievements and brought benefits to the Chinese and African peoples," Xi said.
The world is undergoing profound changes unseen in a century, and the overall rise of developing countries has strong momentum, Xi said.
He said that collaboration and common development by China and Africa will underscore important contributions to strengthening the power of developing countries, building of a new type of international relations and creating a community with a shared future for mankind.
The two-day meeting was attended by about 500 delegates, including more than 80 ministerial officials from 53 African countries and the African Union.
State Councilor and Foreign Minister Wang Yi said at the opening ceremony that Beijing's cooperation with the continent is different from that of traditional powers. For some time, some outside forces have tried to slander and undermine China-Africa cooperation by fabricating accusations of neocolonialism and so-called debt traps, which are totally groundless and not accepted by the African people, he said.
Such attempts constitute a total lack of respect for Africa, a lack of understanding about China and an absence of knowledge about the friendship between the two, he said.
China will channel more resources from the Belt and Road Initiative to Africa, he said, adding that both partners should respect market principles and ensure economic and social benefits to improve the continent's capacity for sustainable development.
Wang said more than 880 cooperation projects will be carried out in the next three years.
In a news conference on the afternoon of June 25, Vice-Minister of Commerce Qian Keming said that in their next step, China and Africa will carry out capacity-building cooperation and promote infrastructure, trade and investment cooperation. China will increase imports from Africa to ensure the continent shares in the huge Chinese market, he added.
Ugandan President Yoweri Museveni said the eight major initiatives have helped address the development challenges facing African countries and will help guide their cooperation in the right direction.
Africa and China should establish an equal and peaceful development model, not based on the mentality that one's gain is another's loss, he said, adding that they should seek mutual benefit and win-win results.
Cooperation between Africa and China enjoys full vitality, and its strength lies in the ability to take concrete and effective actions, Senegal's Foreign Minister Amadou Ba said.