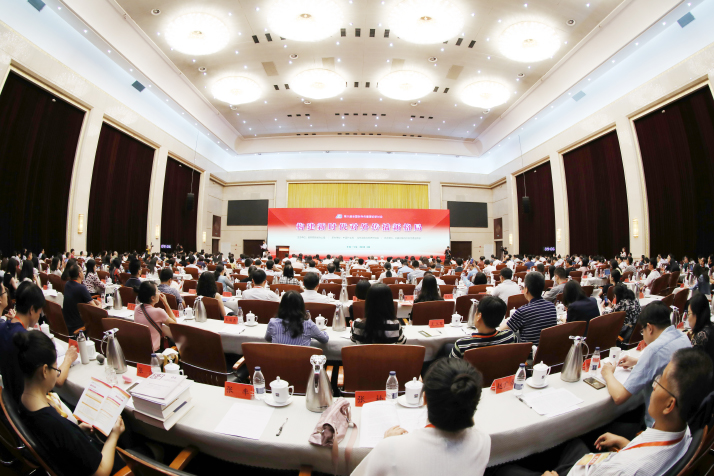 Delegates attend the Sixth Seminar on International Communication in Yinchuan, Ningxia Hui Autonomous Region in northwest China, on August 12 (COURTESY PHOTO)
China's performance in domestic and foreign affairs is being appreciated more and its image as a major contributor to global development is gaining more recognition, according to a global survey.
The main findings of the 2018 China National Image Global Survey were released by the Academy of Contemporary China and World Studies (ACCWS) under the China International Publishing Group at the Sixth Seminar on International Communication in Yinchuan, Ningxia Hui Autonomous Region in northwest China, on August 12.
The survey was conducted in 2018 by ACCWS, U.S.-based market research firm Kantar Millward Brown and Canada-based software provider Lightspeed with 500 respondents each from 22 countries in Asia, Europe, North America, Oceania and Africa. The topics included China's overall national image and influence, politics, the economy, culture and science and technology. There were some new topics such as China's role in global governance and building a community with a shared future for humanity.
Yu Yunquan, President of ACCWS, said at a time when China's wisdom and solutions are attracting the international community's attention and receiving more positive responses from the media, China's image is that of a contributor to global development through providing Chinese solutions.
Having always promoted world peace, contributed to global development and safeguarded the international order, China is ready to establish a new model of international relations based on mutually beneficial cooperation, Yu said. More people are calling for China's voice and actions and looking forward to Chinese solutions to international issues, he added.
An improved image
The predominant image of China, according to 59 percent of the respondents, is that of a major oriental country with a rich history and full of charm.
The national image of China has continued to improve over the past six years. The overall image scored an average of 6.2 points in a 10-point system, compared with 5.1 in 2013.
Guo Weimin, Vice Minister of the State Council Information Office, said the findings of the survey match those by other international research organizations. Overseas respondents are valuing China's international influence more and are optimistic about China's future development, Guo added.
With China, a major country and the world's second largest economy, edging closer to the center of the world stage, its national image still needs to be improved to meet the expectations at home and abroad, Guo said. China's voice in the international community needs to be uplifted to eliminate misunderstandings and prejudices, he added.
Developing countries tended to have a more favorable view of China than developed ones. Sixty percent of respondents from developing countries recognized China's contribution to global development, a 12-percent increase compared with the previous survey.
The China-proposed Belt and Road Initiative is gaining more recognition overseas. In the past six years, it has become the most widely accepted Chinese initiative abroad. In India, Japan and Italy, for instance, more than 40 percent of the respondents were aware of the initiative. Among the respondents who have heard of the initiative, 55 percent said it has a positive effect on the regional and global economy.
About 60 percent of the respondents said China's proposal to build a community with a shared future for humanity has a positive influence on individuals, countries and humanity, and is important to global governance.
The survey found people optimistic about the future development of China's economy. Nearly half of the respondents said China will become the world's largest economy, leading the new round of globalization and making more contributions to global governance. Also, 65 percent said China's international status and global influence will continue to grow.
The participants said science and technology (63 percent), the economy (60 percent) and culture (53 percent) are the three most recognized fields of China's participation in global governance. Respondents from developing countries expect China to contribute more to the global economy (61 percent) and technology (59 percent), while those from developed countries mainly expect it in technology (42 percent) and culture (39 percent).
Chinese companies are enjoying increasing popularity internationally. Lenovo, Huawei and Alibaba remained the three best-known Chinese brands. Former Chinese Ambassador to Cambodia Zhang Jinfeng said reputed Chinese companies could promote China's image in the international arena. With their local operations in foreign countries, they could enhance mutual understanding and people-to-people exchanges between China and those countries, producing win-win results.
Cheng Manli, a professor with Peking University, shared Zhang's views. Urging Chinese enterprises abroad to abide by local laws and regulations and improve the quality of their products, Cheng said they should help boost cultural exchanges so that people around the world have an improved image of China.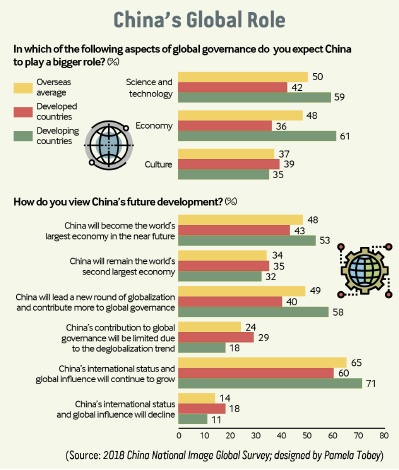 Dispelling misunderstanding
Today, the world is paying increasing attention to China, not only for what it has achieved, but more importantly, for how a successful China will affect the world and the vital interests of all parties, Fu Ying, Chair of the Center for International Security and Strategy, Tsinghua University, and former Vice Foreign Minister, said.
According to Fu, the international image of a country is shaped by all walks of life and various social groups. Therefore, the Chinese need to work together to build a national narrative that is inclusive, wide-ranging and multi-dimensional. More multidimensional images of China should appear in the international community, she stressed.
When there are misunderstandings about China, people should not shy away from the problems or be afraid of criticism. The important thing is to be able to clarify what the intentions and goals are, the challenges and the efforts being made to solve them, Fu said.
She gave the example of telecom giant Huawei, which is facing problems in the United States. Several months ago, Huawei founder and CEO Ren Zhengfei had extensive communication with the media, where he talked about Huawei's entrepreneurial spirit and dedication and answered questions candidly. It helped dispel misunderstandings and build a good image of the company as well as China.
(With reporting by Li Fangfang from Yinchuan, Ningxia Hui Autonomous Region)
Copyedited by Sudeshna Sarkar
Comments to mamm@bjreview.com