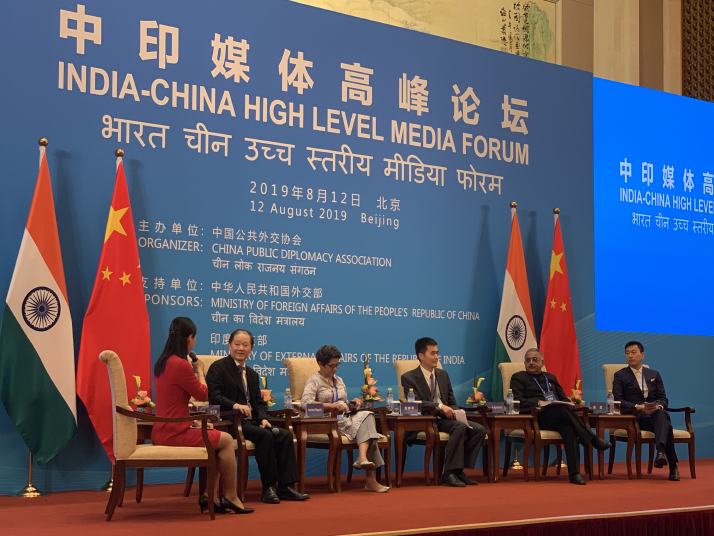 Delegates attend the Fourth India-China High Level Media Forum held in Beijing on August 12(DING ZHITAO)
The development of China-India relations is deeply rooted in the people, originating from their exchanges. And the media have an important role in enhancing the mutual understanding and friendship, Chinese State Councilor and Foreign Minister Wang Yi said at the Fourth India-China High Level Media Forum in Beijing on August 12.
Since 2013, the forum, as the largest institutionalized platform between the two countries for media exchanges and a part of the China-India high-level people-to-people exchange mechanism, has facilitated mutual understanding and become an important link in the bilateral cultural cooperation.
This year's forum, organized by the China Public Diplomacy Association and sponsored by China's Ministry of Foreign Affairs and India's Ministry of External Affairs, had three sub-forums, focusing on promoting mutual trust in political and economic cooperation, people-to-people exchanges and cooperation through new media platforms. Media personnel, experts, scholars and diplomats from both countries took part in the exchanges.
Wang also called for strengthening media exchanges and cooperation to contribute to the bilateral cooperation. He said the media can promote friendship, people-to-people exchanges and mutually beneficial cooperation. Through objective and balanced reporting, they can present the real situation and bring out the positive stories.
Indian External Affairs Minister S. Jaishankar said India and China being two of the largest and fastest-growing developing countries, a stable and balanced development of their bilateral relations will not only benefit their own people but will also be "a factor of stability in this uncertain global environment."
"Our two countries have similar goals in terms of providing better opportunities for our peoples," he said.
China and India are linked by mountains and rivers and enjoy a profound foundation of relations, and friendly communication knows no boundary or limit, Sun Yuxi, former Chinese Ambassador to India, said. Historically, Buddhism created a link between the two neighbors and when they fought for their national independence and people's liberation, each side supported the other. Today, the Five Principles of Peaceful Coexistence advocated by the two countries have become the norm for international relations, Sun said.
He also added that the Chinese media look forward to enhancing exchanges and cooperation with their Indian colleagues to create a more favorable condition for the development of the bilateral ties.
Vinod Agnihotri, an editor with Amar Ujala, a leading Indian daily published in the Hindi language, expressed his expectation that the two countries would achieve common development in the 21st century. "If the two countries work together, it will be conducive to maintaining peace and development in Asia and the world as a whole. And the 21st century is the century of China and India. With joint efforts, a better future can be pursued," he said.
Liu Zhonghua, Senior Editor with People's Daily, a leading newspaper in China, said there should be more exchanges among journalists from the two countries and they should report on each other's countries in a truthful and objective manner. Liu suggested that the forms of media exchanges should be innovated, with more attention given to new media platforms since China has 800 million Internet users and India has 500 million.
The forum is an important part of media exchanges. With the rapid development of technology, the application of new media platforms is becoming even more important, Jaishankar said, expressing his hope that the institutionalized platform would continue to play its role. Cooperation in the media and the establishment of stronger media relations will boost bilateral ties, the minister added.
Copyedited by Sudeshna Sarkar
Comments to mamm@bjreview.com