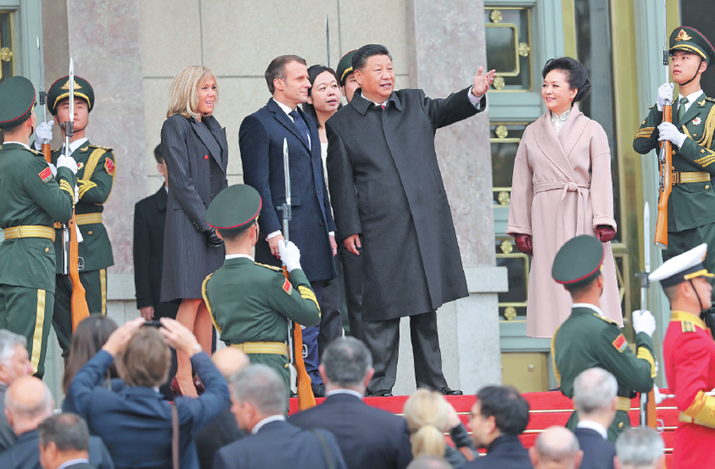 President Xi Jinping, accompanied by his wife, Peng Liyuan, shows Tian'anmen Square to French President Emmanuel Macron and his wife, Brigitte Macron, after a welcoming ceremony at the Great Hall of the People in Beijing on November 6 (CHINA DAILY)
China and France signed commercial deals on November 6 totaling $15.1 billion in such fields as aviation, energy, agriculture and finance to boost their cooperation, and vowed to jointly safeguard multilateralism and free trade.
President Xi Jinping and his French counterpart, Emmanuel Macron, witnessed the signing of the cooperation documents after their talks at the Great Hall of the People in Beijing. Macron, on his second state visit to China since he took office in 2017, also attended the opening ceremony of the second China International Import Expo in Shanghai.
The two countries also released an initiative reaffirming their strong support for the UN Paris climate agreement, from which the United States started its formal exit process this week. Xi told Macron that the two leaders had sent "a strong signal to the world about steadfastly upholding multilateralism and free trade, as well as working together to build an open world economy".
China and France, as two permanent members of the United Nations Security Council, should shoulder more responsibilities and exercise their roles as major countries, and jointly safeguard the international system with the UN at the core, the international order based on international law, and the multilateral trading regime with World Trade Organization rules as the cornerstone, Xi said.
Macron said his country stands ready to work with China to push for WTO reforms to make progress at an early date. He highlighted the importance of strengthening cooperation between China and the European Union in an uncertain world, and said France is willing to advance EU-China ties to step up negotiations on the China-EU investment agreement.
This year marks the 55th anniversary of the establishment of diplomatic ties between the nations, and the two leaders vowed to lift the Sino-French relationship to a higher level.
Speaking at a joint news conference with Macron, Xi called for enhancing political mutual trust between the countries and take real actions to fulfill their commitments to respect each other's sovereignty, integrity of territory, core interests and major concerns.
Beijing remains committed to developing major-project cooperation with France in nuclear energy, aviation and aerospace, and encourages Chinese companies to tap the potential of third-country cooperation with their French counterparts, Xi said.
Saying the nation is willing to work with France to expand bilateral trade and two-way investment and jointly uphold market rules and fair play principles, Xi expressed hope that France would not take discriminatory policies against China.
The two countries should work together to strengthen alignment of the Belt and Road Initiative with the Eurasian connectivity strategy, deepen innovation cooperation to secure sustainable development, and promote exchanges and mutual learning between Chinese and French cultures, Xi said.
Bilateral trade reached $62.9 billion in 2018, up 15.5 percent year on year, the Ministry of Commerce said. By the end of last year, France's investment in China was over $17.5 billion in more than 5,600 projects.
Speaking to the two countries' business leaders at the closing ceremony of China-France Economic Forum, Xi said China's development provides good opportunities to French and European businesses. "China opens its door to the world as always, and I hope France and Europe will also open their doors to Chinese investors and provide them with a level playing field," he said.
Xi and Macron also witnessed the signing of a joint statement on the conclusion of the negotiations between China and the European Union on an agreement on geographic indications, which protect products against misuse or imitations of registered names and guarantee the true origin of the product to consumers. The agreement is expected to result in reciprocal trade benefits and demand for high-quality products on both sides.
Also on November 6, Premier Li Keqiang met with Macron, calling for strengthening bilateral economic cooperation as well as strategic coordination in international affairs.