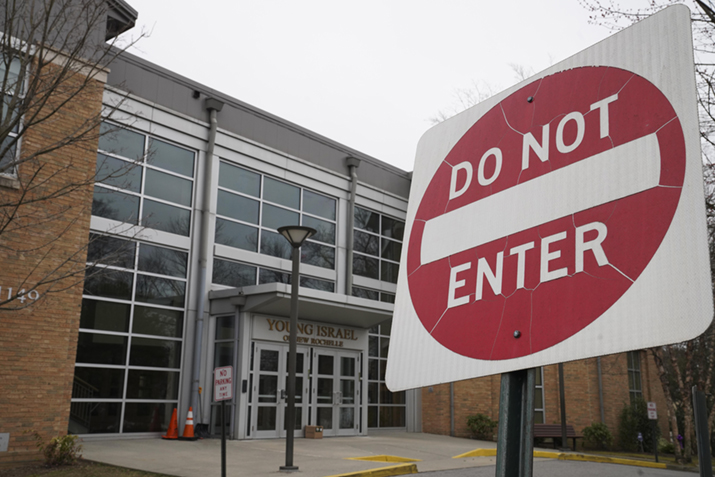 A church at the center of the containment zone in New Rochelle of New York City, the United States is closed on March 12 (XINHUA)
As the novel coronavirus (COVID-19) epidemic spreads across the globe, the World Health Organization (WHO) has declared it a pandemic on March 11. Meanwhile, public health experts have urged the public to be aware of the human cost of the stigma and racism that are more contagious than the virus.
The COVID-19 pandemic, which has claimed more than 4,500 lives around the world and kept 300 million kids out of school, has traumatized people psychologically. Overseas Chinese face rising xenophobia and anti-China sentiment after the outbreak of the disease in Wuhan, Hubei Province in central China.
The rising xenophobia "is in the context of the geopolitical stuff. There has been an anti-immigration mentality in this country and around the world that just played into the fear," said Joan Kaufman, Director for Academics at Schwarzman Scholars and an expert on both China and global health policy, at a panel discussion hosted by the China Institute in New York City on March 4.
As the epidemic in China gets under control, confirmed cases have spiked in Italy, South Korea and Iran. The experts at the panel called for collaboration and referring to China's virus control experience to curb further spread.
'A very good job'
On March 13, the number of newly confirmed cases in China dropped to 11 from thousands early in February. The Chinese Government locked down a city of 11 million people in the epicenter city of Wuhan since the Chinese Lunar New Year to contain the spread of the virus. 42,600 medical workers across the country joined over 170,000 in Hubei Province to fight against the virus as of March 8.
"I actually think China did a very good job from a public health point of view," said Kaufman. "China has a fairly robust medical system" and the government was able to "mobilize medical workers and resources across the country" to aid Wuhan.
"There was a lot of misunderstanding at the beginning about the capacity for human to human transmission," Kaufman added.
Wan Yang, an epidemiologist at Columbia University, points out during the discussion that dealing with a new kind of virus is very hard from an epidemiologic point of view and it is even harder to make a decision based on the very limited information.
Despite some criticism of the lockdown as unhumanitarian, the WHO praised China's effort to contain the virus. Michael Ryan, the executive director of WHO's health emergencies program, said they had never seen the scale, the commitment of an epidemic response at this level and that China was taking extraordinary measures in the face of what's an extraordinary challenge.
Outpouring of sympathy
After the outbreak in Wuhan, Wuhan University Alumni Associations across the world purchased medical supplies and equipment to aid the fight against COVID-19.
Andrew Mao, President of the Wuhan University Alumni Association of Greater New York (NYWHU) and a banker, led over 60 members in the area and started a temporary charity organization within three days.
The alumni association was initially a network of alumni who support each other in New York, Mao said at the panel discussion, "Our members work in different industries and this was the first time we did any charity work."
Despite the lack of experience, these members used their professional knowledge and resources as investment bankers, lawyers, marketing managers and logistics managers.
This temporary charity group, built up from the ground, set up its audit committee, legal and compliance group, treasury, purchase and logistics group and outreach team on the second day - all performed by Wuhan University alums.
"We got together and discussed what would be the best way to help," Mao said. Besides financial help, the most urgent need was medical gears.
"We have seen an outpouring of sympathy and support during our fundraising campaign," Mao added. Mao and his team started the fundraising through Gofundme.com, wire transfer and Venmo, raising over $1.3 million. "Many of the donors are Americans who have no connections to China."
According to the purchase record revealed on NYWHU's website, the fund was used to buy surgical masks, goggles and other protection gears. "We buy masks and gears and get them into a warehouse in New York. Then China Eastern Airlines provided free shipping service to Wuhan," Mao said.
Collaborating with the alumni in Wuhan, Mao's team sorted out fundraising, purchase, logistics, customs clearance and delivery within a week. The first batch of medical supplies arrived in Wuhan on January 29.
"A total of 2.7 million items were delivered, and each one of them was recorded and confirmed by the hospital," Mao said.
Although China has ramped up respirator and medical gear production after the Lunar New Year break, the demand is still larger than supply. Mao's charity team did not rest after the situation in Wuhan improved.
"Now our focus has shifted from purchasing protective medical gears in the U.S. to sourcing from outside the U.S. Because we think the U.S. might need a lot of these materials, too," Mao said.
Countering xenophobia
The anxiety caused by COVID-19 has now seeped into all aspects of life, including violent acts and xenophobia against innocent ethnic Asians.
On March 10, New York Post reported that an Asian woman in Midtown Manhattan was slugged by another woman for not wearing a mask. Manhattan's Chinatown businesses suffered a 40 percent decline in revenues as the COVID-19 fears rose, NYC small business chief Gregg Bishop told CNBC.
Experts cautioned that racism would hamper the global collective efforts to contain the epidemic. Yang thinks racism will discourage people with early-stage mild symptoms to test or seek treatment. "We want people to feel comfortable to talk to their doctors when they do have symptoms, so we can get cases isolated, treated and stop the transmission as early as possible," Yang said.
"China made any treatment or care related to COVID-19 free and we should do it in this country as well," said Kaufman. She also said that cost should not be a barrier to seeking care and it's essential to isolate people with early-stage symptoms, so that they don't transmit it to other people.
"During the swine flu epidemic in 2009 in California, a lot more people died, but there was no demonization of Californians or Americans," Kaufman said.
Mao compared COVID-19 with 1918 influenza pandemic, saying it is unfair to name a virus after a country. "Virus outbreaks can happen anywhere. The virus is the enemy, not the people."
After leading an unprecedented charitable activity, Mao called for more collaboration beyond borders to battle against the virus.
"Whoever develops drugs, whoever has an innovative method to treat the patients, we want them to share it across the world," Mao said.
(Reporting from New York City)
Copyedited by Madhusudan Chaubey
Comments to ffli@bjreview.com