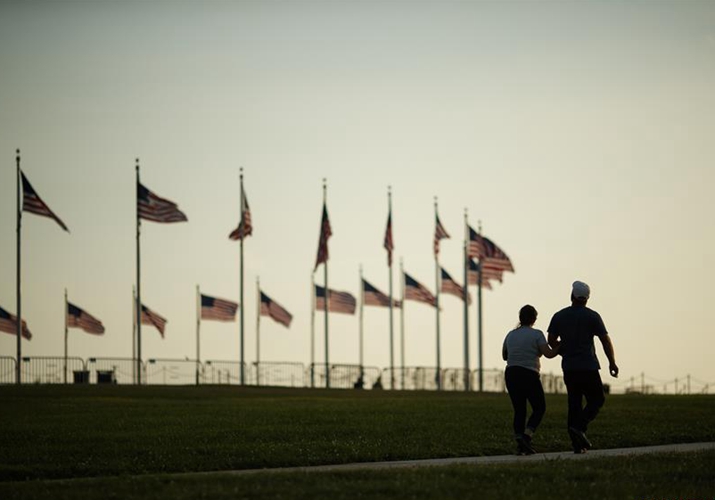 People tour the National Mall in Washington, D.C., the United States, July 19, 2020 (XINHUA)
The coronavirus continues to severely impact the globe. No country is unaffected, yet some are affected worse than others.
On opposite sides of the globe, the U.S. and China have both faced new challenges with two very different responses and outcomes.
In Beijing, a total of 335 people became infected with coronavirus over the past month in an outbreak that emerged at Xinfadi market. However, that is a small number compared with America, where most states report more cases in a single day. In China, throughout the month of May, there were almost no new cases reported in the whole country.
In the United States during the same time frame, the number of coronavirus cases increased to record levels. The U.S. had around 20,000 new cases per day at the beginning of June, which increased to 50,000 new cases per day by the end of June and now stands at 70,000 new cases per day.
The responses were completely different. Beijing organized the public to go door to door, calling and texting people, and found those who had visited the market and had them tested. The neighborhoods where affected people lived had varying degrees of lockdown imposed. Entries and exits were limited, and non-residents who entered had to have their digital health certificate checked.
In America, there were almost no new measures whatsoever, and certainly not from the federal government. The White House has instead spent time attacking Dr. Anthony Fauci, the top epidemiology expert employed by the government, because they fear his warnings will hurt Donald Trump's reelection effort.
Some individual states did take limited measures, like closing bars and gyms that never should have been allowed to open in the first place. But they're still keeping dine-in restaurants open and trying to start the National Basketball Association's mini-season at the end of July, where more than two dozen players have tested positive.
When Beijing began reintroducing restrictions on community neighborhoods, China skeptics assumed there was a huge outbreak underway. But the fact that China took aggressive measures for what would seem like a small outbreak in comparison to Western countries just shows China's heightened level of vigilance. The point is to stop an outbreak before it gets out of control.
By contrast, in the U.S., the outbreak is everywhere. The number of cases is increasing in 42 states and territories, and it's hitting new peaks in 21. While China knew the source of the outbreak and isolated it, America has so many outbreaks and such a limited capacity for testing and tracing that they have no way to isolate an outbreak.
According to the advocacy group Test and Trace, only eight states have enough tracing staff to meet needs. In Florida, where 60,000 staffers are needed for tracing based on the size of their outbreak, there are only 1,600 employed.
Now Americans would look at China's aggressive, but effective approach, and they might say, "That would never work in America." They might selfishly call it an attack on "my liberties" if it were to happen here. Some Americans even believe that being mandated to wear a mask is an assault on their liberties.
But what about the right to live? What about the right to engage in commerce without fear?
Chinese people are already safely returning to live music events, travel and shopping. While some such things are technically open in America, it is still not a good idea to go out.
China's economy has also returned to growth, posting a 3.2-percent increase in GDP this past quarter. The U.S. economy keeps crashing, and an unemployment stimulus plan expires next week. It will keep crashing until the public feels safe to go shopping again in large numbers.
Beijing did take necessary measures that would have been inconvenient for residents for a few weeks. But the alternative would have been much worse, and much more burdensome, for the whole country for a longer timeframe.
By preventing the outbreak from continuing to spread around Beijing, lives were saved. And by preventing the outbreak from spreading outside of Beijing, China prevented future lockdowns and saved many more lives.
The U.S. is finding out that it can't just ignore the virus and still have the economy going. People are getting sicker, the economy is still not growing, and new mini-lockdowns are being imposed.
The lockdowns in the U.S., moreover, were not and are not terribly targeted. They affect everyone in a state and every store in an industry. The severity of Beijing's lockdowns, by contrast, were calibrated based on the local circumstances at the neighborhood level. If there's any variation in the U.S., it occurs at the city or county level.
Now, it is true that China and the U.S. have different political systems, and some of what China did, the U.S. really couldn't do.
But the U.S. can at least take general lessons from China's successful response: The virus must be defeated before reopening the rest of the economy. An aggressive response early prevents a flailing response later. During a deadly pandemic, the right to life prevails over real or imagined secondary rights.
Yet, as one article in The Atlantic stated, the U.S. "resists learning from other countries." Even as numbers evidence comes in from Israel, South Korea, and elsewhere that coronavirus spreads at schools, the U.S. Government is moving forward as if the virus doesn't spread.
America's inability to learn from the vast evidence available outside its borders will only hurt its citizens.