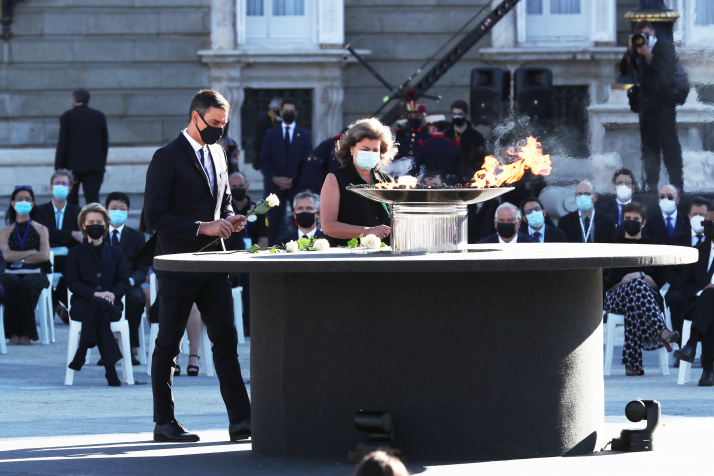 Spanish Prime Minister Pedro Sanchez pays a floral tribute to COVID-19 victims during a ceremony at the Royal Palace in Madrid on July 16 (XINHUA)
Scientists are examining the possibility of two-way transmissions of the novel coronavirus disease (COVID-19) between humans and animals after suspicions arose that people could catch the virus from human-infected minks, the Associated Press (AP) reported.
Epidemiologists concluded that the virus came from an animal source, probably bats, and later spread from person to person. Some animals have also picked up the virus from people. However, there have not been documented instances of animals spreading it back to humans.
On a Spanish mink farm with 14 employees, seven of them were tested positive in late May, while two other employees got infected even after the farm was shut down. Of the 92,000 minks culled at the farm, nine out of 10 animals were estimated to be infected after being exposed to sick employees, according to AP.
Wim van der Poel, a veterinarian who studies viruses at Wageningen University and Research, said at least two employees could catch the virus back from the minks.
"We assumed it was possible that it would be transmitted back to people again," van der Poel said. His study has shown that the virus strain in the animals was similar to the one circulating among humans.
World Health Organization (WHO) agreed that the transmission on the mink-breeding farms could have happened both ways, although such transmission was "very limited," WHO's Dr. Maria Van Kerkhove said at a news conference in June.
"We are learning about what this actually means in terms of transmission and what role they [minks] may play," Van Kerkhove added.
Michael Ryan, Executive Director of the WHO Health Emergencies Program, at a routine briefing on August 3, said that Wuhan is not necessarily where the disease crossed from animals to humans, and a much more "extensive retrospective epidemiological study" should be taken to understand the evolution of the virus.
Before the minks, epidemiologists have noticed that domesticated cats, dogs, tigers in the New York zoo and even hamsters and monkeys in laboratories are susceptible to the virus, the U.S. National Public Radio reported.
"This gives us some clues about which animals may be susceptible to infection and this will help us as we learn more about the potential animal reservoir of (the virus)," Van Kerkhove said.
Although the virus spreads mainly through close contacts, the evidence of animal-to-human transmission adds another layer of concern. More than 1.1 million minks have been killed on 26 farms in the Netherlands.
Comments to linan@bjreview.com