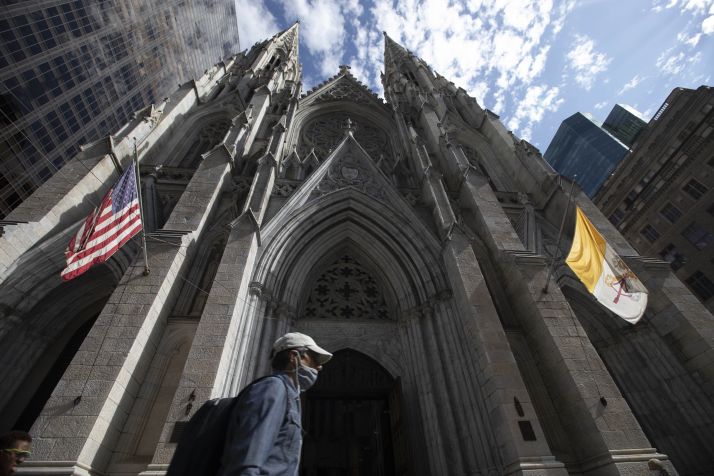 A pedestrian passes by St. Patrick's Cathedral in New York City, the U.S., on September 20 (XINHUA)
Discussions about a possible China-U.S. decoupling have been ongoing for over a year, with scholars from many countries airing various opinions. Even though the U.S. hasn't formally defined its policy, related remarks by President Donald Trump and his team, as well as their actions over the past two years, show that their decoupling has both long-term and near-term considerations.
Ultimately, they want to cut off exchanges in all aspects between the two countries and downgrade bilateral interactions to the level of the U.S.-Soviet Union relationship during the Cold War, as Trump said the U.S. reserves "complete decoupling from China" as a policy option. Currently, the U.S. strategic orientation is to make every effort possible to limit, restrain and reduce cooperation with China and suppress China by all means.
Unrealistic attempts
A full decoupling between China and the U.S. is impossible. Since they established diplomatic ties four decades ago, there have been close and complex links between the two societies, which can't be cut off with a single executive order by any government. The two economies are inseparable due to their extensive interdependence.
China boasts tremendous development potential and is expected to continue contributing a third of global economic growth over the next decade. With a population of 1.4 billion, its huge consumption potential is appealing to U.S. businesses.
More importantly, it is up to the market to decide whether the world's two largest economies will decouple. An annual report by the U.S. Chamber of Commerce in Shanghai showed that U.S. businesses still see the Chinese market as a great opportunity. Despite trade and political tensions between the two countries, 92 percent of these firms have no plans to leave China, with more than two thirds saying they will maintain their current staff size. Only 4.3 percent said they would reshore their businesses in the U.S., mostly small companies.
Through the past decades of globalization, China has become an important part of the world economy. In recent years in particular, it has worked hard to develop balanced trade, with imports from and exports to ASEAN and EU countries both growing rapidly. Therefore, the U.S. clamor about decoupling will disrupt global industrial and supply chains, and has stirred profound anxiety in the international community. Singaporean Prime Minister Lee Hsien Loong's Foreign Affairs article titled Endangered Asian Century and remarks by German Chancellor Angela Merkel and other EU officials indicate that other countries will not follow suit if the U.S. seeks to decouple from China.
For many U.S. allies and partners, trade with China is also essential to their economic growth. Thus their reaction to China's development is different from the U.S. While the U.S. worries about a possible Chinese challenge to its global hegemony, these countries don't share that concern.
It is normal for a business to enter into or exit from an overseas market or relocate its supply chains in line with supply-demand changes, but such decisions have nothing to do with the so-called decoupling.
Currently, the intensified U.S. efforts to suppress China in an all-around manner have severely affected cooperation between the two countries, particularly on core technologies. For many years, the U.S. has led global scientific research and technological innovation, boasting the most Nobel laureates and intellectual property rights (IPRs). Its information technology industry has been the most developed in the world since the 1990s.
The U.S. remains by and large the global tech leader, but in some areas, such as 5G and artificial intelligence, China has either overtaken the U.S. or is quickly catching up. This is unacceptable to the U.S. that wants to maintain its leadership.
The U.S. focus is on chips. The Trump administration has issued multiple executive orders, prohibiting government agencies and private firms from using Chinese tech giant Huawei's technologies and products. It has also banned U.S. firms from doing business with or supplying chips to Huawei, and forced foreign companies using U.S. technologies to cut off business relations with Huawei by threatening them with long-arm jurisdiction and sanctions. Top U.S. officials have spared no efforts in pressuring European allies and partners to exclude Huawei in their 5G deployment, resorting to carrot-and-stick tactics. The Trump administration's suppression of Huawei, a private firm, is unprecedented in international relations history.
But the crackdown on Huawei doesn't hurt the company alone. Huawei is a major client of many U.S. businesses. In 2019, it purchased $18.7 billion worth of parts from them. Severing ties with Huawei will deprive these firms of one of their important sources of profit, while endangering perhaps thousands of U.S. jobs. A recent study by the Boston Consulting Group showed that in the long term, China-U.S. decoupling would result in U.S. chip manufacturers' revenues shrinking by 37 percent and greatly reducing their global market shares. Is the Trump administration ready to pay such a high price?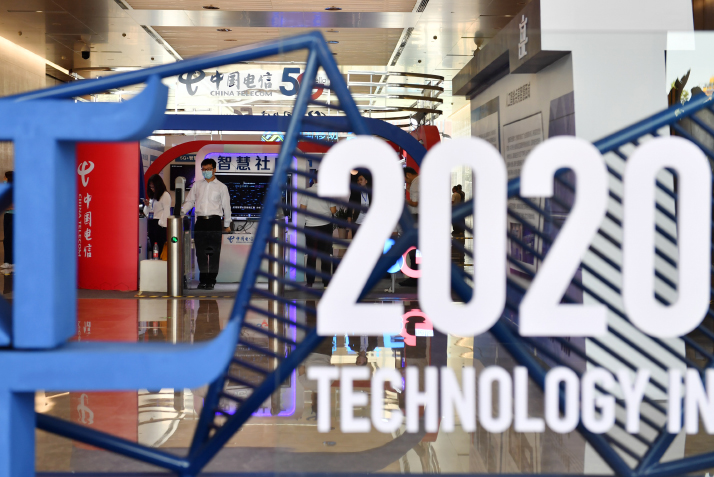 The 2020 Global Key & Core Technology Innovation Conference opens in Xi'an, Shaanxi Province in northwest China, on September 16 (XINHUA)
Remaining resolute
China has no choice but to cope with the U.S. suppression. Its main countermeasures have been opening up and innovation. China has placed great importance on opening up since the Third Plenary Session of the 11th Communist Party of China Central Committee decided to make it and reform the key development drivers. Despite the U.S.-initiated trade war, the novel coronavirus disease (COVID-19) pandemic and some unfavorable external circumstances, the commitment to opening up has remained unchanged.
China has further revised and shortened its negative list of sectors off-limits to foreign investment. The Central Government has pledged full support to the southern province of Hainan in its efforts to deepen reform, expand opening up and build the entire island into a free trade port. Beijing held the world's first post-epidemic offline international fair in September for trade in services, and plans to build a comprehensive demonstration zone for expanding service trade.
China's door is opening wider to the rest of the world. This will increase its attraction to economic and trading partners all over the world, and serve as a powerful response to the U.S. decoupling threat. In the first eight months of 2020, paid-in foreign investment in China totaled 619.78 billion yuan ($91 billion), a 2.6-percent year-on-year increase, despite the COVID-19 fallout. In August alone, it reached 84.13 billion yuan ($12.3 billion) , up 18.7 percent from a year earlier. These facts show that China's opening-up efforts have paid off.
After over 40 years of reform and opening up, China's economic growth has transformed from high speed to high quality, with a priority on mastering more core technologies through innovation. It is unrealistic for a large developing country like China to rely on overseas technologies for long-term economic progress. China is already a big manufacturing country, but not yet strong enough. It will remain vulnerable as long as it is technologically underdeveloped. Even without U.S. suppression, China has to overcome this challenge in the process of becoming a great modern country.
In recent years, China has made some breakthroughs. For instance, its proprietary high-speed railway technologies are the most advanced in the world.
The U.S. suppression of Chinese technological progress will not ease in the foreseeable future, while bilateral competition in the field of science and technology will be long. There is a big gap between China and the U.S. in chips and semiconductor-related technologies. While U.S.-imposed restrictions bring difficulties, at the same time they give a powerful push to independent Chinese innovation.
As part of a national strategy to boost research and development, the state and enterprises are increasing their input, more efforts are being made to foster respect for knowledge and talented people in society, and IPR protection is being strengthened.
All difficulties before the industrious and intelligent Chinese people are temporary and surmountable. The U.S. attempts to contain China's development via decoupling will only backfire on itself.
The author is a researcher with the Institute of American Studies at the Chinese Academy of Social Sciences.
The article was first published on the China-US Focus website.Translated by Tan Hongkai.
(Print Edition Title: Turning Challenge Into Opportunity)
Copyedited by Sudeshna Sarkar
Comments to yanwei@bjreview.com