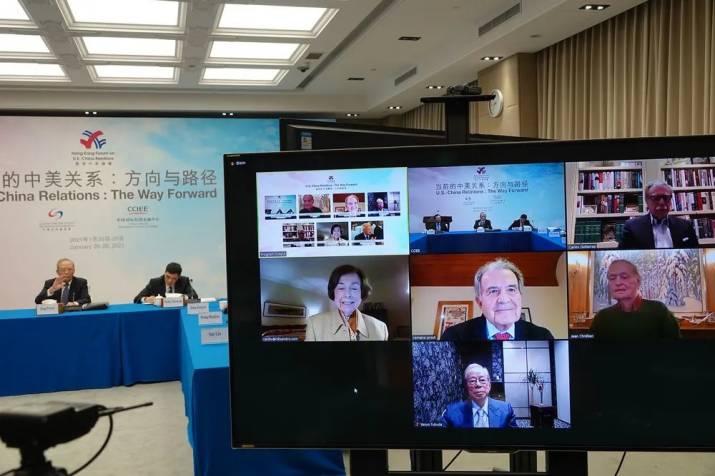 The Hong Kong Forum on U.S.-China Relations in session on January 26 (XINHUA)
Hong Kong would like to play a constructive role by leveraging its unique advantages, rather than being caught in geopolitical tensions, Chief Executive Carrie Lam said at a forum on China-U.S. relations on January 26.
The special administrative region has long been a gateway between the Chinese mainland and other parts of the world, Lam said, adding that its cooperation with the U.S. in business, trade and finance has been a success.
In 2019, their trade in goods reached $66 billion. The U.S. trade surplus in the same year amounted to more than $26 billion--the highest among its trading partners. Some 1,300 U.S. firms now operate in Hong Kong and 85,000 U.S. citizens live there.
U.S. banks and insurance companies, major players in Hong Kong's financial services sector, are poised to benefit as Hong Kong takes part in the reform and opening up of the mainland's capital market, Lam said.
With the new Joe Biden administration in the White House, "we hope relations between the world's two leading economies will start to improve, providing an impetus to global recovery," she said.
"Different social systems do not mean that the two countries will inevitably head toward confrontation," Zeng Peiyan, Chair of the China Center for International Economic Exchanges, a Beijing-based think tank, said. "China has no intention of changing the U.S., let alone replacing it, and it is impossible for the U.S. to impose change on China unilaterally."
China and the U.S. should keep their trade deals and national security issues on separate tracks to avoid full-blown decoupling, Carlos Gutierrez, former U.S. Secretary of Commerce, said .
It complicates bilateral relations by relating trade and investment to geopolitics and national security, Gutierrez said, adding that the top priority for the Biden administration should be holding discussions to resolve trade disputes and reestablish communications so that the two nations can once again take their seats at the negotiating table.
He pointed out that this bilateral relationship should not be one based solely on transactions, but rather one that encourages a more strategic partnership improving areas of cooperation while avoiding friction. "When you call someone an enemy, they become your enemy. We are not an enemy of China, and I don't think China is an enemy of ours," Gutierrez said.
Carla Hills, former U.S. Trade Representative, echoed this notion by predicting changes in how the U.S. handles its international relations. "The tone in which we deal with all international governments, including China, will be more diplomatic," she said.
Comments to mmma@bjreview.com